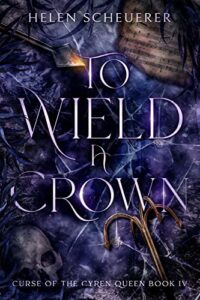 To Wield a Crown
by
Helen Scheuerer
Published by
ALCHEMY
on September 29, 2022
Genres:
Young Adult Fiction / Fantasy / Dark Fantasy
,
Young Adult Fiction / Fantasy / Epic
Pages:
504
Format:
ARC
Source:
Author
Buy on Amazon
Goodreads

A final quest. A people divided. Can one cyren turn the tides of fate?

The time has come to obtain the final birthstone of Saddoriel. Reeling from a near-deadly sacrifice, Roh must rally all her strength if she is to take her place upon the throne.

But with cyrenkind divided and enemies closing in, the road to Lochloria and beyond is more dangerous than ever. An ancient prophecy looms, loyalties are tested and Roh races against the clock that threatens to undo all she's fought for.

As a centuries-long conflict comes to a head and forces of nature collide, Roh has to decide if there is more than one kind of magic in this world, and whether or not she has the power to harness it.

Some bonds will solidify, while others will be fractured forever - but all must take up their swords and face the final battle for a better Saddoriel.

Will Roh emerge from the perils victorious, or will the trials claim her at last?

Bursting with Scheuerer's trademark action and a dash of fiery romance, the Curse of the Cyren Queen series reaches its epic conclusion with To Wield a Crown.
I received this book for free from author and agreed to provide an honest review. This does not affect my opinion of the book or the content of my review.
I am going for as spoiler free as possible but there is a chance for minor spoilers of the previous three books.
My Thoughts
To Wield a Crown is among the best finales I have EVER read. Hands down. This final piece to Roh + her companion's story, and really the series as a whole, will live in my heart and mind as one of my all-time favorites… right there with the Ember in the Ashes Quartet, Red Rising and the other rare few books that burrowed their way into my soul.
This book was absolutely incredible. Helen Scheuerer has woven lives and growth of her characters together so beautifully that you just cannot not help but to become invested in their joy, pain, struggles and triumphs. And there is a lot of all of those my friends.
"Stone will crumble and land will fester, until the winged one flies forth…"

Helen Scheuerer
Roh and company are on the final leg of their quest for the Gauntlet Ruby to complete the crown of bones, capture the throne, and save her people from impending war. The stakes are high in Wield with our crew having to find new ways to defy the elders, water warlocks, otherworldly storms and time itself. There are so many masterfully developed revelations, particularly around the history between our Elder Slayer and Delja the Triumphant. The plot is well paced and intricately unfolded in a way that kept me on the edge of my seat and turning the page late into the night. And have I mentioned yet that there is an ABSOLUTELY EPIC battle?!? It was thrilling and worthy of being on the big screen.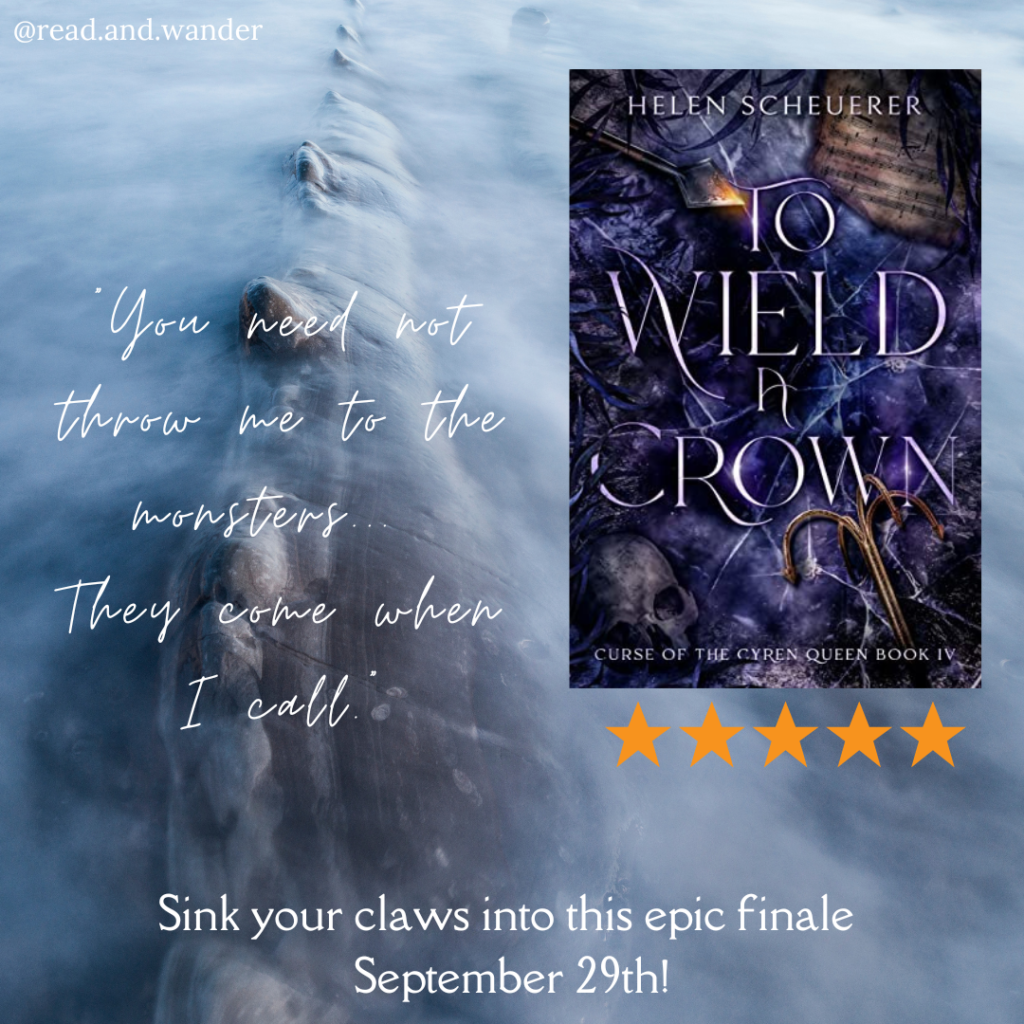 I have said this several times before, Helen Scheuerer is a BRILLIANT world builder. From the Lair of Bones to Lochloria and every corner of the realm in between, there is a distinct richness and vibrancy that brings the story to life right before your eyes. And as amazing as the world is, the development of the characters on their own and together shined EVEN MORE in this quartet. I loved how each character had their own role in Roh's journey from Yrsa being the calm voice of reason and Finn the fire to Harlyn as her roots and Odi + Deodan as mirrors as well as challengers to everything Roh thought was truth. Over the course of this story they have become so strong together that the absence of any one of them is truly felt. My FAVORITE character quickly became Finn which says so much about how incredible of a writer Scheuerer is as I don't change my mind about a character often. Both he and Roh grew in such well-developed and authentic ways that it was easy to forget where they started… as adversaries. It was so natural. There was one really beautifully tender moment with Finn that had my heart bursting and really highlighted this.. Okay who am I kidding, there was a lot of those small but powerful moments… but this one… you are in for a treat.
To Wield a Crown was not without its heartache. It is pretty rare for a story to truly move me to tears, let alone sobs, but this book is now on that list. It destroyed me and yet there was so much hope threaded throughout the entire Curse of the Cyren Queen Quartet that this happily ever after loving book nerd still felt satisfied with this finale. I told you Helen was a cyren…
Overall
Overall the only downside to this story is that it is over. I could stay immersed in this world and follow these characters to the ends of the realm forever. I loved every single epic, world-shattering, emotional, throat-punching, mesmerizing moment of both To Wield a Crown and the quartet as a whole. Helen's characters have stolen my heart. This series 100% solidified her as an auto-buy author for me and I will be revisiting this story often. I cannot wait to reread them all as audio books. Do yourself a favor and meet Rohesia of the Bone Cleaners and her companions now in A Lair of Bones!
Recommended for Fans of: YA Fantasy, epic battles, sirens, enemies to lovers, found families, squad goals, incredible world building, water warlocks, character growth, and badassery
To Wield a Crown is out September 29th!
Click the link to pre-order now.
Check out my reviews of the previous books here:
A Lair of Bones | With Dagger and Song | The Fabric of Chaos