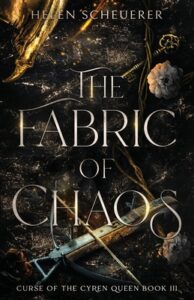 The Fabric of Chaos
Series:
Curse of the Cyren Queen #3
Published by
ALCHEMY
on April 21, 2022
Genres:
Dark Fantasy
Pages:
520
Format:
ARC
Source:
Author
Buy on Amazon
Also in this series:
A Lair of Bones
Goodreads

An almighty power. A deadly choice. Will she come undone when chaos reigns?
After facing heart-breaking betrayals and jaw-dropping revelations in Akoris, Roh must steel herself once more and continue her quest to win the cyren throne.

But with poison lingering in her body and a new, unpredictable companion at her side, the trek to the mysterious territory of Csilla becomes all the more perilous. Dangerous schemes are afoot – ones that threaten not only the homeland Roh intends to rule, but all of cyrenkind.

As her journey stretches across the realm, Roh must navigate the dark web of her own ambition and master her newfound magic.

Will she triumph against the trials ahead – or sow the seeds of her own destruction?

More action-packed than ever, brimming with new secrets and a touch of romance, The Fabric of Chaos is the breathtaking third instalment of Helen Scheuerer's Curse of the Cyren Queen quartet.
I received this book for free from the author in exchange for an honest review. This does not affect my opinion of the book, the content of my review or level of fan girling.
My Thoughts
Friends. The crossbow on the cover. I cant. *tears & heart eyes* I.LOVED.THIS.BOOK.
I love this series. This world. ABSOLUTLY EVERYTHING.
As always, I want to start with this: The Fabric of Chaos is the third book in a series so there are spoilers for the previous two books. My real recommendation is to just go pick up A Lair of Bones and dive in BUT if that doesn't work for you… check out my review of Lair and With Dagger and Song.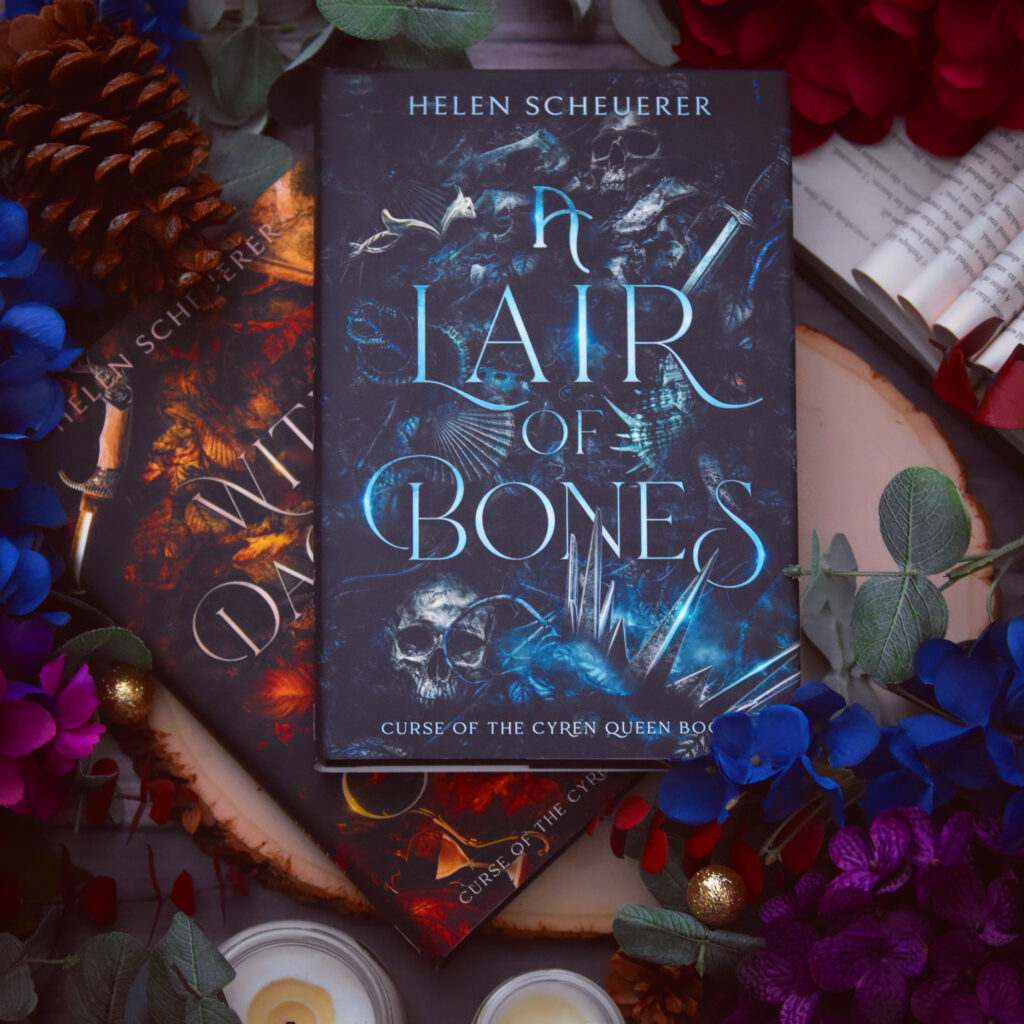 The Journey Continues…
Like its predecessor, The Fabric of Chaos picks up where With Dagger and Song left off: our heroine, Roh, entrenched in her quest to win the Cyren throne. After escaping Akoris successfully, their journey takes our companions through the peril of the human realms where there is new danger at every turn while more secrets unraveled.
I have said it before but will absolutely share it again again: Helen Scheuerer is a master world builder. There are so many exquisite layers paired with fantastic tension and plenty of action to keep you at the edge of your seat. I did not want to put The Fabric of Chaos down. All of the characters are incredible, but Finn has become my favorite of any story I have read. It is not often I go from really disliking a character to being completely smitten, but here we are friends. We also FINALLY witnessed some of the romance that has been brewing between Finn and Roh which made my heart sing it's own cyren song. Enemies to lovers is one of my most beloved tropes and this relationship is officially among my all time favorites.
Overall
Overall, the Curse of the Cyren Queen series just keeps getting better and better with each book. If you want a story with high stakes in an imaginative, intricate world with characters that will captured your heart – read this series! I read The Fabric of Chaos weeks ago and find myself looping back to moments from this book constantly. It is absolutely one of my favorite books of 2022.
Looking for a new favorite author and/or series? READ THIS WANDERERS!
Recommended for fans of: Sirens, dark YA fantasy, enemies to lovers, fantastic world building, journey stories, and lovable squads.
Read The Fabric of Chaos on April 21st! Pre-order your copy here.