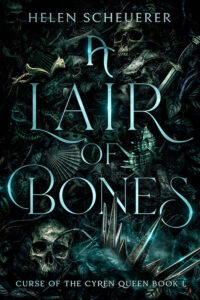 A Lair of Bones
by
Helen Scheuerer
Series:
Curse of the Cyren Queen #1
Published by
ALCHEMY
on July 14, 2021
Genres:
Dark Fantasy
,
Epic
,
Fantasy
,
Young Adult Fiction
Pages:
384
Format:
ARC
Source:
Author
Buy on Amazon
Also in this series:
The Fabric of Chaos
Goodreads

A deadly contest. A vaulting ambition. How far will one cyren go to win?

Mighty cyrens have ruled the ancient lair of Saddoriel for centuries. A cavernous fortress, a subterranean labyrinth of tunnels and levels, powered by magic and music...

From the moment she was born, Roh, the daughter of an infamous criminal, has been despised by her own kind. Restricted to the Lower Sector and forced to work as a common bone cleaner, she has always believed she belongs above: where lies adventure... and power.

Opportunity arises in the form of the Queen's Tournament, a treacherous set of trials that could see the victor crowned ruler of the entire lair. Up against the most cunning, dangerous cyrens in all the realms, does Roh stand a chance?

A Lair of Bones is the first gripping book in the dark fantasy quartet, Curse of the Cyren Queen.
I received this book for free from the author in exchange for an honest review. This does not affect my opinion of the book or the content of my review.
My Thoughts
First and foremost, I am SUCH a fan of Helen Scheuerer. I had the absolute privilege of reading The Oremere Chronicles in advance and have been hooked ever since. If you want to read her backlist, my review of Heart of Mist (book 1 of The Oremere Chronicles) can be found here (Summary: READ IT). Needless to say, when Helen reach out with an opportunity to read her next dark, twisty story about a deadly competition steeped in siren lore…. the answer was a resounding HELL YES.
Okay… *wheretostartwheretostartwheretostart*…. A Lair of Bones is a deliciously dark MUST READ. There. I said it. Now to try and continue without spoilers…
Once upon a time, in the ancient lair of Saddoriel…
The cunning Cyren were ruled by a powerful Cyren Queen. Every so often, the opportunity arises for the most ambitious of cyrens to compete in a set of deadly trials to win the coral crown. Enter Roh: the daughter of an infamous criminal, marked and despised by her own kind… fighting for a chance to rule. Do I have you hooked yet?
From Oremere to Saddoriel, Helen is a masterful world builder. She has an uncanny way of peeling back the layers of a world, then delivering them to you piece by piece while also balancing incredible tension and propelling the story forward. It is like closing your eyes and having the story manifest behind your eyelids. Breathtaking.
Infusing more life into the story are all of the intricately woven cyren mythology, morsels of mystery, complex characters and a cyren culture that prizes being ruthless above almost anything (besides music of course). Gah, it is really hard to write how much I loved this book without shouting spoilers at the top of my lungs. Just READ IT.
Overall
If you are looking for a story with fantastic world-building, high stakes, and beautiful character development, pick up A Lair of Bones. I absolutely loved the cyren/siren lore and am so invested in Roh's story… even if I had to laugh my ass off at her expense a time or two there at the end. You will see what I mean. Every single one of the characters had me so completely captivated that once I entered this world, I did not want to leave. I am on the edge of my seat waiting to see what happens next while also being flabbergasted this is a QUARTET! So much chaos can happen… has already happened… and I am living for it. GO READ THIS BOOK WANDERERS!
Recommended for fans of: dark fantasy, twisty reads, YA fantasy, sirens, mythology, fantastic world building, complex characters, and high stakes competitions.
A Lair of Bones hits stores July 15th!
You do not want to miss this one.