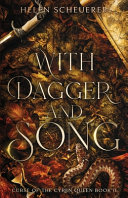 With Dagger and Song
by
Helen Scheuerer
Published by
ALCHEMY
on November 18, 2021
Genres:
Young Adult Fiction / Fantasy / Dark Fantasy
,
Young Adult Fiction / Fantasy / Epic
Pages:
456
Format:
ARC
,
eBook
Source:
Author
Buy on Amazon
Goodreads

An empty crown. A perilous journey.

Will she answer when darkness calls?

Against all odds, Roh survived the harrowing Queen's Tournament, but now something far deadlier awaits her: a formidable quest for the three magic birthstones of Saddoriel.

The gems have been scattered across the realms - and only when Roh retrieves them can she take her place as queen. But surrounded by hostile companions and tormented by the dangerous secret she carries, Roh begins to realise that the pursuit of power may prove more destructive than she ever imagined.

Nothing can prepare her for the nightmares that fester in the shadows of Akoris, a fanatical cyren territory, or the twisted games of its cunning leader...

Can Roh win the first birthstone without sacrificing everything she holds dear - and without losing herself?

Packed with heart-pounding action and layers of intrigue, With Dagger and Song is the second epic instalment in Helen Scheuerer's Curse of the Cyren Queen quartet.
I received this book for free from the author in exchange for an honest review. This does not affect my opinion of the book or the content of my review.
My Thoughts
I am pretty sure Helen Scheuerer is a Cyren.
Her stories are woven with magic that sinks its claws into you until you are so immersed in the world that you find yourself at the final page entirely too soon.
With Dagger and Song picks up right where we left off in A Lair of Bones, with our crew at the start of a dangerous quest. If you have not read ALOB, check out my review here. Before I dive into potential spoilers for book one I will just say, if you love fantasy and have not started the Curse of the Cyren Queen quartet… run and start it today! There is even an audiobook for my fellow audio readers. This series is incredible but dare I say… I may have loved With Dagger and Song even more than ALOB. gasp.
Okay potential spoilers for book 1 ahead…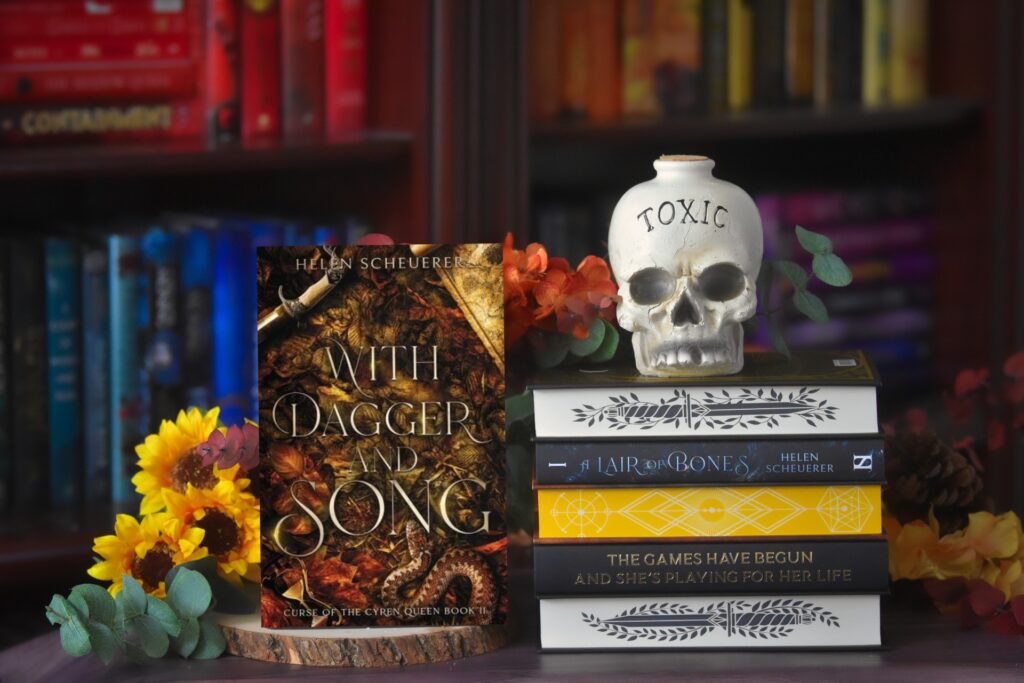 As Roh and her group set out on her quest to earn the crown she won at the end of ALOB, they quickly learn that the world outside of the Lair is even more dangerous than their life inside with lies, betrayal and hidden agendas at every turn. Scheuerer is an incredible writer and With Dagger and Song brilliantly adds new layers, intrigue and depths to the magical world she has created and the characters who live there. The expansion of the world flowed so seamlessly along side the growth of the characters.
My absolute favorite part of the story was the changes in the group dynamics over the course of With Dagger and Song. We saw some unlikely friendships develop, histories shared, and some absolutely perfect moments that planted the seeds of what I hope becomes an epic enemies to lovers relationship. PRETTY PLEASE HELEN?!?
And the twists… THE TWISTS. There is at least one that will leave you gasping and questioning everything you thought you knew. I will be on the edge of my seat waiting for book 3.
Overall
Overall, With Dagger and Song is an epic continuation of the adventure stated in A Lair of Bones, introducing readers to new dangerous places and characters while slowing revealing more history. There is definitely more going on than meets the eye and it is so captivating. Scheuerer is a master storyteller and builds an incredibly immersive world full of intrigue, beauty, danger and mystery. I absolutely loved the development of each character and the new relationships developed between Roh and her companions. Curse of the Cyren Queen as quickly become one of my favorite series and I cannot wait to see what is to come next in this story.
Recommended for fans of: dark fantasy, twisty reads, YA fantasy, sirens, mythology, fantastic world building, complex characters, and high stakes competitions.
A Lair of Bones is out now!
With Dagger and Song is out November 18th!
Preorder your copy here