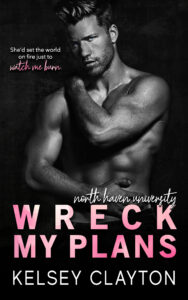 Wreck My Plans
by
Kelsey Clayton
Series:
North Haven University #3
on March 18, 2021
Genres:
Romance
,
Sports
Pages:
326
Format:
ARC
Source:
Social Butterfly PR
Buy on Amazon
Also in this series:
Waste My Time
Goodreads

My name is Carter Trayland,
And I really screwed up.

I should've ended things before they began.
Instead, I wound up in a twisted love triangle,
One that I never wanted to be a part of.

The wrong choice sent my life on a whirlwind.
A woman I forced myself to love is dead.
My best friend was nearly blamed for her murder.
And the one I've always wanted, now wants revenge.

Her favorite person is gone, and she thinks it's my fault.
I'm not about to correct her either.
Not when the reality is so much worse.

She can't find out the truth of what happened.
Knowing would ruin her in ways I can't fathom.
If blaming me is her way of coping, I'll gladly carry that burden.

Because Tyeler Morgan is the one girl I'd protect at all costs.
I received this book for free from Social Butterfly PR in exchange for an honest review. This does not affect my opinion of the book or the content of my review. I love Carter all on my own.
My Thoughts
Gah this book! I KNEW I needed a book about Carter the second I met him in Change My Game. He is snarky and entirely too cocky for a single human yet has such an incredible heart. I am here to tell you that Wreck My Plans did not disappoint.
Can This Woman Be My New Best Friend?
So Wreck My Plans can be read as a standalone but takes place after the events of Change My Game. Not sure how related it is to Corrupt My Mind (New Haven University book 1) since I haven't read it yet nor have I read the earlier series. That said, I really didn't feel like I was missing anything but instead am more motivated to read the backlist. These characters are fun and have such hilarious banter. All that aside….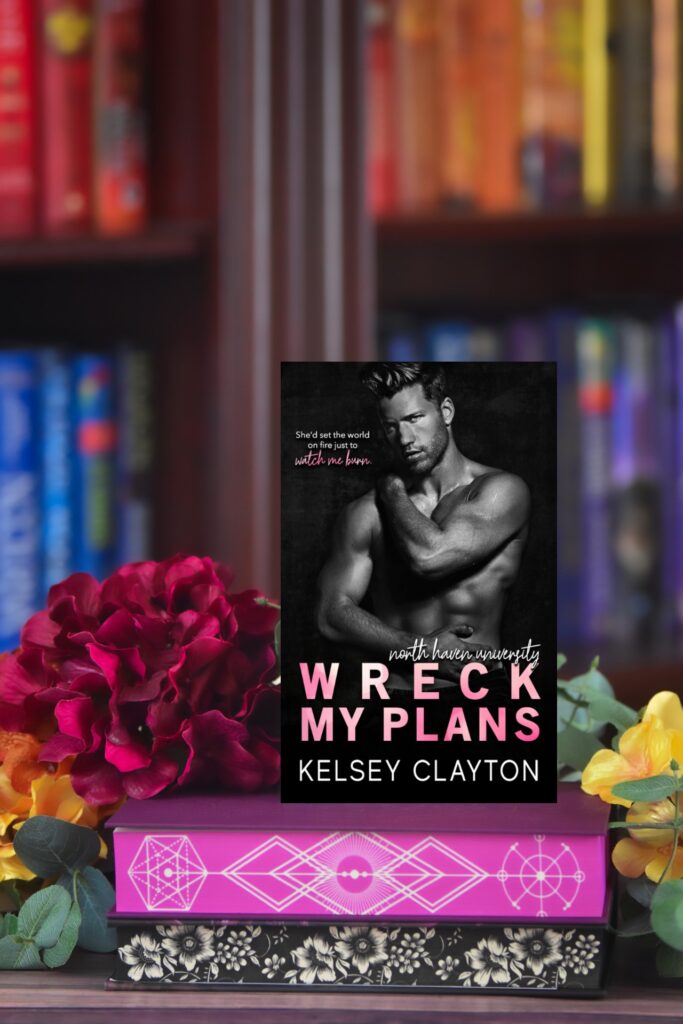 From the first moment I met Tye, I absolutely adored her. She is hilarious, loyal and incredibly fierce. She is who she is and the rest of the world can kick rocks… I FEEL THIS SO MUCH. Tye is also an emotionally complicated character who is not only grieving the loss of her best friend but she is also dealing with horrific childhood trauma and plotting revenge as a means of avoiding it all. There were so many moments in Wreck My Plans that I found absolutely hilarious and others that were incredibly tragic. It is hard to describe but they just felt like truths for these characters. I loved it. Like up way too late reading loved it.
Overall
This book had a bit of everything you want in a romance. There is a revenge plot, enemies to lovers, forbidden romance and two incredibly hurt characters trying to heal. Sometimes in the least productive ways with some entertaining shenanigans thrown in for good measure. Overall, kudos to Kelsey. Not only do I love this book (Carter is my forever fav regardless of him looking different in my head) but now I am so intrigue for BOTH the next book in the series (that ending though) and to read the back stories of characters who made appearances in this one. Bravo.
Recommended for fans of: NA Romances, sports romance, complicated and sassy characters, rags to riches, forbidden romance, enemies to lovers, and some feels.
TW: Reference to childhood sexual abuse and death by suicide.
About the Author
Kelsey Clayton is an internationally selling author of Contemporary Romance novels. She lives in a small town in Delaware with her husband, two kids, and dog.

She is an avid reader of fall hard romance. She believes that books are the best escape you can find, and that if you feel a range of emotions while reading her stories – she succeeded. She loves writing and is only getting started on this life long journey.

Kelsey likes to keep things in her life simple. Her ideal night is one with sweatpants, a fluffy blanket, cheese fries, and wine. She holds her friends and family close to her heart and would do just about anything to make them happy.
Connect with Kelsey
Facebook
Instagram
Amazon
Join Kelsey's Facebook group Kelsey's Sweet Sinners
Stay up to date with Kelsey by joining her mailing list
Website