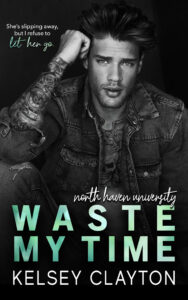 Waste My Time
Series:
North Haven University #4
on July 8, 2021
Genres:
Love & Romance
Pages:
288
Format:
ARC
,
eBook
Source:
Social Butterfly PR
Buy on Amazon
Also in this series:
Wreck My Plans
Goodreads

My name is Easton Donovan,
and I massively screwed up.

I should've given her the world.
Should've been everything she deserves.
Instead, I broke her like every promise I've ever made.

The darkness tells me to let her go.
Memories of my past keep me from letting her in.
Someone should tell her that loving me is a losing game.

Just being around her is a high I've never known.
If she knows what's good for her, she'll cut me off.
Given the chance, I'll ruin her the way I've done to others.
But with the bomb she just dropped, she's here to stay.

She's flawless innocence.
I'm toxic destruction.
And the selfish part is, I need her.

Truth be told, Kennedy Lehigh could be the one to save me from myself.
I received this book for free from Social Butterfly PR in exchange for an honest review. This does not affect my opinion of the book or the content of my review.
My Thoughts
Waste My Time is the fourth and final book in the North Haven University series and brings us Easton & Kennedy's story. If you have read my previous reviews, these books can be read as standalones but are definitely interconnected so you have a bit more insight having read the previous books. Check out my review of Change My Game (book 2) and Wreck My Plans (book 3) if you are curious.
Side note: I literally JUST noticed the book summaries all start the same. Oh do these boys know how to screw up. Okay back to the book…
Waste My Time overlaps a touch with the ending if Wreck My Plans timeline wise with the break up of Easton and Kennedy + the bombshell disclosure Kennedy dropped on her friends. To be honest, neither character had actually stood out to me in the previous two books and at the time I read Waste My Time, I hadn't read Corrupt My Mind (book 1) yet either, so I didn't walk into this one with a ton of expectations.
I read it in one sitting friends…
That is how engrossed I was in the hot mess relationship that is Easton + Kennedy. Eastennedy? Kenston?
This is one of those series that I think you are best served going in knowing as little as possible (unless you need content warnings) and just enjoy the angsty ride. For that reason, I am going to keep this a bit more general to avoid spoilers from previous books as well as this one.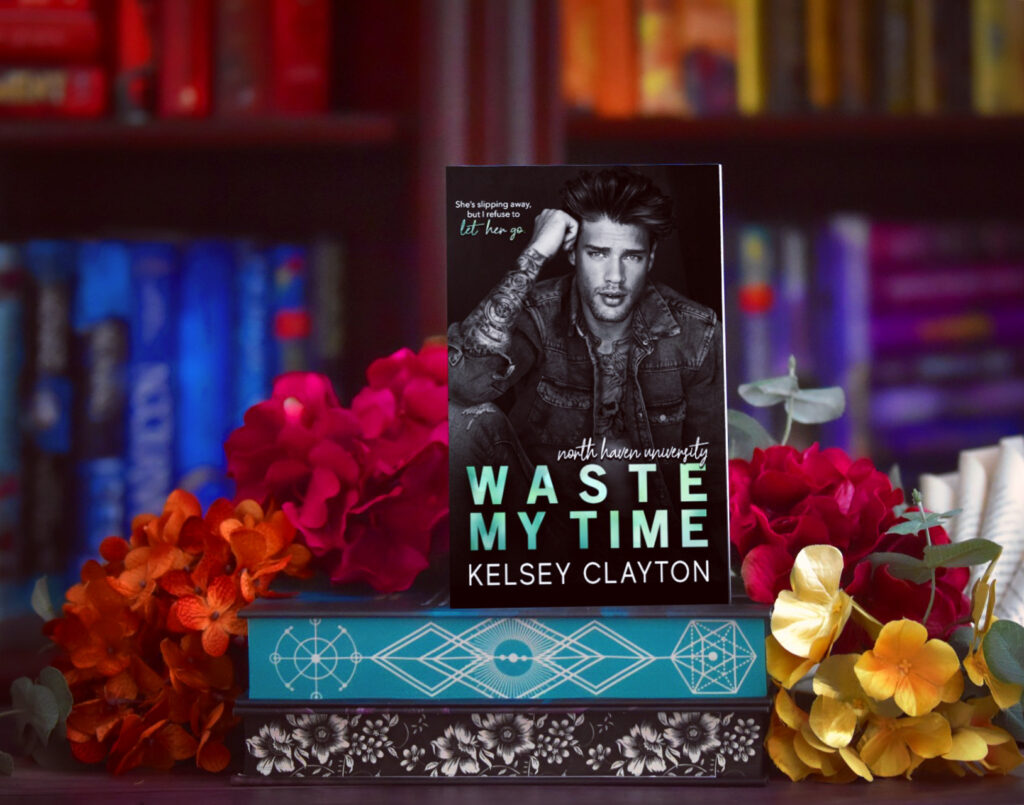 There is a definite theme that permeates throughout the North Haven University Series: trauma, addition and the power of the family you choose. I think that is what has truly resonated with me across each book. Waste My Time is no different. Easton coped with stress and then trauma with substance use. He overcame that addition and his demons through the unflinching loyalty and support of Zayn. Needless to say, he is still a bit of a mess when he gets into a relationship with Kennedy and as expected, shit hits the fan.
Witnessing Easton attempt to come to grips with the loss of this relationship, floundering to make it right and grow up was hilarious, uncomfortable and sometimes utterly heartbreaking. The back and forth dance between Easton and Kennedy was so raw and real. While they both grew so much over the course of the story, I really appreciated how when faced with a life altering situation, Kennedy refocused her priorities, stood up for herself and didn't let Easton off easy. This was such a shift from the carefree, 'say what ever thought passes through your head' person she was before. It was beautiful.
One thing I cannot help but to point out in hopes that one day our culture shifts, is the casual misogyny. What do I mean? The repeated snuffing out, shoving down, etc. of emotion to avoid looking like a "pussy." Not only does this assume there is something wrong with men experiencing emotions, it makes the comparison to women (like we are the ONLY humans to experience emotion.. come the fuck on) and slang terms used to reference women/female anatomy as something less than/to be avoided/weak. Yes, I understand that people talk like this. And yes, they may not mean harm. But language matters.
Overall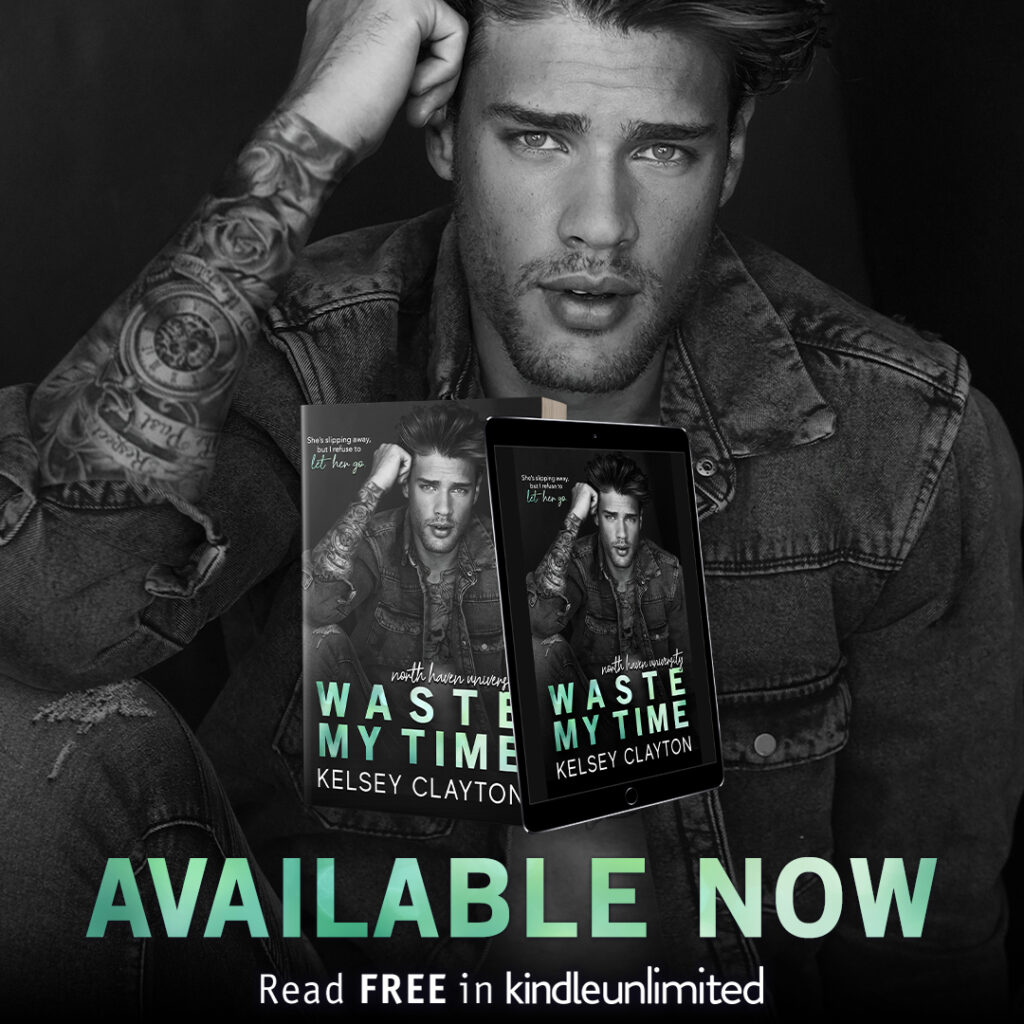 Overall, Waste My Time was the North Haven University finale that I didn't know I needed. Easton and Kennedy are two people who love each other but make a lot of mistakes in figuring themselves out. This book was full of love, angst, groveling that will have you snickering, flawed humans, some suspense and plenty of growth. I also absolutely loved seeing how all of the relationships and friendships matured over the course of this series. The ending had me all in my feels and missing my own found family.
And can we talk about that that epilogue!!! What the actual hell?!?! I cannot WAIT to see what Kelsey Clayton does with THAT madness.
Recommend for fans of: found families, great friendships, all the angst, second change romance, and lots of drama.
TW: This series tackles some serious issues such as violence, drug dealing, overdose, suicide, pregnancy (and mentions of abortion) and childhood abuse. If you need content warnings, I am happy to share more details.
About the Author
Kelsey Clayton is an internationally selling author of Contemporary Romance novels. She lives in a small town in Delaware with her husband, two kids, and dog.

She is an avid reader of fall hard romance. She believes that books are the best escape you can find, and that if you feel a range of emotions while reading her stories – she succeeded. She loves writing and is only getting started on this life long journey.

Kelsey likes to keep things in her life simple. Her ideal night is one with sweatpants, a fluffy blanket, cheese fries, and wine. She holds her friends and family close to her heart and would do just about anything to make them happy.
Connect with Kelsey
Facebook
Instagram
Amazon
Join Kelsey's Facebook group Kelsey's Sweet Sinners
Stay up to date with Kelsey by joining her mailing list
Website