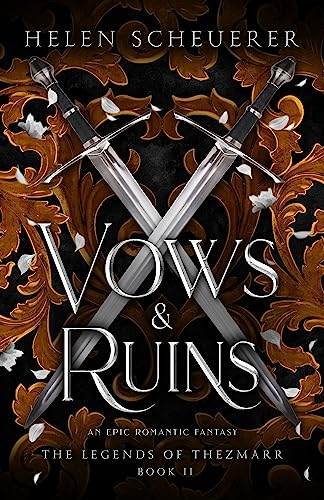 Vows & Ruins
by
Helen Scheuerer
Series:
The Legends of Thezmarr #2
Published by
ALCHEMY
on September 14, 2023
Genres:
Fiction / Fantasy / Romance
,
Fiction / Romance / Fantasy
Pages:
534
Format:
ARC
Source:
Author
Buy on Amazon
Also in this series:
Blood & Steel
Goodreads

Against all odds, Althea Zoltaire emerged from her trials as a champion. Now, she must train even harder and prepare herself to become a true warrior of Thezmarr.

But Thea's world is turned upside down as she struggles to navigate her newfound magic and uncover the secrets of her past. Slowly, she begins to untangle the truth about her family, her powers and the evil that threatens to engulf the kingdom.

When Wilder Hawthorne returns to be her official mentor, everything changes. Dark forces are gathering, and he will stop at nothing to prepare her for the challenges to come, even if it means breaking her.

As war looms and their quest for answers leads master and apprentice deeper into danger, the undeniable connection between them intensifies - defying all odds, but also threatening to tear them apart.

With secrets unravelling and evil closing in, Thea and Wilder fight to save the world, and each other. The fate of the realms rests in their hands - will they emerge victorious, or will the darkness consume them both?

Full of action, adventure and steamy romance, this spellbinding fantasy will leave you breathless and begging for more.
I received this book for free from author and agreed to provide an honest review. This does not affect my opinion of the book or the content of my review.
My Thoughts
Helen Scheuerer… you have some explaining to do. Holy explosive ending Batman!
I kicked off 2023 sharing that book one in The Legends of Thezmarr series, Blood and Steel, was among my favorite reads of the year and my friends… Vows and Ruins blew it completely out of this universe. Helen took every single thing I loved about Blood and Steel and elevated to a whole other level. Vows and Ruins brings some extra spice between Thea and Wilder while also creating overall tension that was through the roof. I found myself mentally looking over my shoulder waiting for the other shoe to drop… and wowza did it. That ending was like watching a car accident in slow motion and being unable to do anything to change course. All I could do was gasp then yell, "no, no, no, no!"
The Legends of Thezmarr series seamlessly blends Helen's masterful ability to bring rich fantasy words to life with a romance steamy enough to leave you breathless. And the battles. THE BATTLES. Are absolutely epic. Nearly as epic as the emotional destruction Helen levied upon my heart.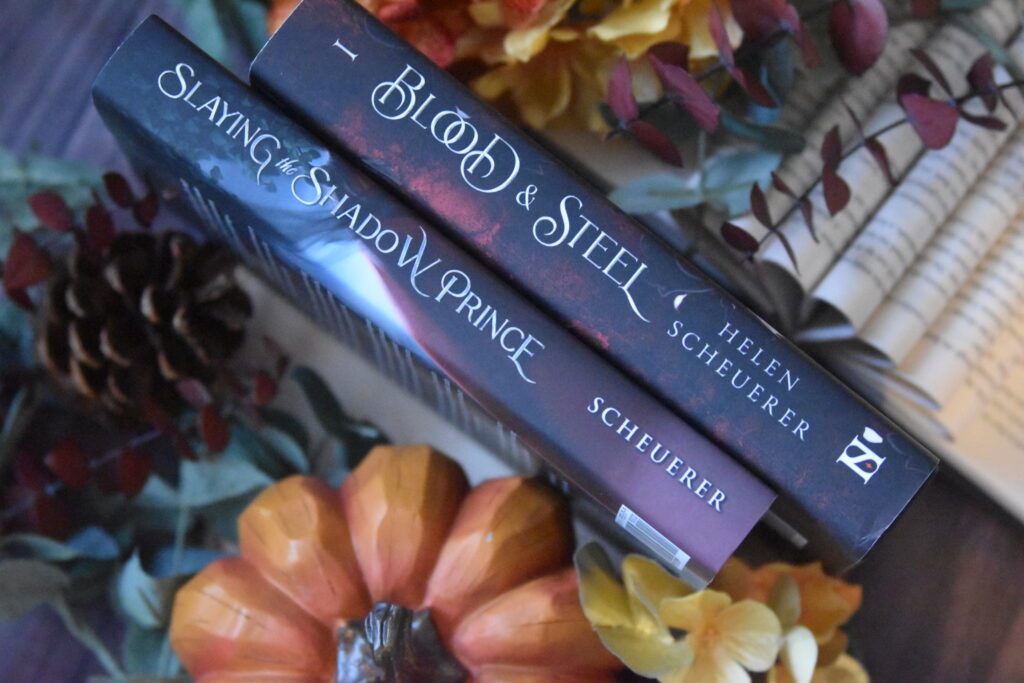 Overall
I cannot get enough of The Legends of Thezmarr. This series is absolutely, without question the best romantic fantasy I have ever read. Each character is unique and wholly their own while also fitting so perfectly within the found family element elevating the entire dynamic between them all. I love that both Thea and Wilder are complete bad ass warriors in their own rights and yet bring a new level of trust and power when together. The pacing was the perfect blend of action, emotional destruction, character growth, steam and humor. I also really enjoyed that you do not have to read any of Helen's other books to become immersed in the world or story (though you should and thank me later) but if you have, there are so many fantastic and fun nods within the world to her other series.
The ending is my own personal ruination and I need book three immediately. Time to finish Slaying the Shadow Prince to recover. If recovery is possible until I find out what the heck is going to happen next.
PICK UP THIS SERIES!
Recommended for fans of: Epic adventures, bad ass heroines, broody but flirty warriors, The Bridge Kingdom, romantic fantasy, a dash of The Witcher, and fantastic worlds.