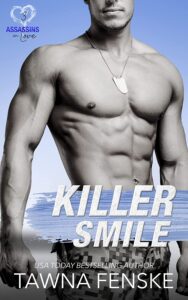 Killer Smile
by
Tawna Fenske
Series:
Assassins in Love #3
Published by
Tawna Fenske
on June 9, 2022
Genres:
Fiction / Romance / Action & Adventure
,
Fiction / Romance / Contemporary
,
Fiction / Romance / General
,
Fiction / Romance / Suspense
,
Young Adult Fiction / Romance / Romantic Comedy
Pages:
220
Format:
ARC
,
eBook
Source:
Author
Buy on Amazon
Also in this series:
Killer Instincts
,
Killer Moves
Goodreads

He's a covert operator. A killer built by the U.S. Army. He's tasked with taking out his dream girl—and not on a date.

Targeting Nicole should be simple, since she hates his guts. Sebastian The Dentist—yes, a real freakin' dentist, don't make it scary—has wanted Nic since they first locked horns. He's not sure why they're enemies, but knows there's more to the sweet daycare owner than crayons and cardigans. But discovering her secrets lands them both in danger they'll dodge only by working together.

Between awkward wedding dates and puppies with no personal space, Sebastian and Nic get closer. They're also close to discovering if Nic's dead associate may not be so dead.

If Sebastian can stop her from hating him long enough to eliminate the threat, they might just fall in love. But only Nic can stop him from hating himself.
I received this book for free the author in exchange for an honest review. This does not affect my opinion of the book or the content of my review.
My Thoughts
Seb's love story is finally here my friends! I have been waiting for this book since we moment we met him in Killer Looks and devoured Seb's story as soon as I got my hands on it.
Killer Smile wraps up the Assassins in Love series with our favorite dentist getting his 'happily ever after' with none other than Nicole Bello. Yes, another one of the boys finding love with Teo's sisters. While I had my suspicions, I really enjoyed that there was more than meets with eye with our sweet daycare provider. Nic is fierce, big-hearted and charming in her own right making her the perfect match to keep Sebastian on his toes. Their banter was a lot of fun but I also appreciated how they dew out each others vulnerable side while calling each other on their BS. I did find some of the back and forth SUPER redundant… like Nic calling Seb a "Pig" or "Minty Fresh" almost 30 times a piece in under 250 pages.
Overall
Overall, Killer Smile was a quick, fun conclusion to the Assassins in Love series and probably my favorite in the bunch. You just can't help but to fall in love with the charming dentist assassin when he shows his vulnerable side. Killer Smile also tied up some loose ends from the previous stories which was completely entertaining. I also loved we had some kick ass women of… advanced age. Like the previous books, the story is a bit fluffy and wraps up pretty neatly. There is very little angst (if that is your jam – I personally need a bit more tension) but plenty of chuckles. If you are a fan of the previous books or the author's other work, you will enjoy Killer Smile.
Pre-order your copy today or snag Killer Smile when it comes out on June 9th!
About Tawna Fenske
When Tawna Fenske finished her English lit degree at 22, she celebrated by filling a giant trash bag full of romance novels and dragging it everywhere until she'd read them all. Now she's a RITA Award finalist, USA Today bestselling author who writes humorous fiction, risqué romance, and heartwarming love stories with a quirky twist. Publishers Weekly has praised Tawna's offbeat romances with multiple starred reviews and noted, "There's something wonderfully relaxing about being immersed in a story filled with over-the-top characters in undeniably relatable situations. Heartache and humor go hand in hand."
Tawna lives in Bend, Oregon, with her husband, step-kids, and a menagerie of ill-behaved pets. She loves hiking, snowshoeing, stand up, paddleboarding, and inventing excuses to sip wine on her back porch. She can peel a banana with her toes and loses an average of twenty pairs of eyeglasses per year. To find out more about Tawna and her books, visit www.tawnafenske.com.
Connect with Tawna
Amazon
Facebook
Instagram
YouTube
Goodreads
Website
Stay up to date with Tawna by signing up for her mailing list