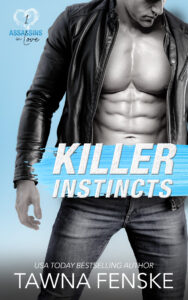 Killer Instincts
by
Tawna Fenske
Series:
Assassins in Love #1
Published by
Tawna Fenske
on April 7, 2022
Genres:
Fiction / Romance / Action & Adventure
,
Fiction / Romance / Contemporary
,
Fiction / Romance / General
,
Fiction / Romance / Romantic Comedy
,
Fiction / Romance / Suspense
Pages:
220
Format:
ARC
,
eBook
Source:
Social Butterfly PR
Buy on Amazon
Also in this series:
Killer Moves
,
Killer Smile
Goodreads

He's a hired gun. A hardened killer. So how'd he end up bottle-feeding lambs for his best friend's sister?

Dante didn't set out to deceive. His favor for a pal in prison got him this farmhand job, and Jen needs help guarding more than her blueberries. Someone's set on hurting her, and he'll make damn sure they don't. She can't know who sent him or why he's handier with a handgun than a hoe. But none of that matters more than keeping Jen safe.

To save the girl, he'll have to pair old skills with new. A princess tea party and an old-fashioned gunfight? Why not. Grape stomping and grenades? Sign him up.

But as the enemy closes in, there's one skill Dante finds he doesn't have: The strength to walk away when the job is done.
I received this book for free from Social Butterfly PR in exchange for an honest review. This does not affect my opinion of the book or the content of my review.
My Thoughts
So we got a very small taste of Dante, Matteo, and Sebastian in the prequel novella, Killer Looks, which kicks off a series where each book follows the happily ever after of each man. First up is Dante who pretends to be a farmhand in order to keep an eye on the sister of a certain someone who finds himself in prison at the end of Killer Looks.
What I think I enjoyed most about Killer Instincts was the banter between Dante and Jen. There was a bit of danger and a dash of mystery but overall this was just a light, fun read. I think where my attention waned was it was just too… perfect? Nice? Easy? There was not the emotional turmoil and drama that I apparently enjoy. Dante was hot and prefect even if he was keeping a secret while Jen was cute, quirky and little sister that is stronger than she gets credit for. And holy insta-love. I am generally okay with this trope. My actual REAL LIFE relationship is a whole lotta of insta love + over a decade of marriage. But damn. I now get what people are talking about….
Things wrap up nicely with a perfect little bow and all is well (as the author promised) which is sometimes, just what we need.
Overall
While this story was not completely my jam, it was a quick, fun read. If you are looking for a light romance, you will likely enjoy this book. Me? I am absolutely dying to read Sebastian's story. He was the one that caught my eye from the moment we saw him in Killer Looks. Schedule me an appointment with The Dentist my friends.
Fall in love today!
Amazon
Amazon Worldwide
Kobo
Apple Books
Nook
Google Play
Add Killer Instincts to Goodreads
About Tawna Fenske

When Tawna Fenske finished her English lit degree at 22, she celebrated by filling a giant trash bag full of romance novels and dragging it everywhere until she'd read them all. Now she's a RITA Award finalist, USA Today bestselling author who writes humorous fiction, risqué romance, and heartwarming love stories with a quirky twist. Publishers Weekly has praised Tawna's offbeat romances with multiple starred reviews and noted, "There's something wonderfully relaxing about being immersed in a story filled with over-the-top characters in undeniably relatable situations. Heartache and humor go hand in hand."
Tawna lives in Bend, Oregon, with her husband, step-kids, and a menagerie of ill-behaved pets. She loves hiking, snowshoeing, stand up, paddleboarding, and inventing excuses to sip wine on her back porch. She can peel a banana with her toes and loses an average of twenty pairs of eyeglasses per year. To find out more about Tawna and her books, visit www.tawnafenske.com.
Connect with Tawna
Amazon
Facebook
Instagram
YouTube
Goodreads
Website
Stay up to date with Tawna by signing up for her mailing list