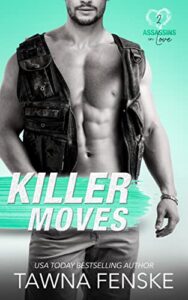 Killer Moves
by
Tawna Fenske
Series:
Assassins in Love #2
Published by
Tawna Fenske
on May 12, 2022
Genres:
Fiction / Romance / Action & Adventure
Pages:
220
Format:
ARC
Source:
Social Butterfly PR
Buy on Amazon
Also in this series:
Killer Instincts
,
Killer Smile
Goodreads

He's a hacker. A high-tech hitman. And now…a daddy?

When Matteo skips prison with a clean record, his conscience is anything but. Guilt hits him like a sack of marbles when he spots the woman he jilted. The clincher? Her child who looks like him.

Renee's son may have Matteo's eyes, but she won't say who fathered AJ. She's also mum on what sent her into hiding or why guys with guns are after her. But when Matteo blocks an attack, he persuades Renee to appoint him their protector.

Keeping them safe means faking they're a normal family road tripping with s'mores and snuggles and possibly a sniper rifle. Toss in a potty-training toddler and temptation from the woman he still craves, and it's officially Matteo's toughest mission.

But with danger nipping their heels, the only way to save his family may be to leave their lives for good.
I originally received this book for free from Social Butterfly PR in exchange for an honest review. This does not affect my opinion of the book or the content of my review. This review & author are no longer associated with Social Butterfly PR but since it was already completed, I still wanted to share!
My Thoughts
Killer Moves is book two in the Assassins in Love series which features our favorite cinnamon roll hacker, hit-man and big brother, Matteo, fresh out of prison. We briefly are introduced to his estranged love interest, Renee, in the Killer Looks novella but here we find her with a kiddo that looks suspiciously like our boy. Of course people are trying to kill her and Matteo will do anything to protect the woman he wants back and the child that might be his own.
Like it's predecessor, Killer Moves, is a super quick, fun read that feels fluffy even though we are dealing with hit-men. Murder. Being on the run. You know, a Sunday afternoon for these guys. What I appreciated about Killer Moves is that I felt the tension and danger a bit more in this one. There are some pretty intense moments there toward the end. Once again, Sebastian steals the page for me and I am absolutely dying to read Killer Smile.
Overall
Overall, I was completely entertained and enjoyed Killer Moves even more than book one. If you like your romance light with cinnamon roll men, a dash of danger, second change romance, and some banter tied up with a neat bow at the end, check out Killer Moves and the Assassins in Love series. Did I also mention I am SUPER EXCITED to read Seb's story next?!?!
About Tawna Fenske
When Tawna Fenske finished her English lit degree at 22, she celebrated by filling a giant trash bag full of romance novels and dragging it everywhere until she'd read them all. Now she's a RITA Award finalist, USA Today bestselling author who writes humorous fiction, risqué romance, and heartwarming love stories with a quirky twist. Publishers Weekly has praised Tawna's offbeat romances with multiple starred reviews and noted, "There's something wonderfully relaxing about being immersed in a story filled with over-the-top characters in undeniably relatable situations. Heartache and humor go hand in hand."
Tawna lives in Bend, Oregon, with her husband, step-kids, and a menagerie of ill-behaved pets. She loves hiking, snowshoeing, stand up, paddleboarding, and inventing excuses to sip wine on her back porch. She can peel a banana with her toes and loses an average of twenty pairs of eyeglasses per year. To find out more about Tawna and her books, visit www.tawnafenske.com.
Connect with Tawna
Amazon
Facebook
Instagram
YouTube
Goodreads
Website
Stay up to date with Tawna by signing up for her mailing list