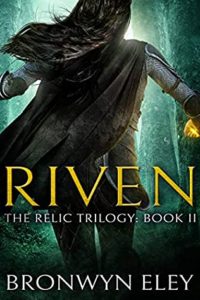 RIVEN
by
Bronwyn Eley
Published by
Talem Press
on August 13, 2020
Pages:
492
Source:
Publisher
Buy on Amazon
Goodreads

Kaylan's life as she knew it is over. Again.

Hunted by the guards of Edriast and their ruthless captain, Kaylan is forced to flee into a world she's never seen, armed with a power she never wanted. With her brother Elias by her side, she escapes to the distant city of Stynos, where rumour has it a possible ally is waiting… An ally who might help Kaylan control the violent magic that's become her burden to bear.

But Kaylan can't hide forever – not from the forces that surround her, or from the darkness inside herself. Rebel leader Bellamy seeks her help to destroy a regime; Captain Thorn pursues her with a vengeance; and as her power grows, her inner demons begin to seep through the cracks…

Kaylan may be strong, but is she strong enough to resist the Relic?

Riven is the engrossing second instalment in Bronwyn Eley's dark YA fantasy series, The Relic Trilogy.
I received this book from the publisher in exchange for an honest review. This does not affect my opinion of the book or the content of my review.
My Thoughts
Stop here if you have not read RELIC and wish to keep your reading experience spoiler free! You can head over to my review of book one here or check out my interview with Bronwyn to learn more about what inspires her (plus Markus' beverage of choice) here.
First, How Great is That Title?
Riven literally means to split or tear apart violently. We learn a little more about a specific connection to the story but my goodness it absolutely set the vibe for this entire twisty dark fantasy story. RIVEN starts immediately after the events of RELIC with Kaylan on the run, Captain Thorn on the hunt after tearing her life apart and Bellamy trying to lead a revolution. To say it's tense is an understatement…
Out of the Shadows…
In RELIC, Kaylan is ripped from life as she knows it to become Lord Rennard's Shadow which promised only pain and death before she was ready. By the time we reach RIVEN, she has escaped her fate but now is in possession of the source of her pain: Lord Rennard's Relic. Reading Kaylan's internal war between her growing addition to the relic's power, desire to be rid of it, and self-loathing over the choices she made to survive was exhausting, heart-wrenching and brilliant. There were times I was so fed up with her self-hatred and martyrdom (totally a trait that frustrates me in general) that I wanted to shake her and scream GET IT THE F*CK TOGETHER. Then I was quickly reminded how much of Kaylan's experience cannot be fully trusted. Was that her true belief/feeling or the relic adding fuel to the fire and influencing her? This added a whole new level to the carefully crafted tension that had me at the edge of my seat. Talk about fantastic character development.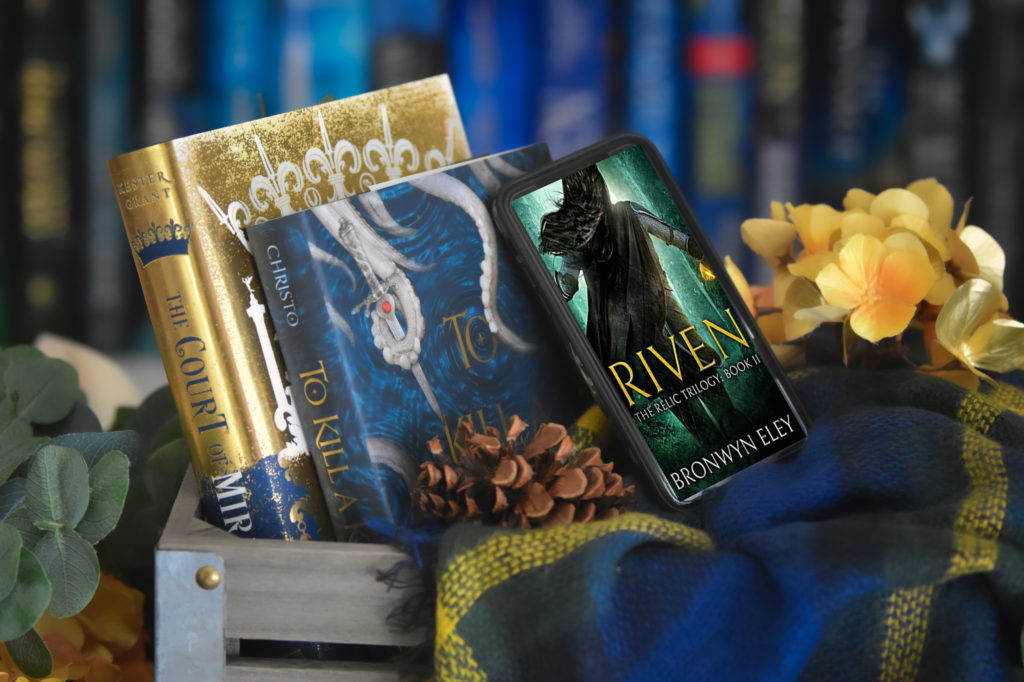 … and onto a Journey
One of my favorite parts of RIVEN was getting out of Edriast for a peek at the rest of the world. I loved the contrast between Edriast and Stynos and how each city's culture mirrored the Lord that ruled it. You only need to turn on the US news for five minutes to see how strongly a leader (or "leader" in our case) can influence the norms of a society at any given time. I also appreciate that the story lives and breathes in the morally grey. Frequently, when a story includes a rebellion there is a very clear line between right and wrong that often doesn't exist in reality. This rebellion is muddy and chalked full of questionable choices leaving the reader able to connect with the arguments of both sides while having no clue what is going to happen next.
Finally, along with new places we also meet new characters in RIVEN who were so easy to love. Rourke in particular, was a great addition and it was a joy to see the bond he developed with Kaylan. Never fear, my favorites from RELIC also join the adventure and I am anxious to explore the rest of the world and see what our crew gets up to in book three!
Overall
Overall, I loved this addition to The Relic Trilogy! It was a fast-paced, high stakes adventure with 'keep you up way past your bedtime' tension, lovable characters, battles, and razor sharp twists. It was fantastic!
If you loved RELIC, you will absolutely love RIVEN. And if you haven't started this series, what are you waiting for?
Recommended for fans of: stories with journeys, brewing rebellions, found families, internal demons, dark themes and plenty of action
Get your copy of RIVEN, August 13th and let me know your thoughts!