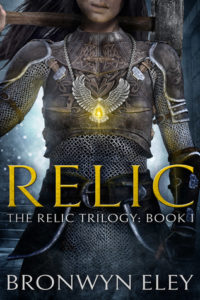 Relic
by
Bronwyn Eley
Published by
Talem Press
on September 12, 2019
Genres:
Fantasy
,
Fantasy
,
Young Adult
Pages:
498
Format:
ARC
,
eBook
Source:
Publisher
Goodreads

In the city of Edriast, there is no deadlier duty than to serve as the Shadow.
As the personal servant of the powerful Lord Rennard, the Shadow's life is all but forfeit. Rennard possesses one of five rare and dangerous Relics - a jewel that protects his bloodline, but slowly poisons everyone else in its proximity. When the current Shadow succumbs to its magic, nineteen-year-old blacksmith Kaylan is summoned to take his place.

It's an appointment that will kill her.

As the time Kaylan has left ebbs away, hope begins to fade... That is, until she discovers a plot to destroy all five bloodlines in possession of the Relics.
A rebel force plans to put an end to Rennard's rule and Kaylan suddenly finds herself embroiled in a cause that might just be worth fighting for. But no cause is without its costs...

As her life hangs in the balance and rebellion bears down on Edriast, Kaylan must decide where her loyalties lie - and how she'll leave her mark on the world.

Relic is the absorbing first novel in The Relic Trilogy, a thrillingly dark YA fantasy series.
I received this book from the publisher in exchange for an honest review. This does not affect my opinion of the book or the content of my review.
My Thoughts
Hello Wanderers! I had the opportunity to read an early copy of RELIC, book one in a new fantasy trilogy from debut author, Bronwyn Eley, and with that ending… it promises to be a great series! The book opens with an introduction to Lord Rennard, who rules over Edriast, and his Shadow – the most undesirable job in all of the land. Why? Well to be a Shadow means submitting to an early death. Enter our heroine, Kaylan, who is a bad ass blacksmith trying to take care of her family… and has been chosen to fill the position of Shadow after the latest death. What could possibly go wrong?
A Story of Family Above All Else
While I always love a good rebellion, and there is definitely one brewing here, I really appreciated that family and friends where such an important part of the story. While Kaylan may have lost sight of herself a few times (leading to a desire to shake her… often), she never lost sight of who she was fighting for. I adored her friendship with Shae (one of my favorite characters already) as well as the one she developed with Jesper and Markus. As the story progressed, there was a touch of romance but it never felt forced or overdone.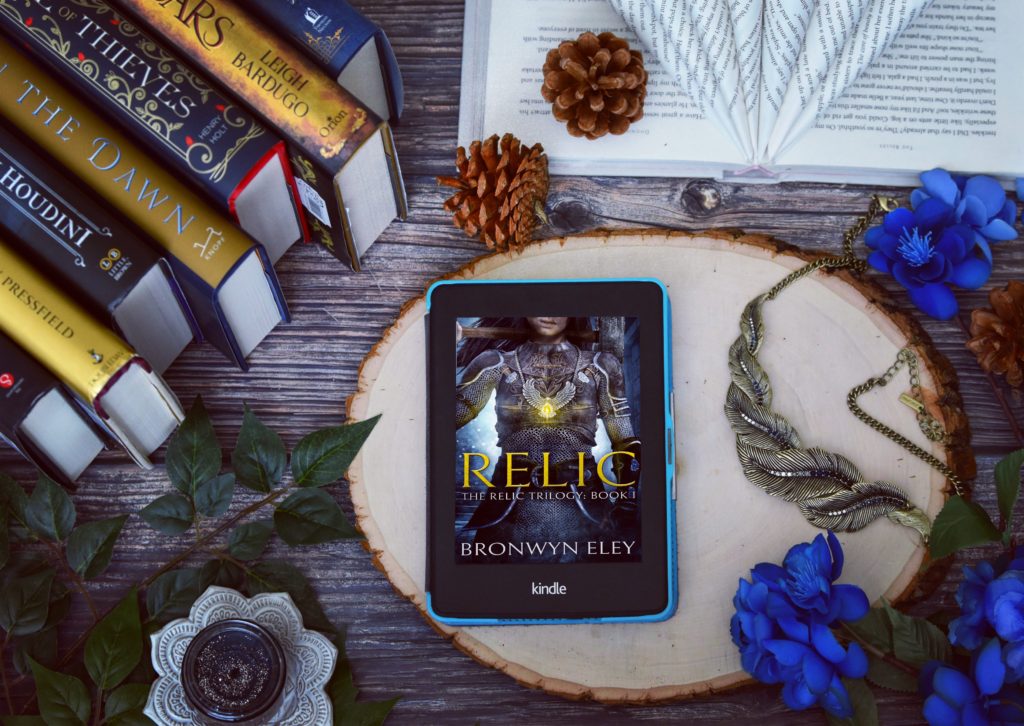 My only issue was with the pacing. It was a bit slow at first but that became less noticeable as I found myself getting more attached to the characters. I felt that Bronwyn did a wonderful job drawing the reader into Kaylan's head to really see how she experiences the world and the effects of being the Shadow. The last part of the book was much quicker pace and the last 5% or so of the book was really intense. I loved it. I am pretty good at predicting what happens next but at the end of RELIC, I have no idea where this story is going to go. And I can't wait to find out!
Overall
Overall, RELIC was a solid debut novel and a great set up for the endless possibilities that the next two books can capture, which is really exciting. This was definitely a more personal and character driven fantasy which was refreshing from some of the massive epic fantasies I tend to read. I really enjoyed the characters and cannot wait to learn more about them and the world as the story progresses.
Recommended for fans of: a bit slower paced, character focused fantasies with great female friendships, swoon worthy male character who loves dogs, and a beginning story with lots of potential for some epic adventures!
Read RELIC yourself when it enters the book world on 12 September 2019!