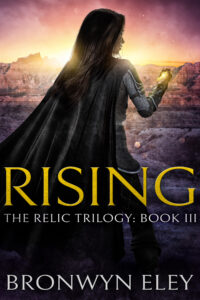 Rising
by
Bronwyn Eley
Published by
Talem Press
on May 13, 2021
Genres:
Epic
,
Fantasy & Magic
Format:
ARC
,
eBook
Source:
Publisher
Buy on Amazon
Goodreads

Time is running out.

With two Relics now in her possession, Kaylan must claim the final three before rebel leader Bellamy De Winter does. Then she must find a way to destroy the stones, once and for all.

But the magic is different now... and so is Kaylan.

After losing so much, she has forged a new bond with the Relic. It is more than mere magic, more than just a stone. Kaylan sees the dead Lord of Edriast, the man she killed to save herself, standing by her side.

The Relic is the only one who understands her now. But every word it whispers in her ear could be a lie. Every chance she gives it could be her final error.

As Kaylan pits her power against the men who seek to take it from her, she finds herself – and those she cares for – in more danger than ever before. And through it all, the Relic claims to be her ally... But as the perils of magic become clearer, Kaylan begins to wonder: will trusting the Relic lead to victory – or to death?

Rising is the gripping final volume in Bronwyn Eley's dark YA fantasy series, The Relic Trilogy.
I received this book from the publisher in exchange for an honest review. This does not affect my opinion of the book or the content of my review.
MY THOUGHTS
Hello fellow book dragon! Before you go any further, beware this is a review for the final book in a trilogy. While I will attempt to avoid any major spoilers of the previous books, it really cannot be helped. If you do not want to risk being spoiled, click away now! You can check out my spoiler-free review of the first book, RELIC, here and my interview with the author, Bronwyn Eley, here!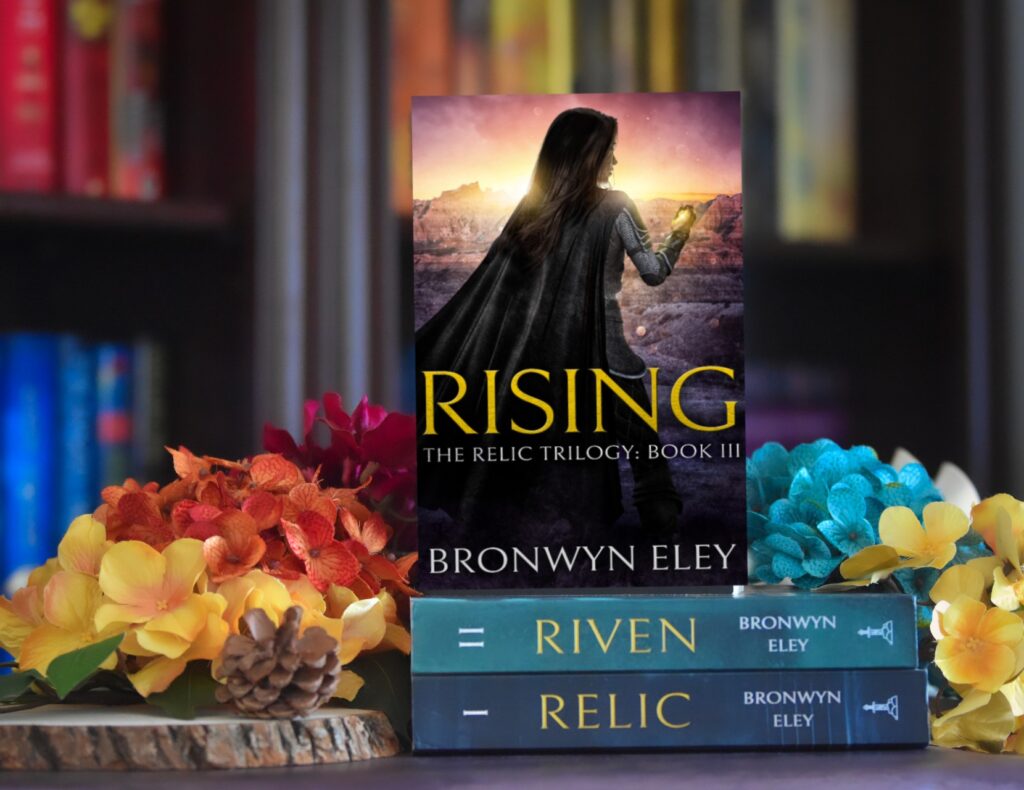 … Ready For It?
Yes, channeling TSwift here. THIS FINALE WAS MADNESS. RISING picks up shortly after the events of RIVEN (still my one of my favorite titles) with Kaylan in possession of two merged relics and on the hunt to secure the final three so she can destroy magic for good. To say this finale was intense would be an understatement. I was terrified for the ragtag crew I have come to love so much. And rightfully so…
Reviewing the third book in a series is so hard because I want to both shout about all the things I loved while wanting to keep everything close so readers can experience all the intensity, heartbreak, hope and healing first hand. The Relic Trilogy challenges us to face the complexities of human existence. The nuance of real relationships. The lure of power. The challenge of healing and learning to trust yourself. And ache of loss as well as forgiveness. RISING had me at the edge of my seat laughing yet heartbroken and infused with anxiety about how this all would end.
If you have read my previous reviews, you know that Kaylan is one of those characters that drove me mad with her assumptions, self-blame and taking responsibility for things that she has no business taking responsibility for entirely too often. Totally a 'me' thing but it can distract me from the story at times; however, she grew so much over this series my friends. It was really cool to see her journey. The one character that surprised me was Lord Rennard. Avoiding spoilers with this one but what a wild, unique and incredibly fascinating story arc. I have so many thoughts, someone please read and come chat with me about them!
Overall
If you have read the previous two books you already know you need to read RISING. If you are new to the series, add it to your TBR now! RISING was an incredible conclusion and honestly exceeded everything I hoped it would be. It was heartbreaking yet hopeful with an ending that was breathtaking. I loved this trilogy! I am definitely looking forward to revisiting these characters again in the future and picking up what ever Bronwyn writes next!
PS. Isn't the cover absolutely STUNNING?!?!