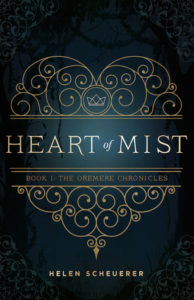 Heart of Mist
by
Helen Scheuerer
Published by
Writer's Edit Press
on August 28, 2017
Genres:
Fantasy
,
Fantasy & Magic
Pages:
488
Format:
Audiobook
,
eBook
Source:
Author
Buy on Amazon
Goodreads

In a realm where toxic mist sweeps the lands and magic is forbidden, all Bleak wants is a cure for her power.

Still grieving the death of her guardian and dangerously self-medicating with alcohol, Bleak is snatched from her home by the Commander of the King's Army, and summoned to the capital.

But the king isn't the only one interested in Bleak's powers.

The leader of an infamous society of warriors, the Valia Kindred, lays claim to her as well, and Bleak finds herself in the middle of a much bigger battle than she anticipated.

Heart of Mist is the gripping first book in The Oremere Chronicles, a fantasy series of epic proportions.
I received this book for free from the author in exchange for an honest review. This does not affect my opinion of the book or the content of my review.
My Thoughts
Forbidden magic? Check. Toxic mist? Check. Political Scheming? Double Check. The main character's name is Bleak which should give you some insight into her life. Heart of Mist is a dark and twisty tale of a young woman who's kind is hated, feared and put to death because of their magic. After loosing everything, Bleak lives day to day downing her magic in alcohol as a means to keep a sliver of sanity. When Bleak is "summoned" by the King, she is set on a path of lies and mistrust which challenges her to discover what she is truly capable of and what truths have been stolen from her.
Heart of Mist is reveals a complex yet intriguing world that remind me a bit of Mistborn (one of my all time favorites). It look me a little bit to get my bearings with the changing voice and stories. Some of the voices, I have yet to truly grasp what role they play in the grand scheme of The Oremere Chronicles. There were a number of mysteries woven through the story line, some of which we received answers and others yet to be relieved. Pacing wise, Heart of Mist started off with a bang, then slowed back down leaving room to build the intensity to an ending that left me dying to know what happens next. I have SOO many questions!
Overall
Overall Heart of Mist was an intense introduction to a complex and intriguing fantasy world. I found myself enjoying all of the characters and am a bit worried about the health of a few. I am absolutely picking up Reign of Mist as soon as I can.
Recommended for fans of: High Fantasy, forbidden magic, coming of age stories, complex stories, toxic mist and a bit of snark
I alternated between the ebook and audiobook which was an enjoyable listen. If you are interested, you can pick up Heart of Mist on Kindle Unlimited for FREE here.
NEXT IN THE SERIES…