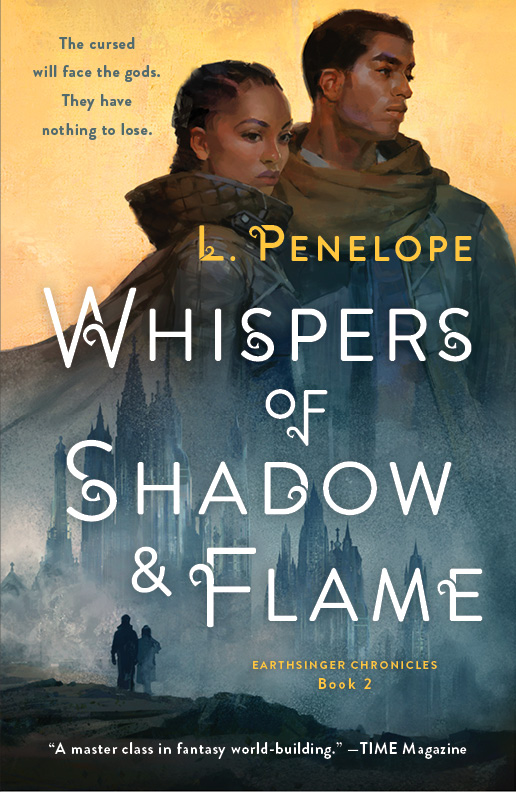 Whispers of Shadow & Flame
by
L. Penelope
Published by
St. Martin's Press
on October 1, 2019
Genres:
Fiction
,
Fantasy
,
Historical
,
Romantic
Pages:
480
Goodreads
The cursed will face the gods. They have nothing to lose.

"A master class in fantasy world-building." - TIME Magazine on Song of Blood & Stone

The Mantle that separates the kingdoms of Elsira and Lagrimar is about to fall. And life will drastically change for both kingdoms.
Born with a deadly magic she cannot control, Kyara is forced to become an assassin. Known as the Poison Flame in the kingdom of Lagrimar, she is notorious and lethal, but secretly seeks freedom from both her untamed power and the blood spell that commands her. She is tasked with capturing the legendary rebel called the Shadowfox, but everything changes when she learns her target's true identity.

Darvyn ol-Tahlyro may be the most powerful Earthsinger in generations, but guilt over those he couldn't save tortures him daily. He isn't sure he can trust the mysterious young woman who claims to need his help, but when he discovers Kyara can unlock the secrets of his past, he can't stay away.

Kyara and Darvyn grapple with betrayal, old promises, and older prophecies—all while trying to stop a war. And when a new threat emerges, they must beat the odds to save both kingdoms.
Friends, I am such a fan of L. Penelope. She has created a magical world in her Earthsinger Chronicles that is utterly captivating. Song of Blood and Stone was one my favorite reads from last year and I am incredible grateful to have the opportunity to share the cover of Whispers of Shadow & Flame!
The original cover of Song of Blood and Stone was absolutely stunning, but these new covers… I swear the speak to the soul of these books. Are these not glorious?
If you are as excited as I am, pre-order the paperback today!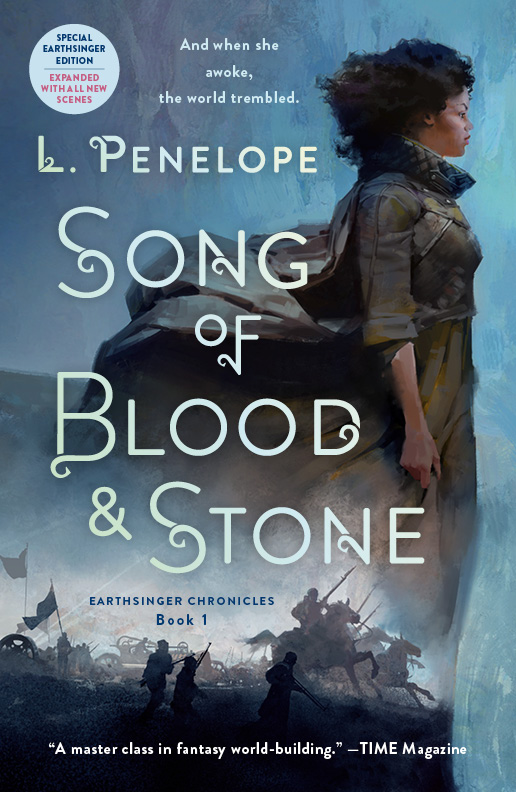 Catch up on the Series
Check out my review of Song of Blood and Stone here.
Song of Blood & Stone, Earthsinger Chronicles Book 1 – Special Edition Paperback releases July 16, 2019. (Ebook & hardcover available now).

Breath of Dust & Dawn, Earthsinger Chronicles Book 1.5 – Available now!
Giveaway
Want to give this series a try? L. Penelope is giving away a signed, hardcover copy of Song of Blood & Stone. International entries are welcome!
About the Author
L. Penelope is an award-winning fantasy romance author. Equally left and right-brained, she studied filmmaking and computer science in college and sometimes dreams in HTML. She lives in Maryland with her husband and furry dependents. Sign up for new release information, exclusives, and giveaways on her website.