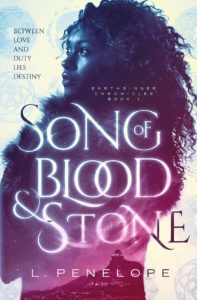 Song of Blood & Stone (Earthsinger Chronicles, #1)
by
L. Penelope
Published by
St. Martin's Press
on May 1st 2018
Genres:
Fantasy
,
Romance
Pages:
384
Format:
ARC
Source:
Netgalley and Publisher
Buy on Amazon
Goodreads
A treacherous, thrilling, epic fantasy about an outcast drawn into a war between two powerful rulers.

Orphaned and alone, Jasminda lives in a land where cold whispers of invasion and war linger on the wind. Jasminda herself is an outcast in her homeland of Elsira, where her gift of Earthsong is feared. When ruthless soldiers seek refuge in her isolated cabin, they bring with them a captive--an injured spy who threatens to steal her heart.

Jack's mission behind enemy lines to prove that the Mantle between Elsira and Lagamiri is about to fall nearly cost him his life, but he is saved by the healing Song of a mysterious young woman. Now he must do whatever it takes to save Elsira and it's people from the True Father and he needs Jasminda's Earthsong to do it. They escape their ruthless captors and together they embark on a perilous journey to save Elsira and to uncover the secrets of The Queen Who Sleeps.

Thrust into a hostile society, Jasminda and Jack must rely on one another even as secrets jeopardize their bond. As an ancient evil gains power, Jasminda races to unlock a mystery that promises salvation.

The fates of two nations hang in the balance as Jasminda and Jack must choose between love and duty to fulfill their destinies and end the war.
I received this book for free from Netgalley and the publisher in exchange for an honest review. This does not affect my opinion of the book or the content of my review.
My Thoughts
First, can we just take a moment to admire that gorgeous cover? Swoon.
When Song of Blood and Stone first came into my world via the Netgalley Gods, I didn't realize it was the book I truly needed at that very moment. You see, I had just finished with what I felt was my least favorite addition to one of my favorite series. And when I say 'least favorite' I mean the more I think about it, more stars come off my internal review. The magic was non existent. The characters where kidnapped or missing. And I felt a bit jaded and disenchanted. Never a place I want to be as a reader (or person really).
Then came along Song of Blood and Stone, which turned out to be a captivating ember of a story glowing with magic.  I haven't stopped thinking about it and want to reread.
A World Divided
In Song of Blood and Stone, people are divided, judged and feared based on the color of their skin as well as their capacity for magic. The world L. Penelope builds is beautiful, brutal, frustrating and heartbreaking. When reading Song of Blood and Stone, I couldn't help but make parallels between the ignorance of the people in Elsira to the ignorance that has consumed the US. Personally, I felt this depth added to the story and drew me in to feel Jasminda's anger, fear and pain on a whole other level.
Jasminda was a refreshing heroine in a genre saturated with 'in your face ass kicking' women. Don't get me wrong, I love badass heroines but there is something magic about the realness of Jasminda's quiet strength. She is fierce in the way she takes on the world while still being able to hold on to the soft, beautiful part of her soul. Despite her fear and pain, Jasminda walks into each new challenge with her head held high. This is a trait I absolutely admire.
I was a tad distracted at times by the attention paid to her 'weak song;' however, it didn't take away from my enjoyment of the story. Just earned a coupe eye rolls… 

Fairy Tale Love and Magic
At it's heart, Song of Blood and Stone is the story of two people who have rarely been shown kindness yet continue to find strength, hope and belief that the world they live in can be better. Jack and Jasminda were so easy to fall in love with both in their own right and in there interactions with each other.
I loved that the magic of Earthsong is rooted in nature and connected to all life. This depiction of magic truly resonated with me and reflected the core of my own experiences and spirituality. The folklore at the beginning of each chapter was fun and added depth to the story as a whole. I found myself trying to make connections between the fables and the content of each chapter. Almost like a treasure hunt or a riddle.
I did feel that in the beginning the writing felt a little clunky and repetitive, but either that improved or I became so drawn into the story I stopped noticing after the first few chapters.
Overall
Song of Blood & Stone had everything I was looking for: humor, compassion, action, tension and romance. The story was thrilling adventure that captured my attention and would not let me put it down. I read the entire last half in a single night. L. Penelope has a fan and I am looking forward to the next addition to this world and quite frankly, anything else she writes!
It is definitely worth picking up when it comes out on May 1st. 
Recommended for fans of: fantasy, political strife, magic, fairy tale romance
Trigger Warning: There is an attempted rape. Not graphic in detail but it is there early in the story.