Hi Wanderers! Have you ever looked around and wondered 'how is this even my life?' And not in the 'everything is falling apart, Murphy go away' kinda way (been there too) but in real awe that you have the privilege of being in that very moment.
That was my experience hiking the Great Wall of China. Yes friends… I FRICKEN HIKED THE GREAT WALL! I look back and still don't believe it.
I also have a confession… I have had a hard time figuring out how to even start my travel posts. While books feed my brain and my heart, travel feeds my soul. And how do you begin to share your soul in words?
Let us start from the beginning…
Beijing, China
You may or may not know that my husband and I were relocated to South Korea shortly after we were married… nothing is more like a crash course in being married to the Army than facilitating a move overseas. By yourself. Because they sent your husband unexpectedly ahead of you. Did I mention that I was new to 'Army Wife' life and didn't know what the hell I was doing? In the end, it all worked out and we fell in love with Korea.  You can check out some of the reasons why here. 
We spent two years in Korea so when our second anniversary coincided with an opportunity to take a trip to Beijing, we didn't hesitate to sign up!
Here are a few of my favorite adventures…
Wangfuji Street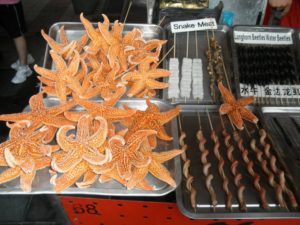 There is no better word to describe Wangfuji Street than juxtaposition. You can go shopping at high-end retail stores (not my cup of tea) before checking out some incredibly… interesting street food. The Gryffindor in me is ALWAYS up for an adventure, so I totally picked the street food.
And it did NOT disappoint. You can find anything you can dream up… served to you on a stick. I'm talking everything from caramelized fruit to bugs, snakes… animal testicles… pig uterus…starfish. No joke. It was a Fear Factor dream (am I showing my age?).
So what did I eat? Well after seeing a lieutenant make a HUGE deal about the fact he was going to eat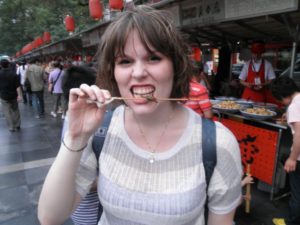 these tiny little scorpions while being filmed by all his buddies… I decided I didn't need the fanfare to eat the bigger scorpions… right next to him. I'm an asshole sometimes, what can I say?!?  My dad always said I can do anything a man can… so there we were… eating deep fried scorpions. Thanks dad.
They tasted like burnt popcorn…
Location: Wangfujing Main Street, Dongcheng District, Beijing 100006, China
Tobacco Alley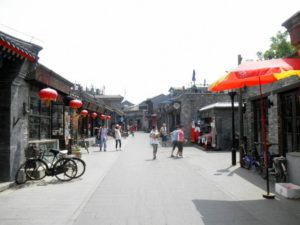 Friends, I hate shopping with a fiery passion. I would rather do anything else, except maybe clean the bathroom. The ONE exception is when I'm traveling. I love finding local artisan markets or streets with specialty shops for local goods. That is my jam.
Our guide called this area Tobacco Alley, but it is also called Tobacco Pipe Street and Skewed Tobacco Pouch Street due to it's shape and tobacco stores. It is also one of the oldest streets in Beijing, dating back to the Ming Dynasty. Here you can find plenty of cool little shops, tearooms, bars, artisans, antiques and yes, tobacco shops. What I loved was the little Tibetan shops and all the amazing tea. Mmmmm.
The highlight of my experience in Tobacco Alley; however, was when my husband and I went back during a free night to check out some of the local night life. Picture this: drinking absinthe + red bull in a reggae bar while a Chinese band sings Bob Marley. Yup. That was our night. Epic.
We also had to take a rickshaw back to our hotel because none of the taxi drivers would pick up our American asses in the middle of the night (don't blame them at all). Looking back, having a strange man drive us miles on the side of the highway in a carriage pulled by a bike, who's only guidance was the 'take me here' message in Chinese on the back of our hotel card… might not have been the safest?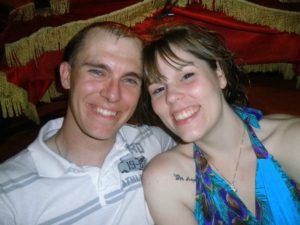 But man it was a blast!
Location: Yan Dai Xie Jie ShiChaHai, Xicheng Qu, Beijing 100009, China
Summer Palace and Forbidden City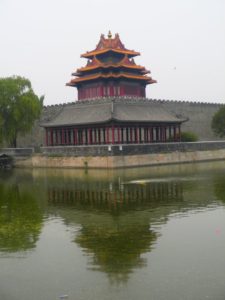 If you ever travel to Beijing, please do yourself a favor and see the Summer Palace and Forbidden City. It is absolutely incredible and awe inspiring to think that these buildings have been around for over 800 YEARS! That Emperors were here. Hands down my favorite part of traveling is experiencing the culture and history and I found Beijing fascinating!
Random fact I learned… certain demons in Chinese culture can't jump, so entry ways in the Forbidden City have a barrier to keep them out!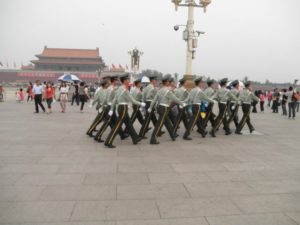 Also worth recognizing is that Tiananmen Square is right outside the Forbidden City…but don't ask about the Tiananmen Square protests. Mr. Read and Wander made this mistake… in the middle of the Square… while members of the local army were marching around… and was told it was a rebellion that they don't talk about. No joke. Friends, hundreds to THOUSANDS were killed related to these protests. I have a lot of issues with the state of my country at present, but this moment really highlighted some of the privileges we take for granted in the US… and were we do not want to go.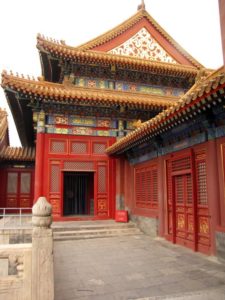 Temple of Heaven
The Temple of Heaven was built in the 1400's and is actually larger than the Forbidden City. It is also, hands down, one of the most beautiful places I have ever seen. I really don't have any snarky or goofy stories for my time here. What I can say is that I experienced a sense of peace and serenity that I have rarely experienced before. It was magic. Make this the top of your Beijing travel list.
The Temple of Heaven was also a stark reminder of why people within many Asian cultures have long lives. The surrounding areas are full of older Chinese people… living! They exercise outside, dance, play games and just enjoy each other while MOVING.
The lesson I always take with me from my experience here is this: be mindful and move.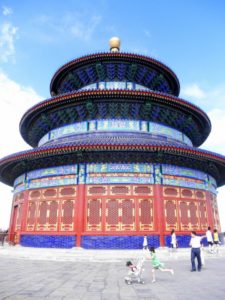 Location: 1 Tiantan E Rd, Dongcheng Qu, Beijing Shi, China
The Great Wall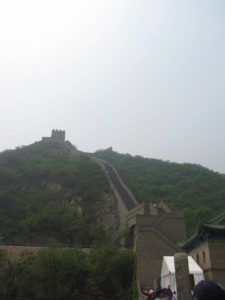 What is there to say? This was absolutely a once in a life time experience. It is not everyday you look up at a massive set of stairs and realize that it is HUNDREDS of years old. And that's the young stairs… parts of the wall were first build in 7th century BC. Can you even fathom how old that is? I have a hard time even wrapping my mind around it.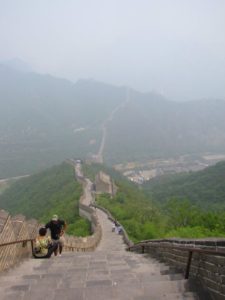 Our time at the Great Wall was such an incredible experience. Not only with the amount of history but also opening our eyes to the culture. From the men running… I repeat RUNNING up the side of what is essentially a cliff… to the Chinese tourists taking photos with us because they have never seen anybody besides another Chinese citizen (per our tour guide)… to getting vertigo looking at the height we climbed and thinking… SOMEONE BUILD THIS BY HAND?!?!
This was definitely one of the top five experiences of my life. Easily.
Welp that's it for my internet approved adventures!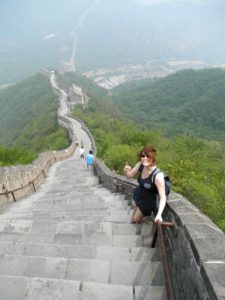 What are your experiences in Beijing? Or is this a place you would like to visit one day?