I miss Korea. If I could go back, I would without a second thought. It wasn't always this way though. Shortly after my husband and I eloped… in Vegas… on a helicopter… we found out the military was stationing us in Korea. I was 23, just graduated from college (the first time) and had no idea what to expect living in a foreign country or what it meant to be a military spouse. Hell, I hadn't even told my family I got remarried at this point, let alone that I was going to be living just 11 miles from North Korea in just a few short months. So I was a little unsure about what this experience would hold.
Life has a funny way of surprising you though. My family took the news in stride and after two years living in Korea, it felt like a second home. A home I miss despite currently living where I was raised and where my soul feels whole within the trees. Needless to say, the PyeongChang Olympics triggered a lot of nostalgia…
Here are 5 reasons why you should travel to The Land of the Morning Calm

1. Juxtaposition of the Old and New
In the grand scheme of life, my worldly travel is in its infancy. There are so many amazing places I have yet to explore, but there are few places where cutting edge technology lives along side centuries old beauty. In Seoul, you can wander the shops and see the latest gadget then fall into the 14th century at Gyeongbokgung Palace (pictured above). Here you are transported back in time to experience the change of the guard ceremony or just marvel at the beauty of the palace from the Joseon Dynasty. If you tire of walking through history, just look back up and there is the modern world. It is amazing and jarring all at once.
There are so many beautiful places to experience Korea's history and culture but here are a few of my favorites: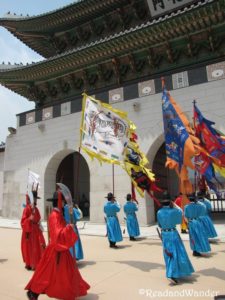 Gyeongbokgung Palace
Gyeongbokgung Palace Station (Subway Line 3),
Exit 5 / Gwanghwamun Station (Subway Line 5), Exit 2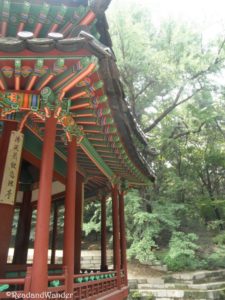 Changdeokgung Palace and Huwon
Anguk Station (Seoul Subway Line 3), Exit 3. Walk for approx. 5 min.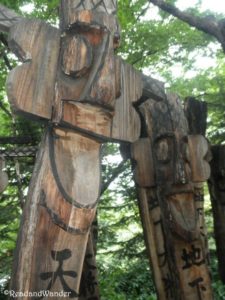 Hwaseong Fortress and the Korean Folk Village in Suwon
Maehyang-dong, Suwon-si, Gyeonggi-do, South Korea
Note: we drove as the train route was pretty long but can be found online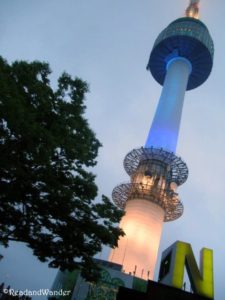 N. Seoul Tower
Chungmuro Station (Seoul Subway Line 3, 4), Exit 2 → From Chungmuro Station Exit 2•Daehan Theater Bus Stop, take Namsan Circulation Bus No. 02 to N Seoul Tower Bus Stop OR take the Namsan Cable Car – Myeong-dong Station (Seoul Subway Line 4), Exit 3. Walk approx. 10min. (Address: 83, Sopa-ro, Jung-gu, Seoul)
2. The Food
Korean food is delicious and I am pretty sure the kimchi has anti-aging properties (my favorite is cucumber kimchi…mmm). One of our favorite past times was to sit down with a group of friends and enjoy gogi-gui (Korean barbecue). Many places we could sit there for hours just chatting, drinking soju and grilling a seemingly endless supply of meat while snacking on the various marinated sides. Nobody cared that we cooked the meat ourselves, sometimes with the guidance of a kind local or staff member who gave us tips. Nor did anybody care if we had to dish up what sides looked good that night… all the work was completely worth it. The food is fresh, flavorful and doesn't leave you feeling heavy or sluggish. One of my unexpected favorites was gamjatang (pork spine or pork bone soup) but you also cannot go wrong with bibimbap (rice bowl with meat and vegetables). Either way, skip the novelty of Korean McDonalds and find a small restaurant where you might have to point at pictures (if you do not know enough of the language) and eat there. You will not regret it.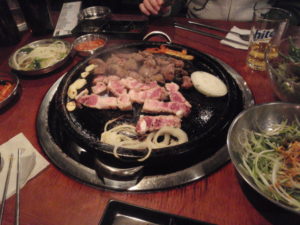 A couple places to check out:
Hongdae is also a great place to find a cafe  (near Hongik University Station)
Osegyehyang is a heavenly little vegetarian restaurant in Insa-dong
 Kraze Burger (

27, Chilpae-Ro

, 

Seoul, 

South Korea) 

Lotte Mart is the snack capital. I really miss all the melon flavored goodies.
3. Korean Baseball
Korean baseball is the best. In the states, you go to a game and spend at least $10 per beer and another $10 for a shitty hot dog after you already paid to get into the game. Then there is a whole lot of watching, chatting and maybe a little bit of cheering or hollering at the other teams batters. But not at a baseball game in Korea my friends. Not only can you bring your own beer and food into the park when you enjoy a baseball game in Korea, but there are cheerleaders (yes, baseball cheerleaders) and these giant boom sticks that make a lot of noise. Mind blown. I am much more of a football girl, so the more raucous environment was right up my alley. Don't want to bring your own food and refreshments? There was a number of delicious options right outside the stadium from traditional Korean food to KFC.

4. Shopping
I absolutely hate shopping (unless it is for books) but I always had a ton of fun wandering through the markets in Korea. Insa-dong is my absolute favorite. The main road has lots of shops, tea houses, galleries and booths for more artistic and traditional souvenirs. Our house is full of stunning artwork and pottery that I found in Insa-dong. In the alleys are more hidden gems and where you can find my most favorite restaurant, Osegyehyang. 
How to get there: Anguk Station (Subway Line 3). Exit 6.
Myeong-dong is another fun place to check out. There are a ton of international stores and local boutiques carrying the latest fashions as well as street food and restaurants galore. Namdaemun Market not far from Myeong-dong and is your more traditional Korean market with a verity of fare and crafts to purchase and so much fun to explore. Plus the history of the market spans over 600 years!
How to get there: Hoehyeon Station (Subway Line 4), Exit 5

5. Jeju Island
When we got married, we didn't have a honeymoon (outside running amok in Vegas) so we decided to celebrate our first anniversary on Jeju Island which is considered Korea's Hawaii.  It is breathtakingly beautiful. You can take a dip in the Yellow Sea or adventure through the beauty and lava tubes of Halliam Park.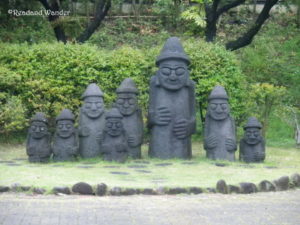 You will also see many Dol hareubangs (stone grandfather) which are said to be protectors but also symbols of fertility. Local lore suggests that if you rub their nose you will have a boy and if you rub their ear you will have a girl. Being young and completely unready for children, we admired this guys from afar… just in case.   There are lots of places to eat (we liked Jamae Guksu) especially for seafood lovers or if you are adventurous, horse meat. Hiking around we also came across Cheonjeyeon (below) and I have never seen such aquamarine water outside of the Caribbean.
Jeju is just stunning. Go there.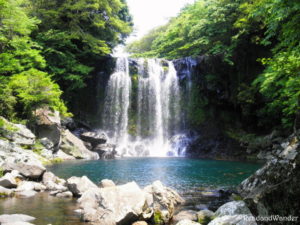 Bonus: Joint Security Area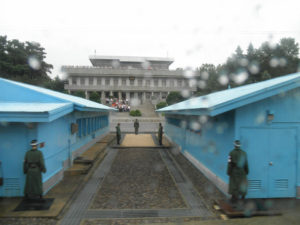 There was no peace treaty signed at the end of the Korean War (an armistice ended the fighting) and some might argue they are still technically at war. No where is it more apparent than the Demilitarized Zone (DMZ).
There is no way for me to do justice to the pain and yearning for unification here, but it can be seen all over the country in unity bells and ribbons representing the wishes for their families to be whole again.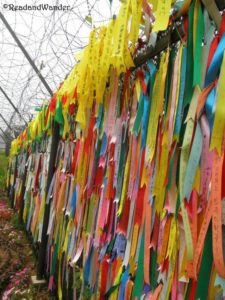 It was extremely humbling to learn about the history of the Korean Peninsula at the JSA as well as having the opportunity to bring holiday cheer to the soldiers stationed there during the tense time shortly after Kim Jong-il passed.  This place was eye opening. It was really easy to forget at times that I was given a gas mask and expected to have a bag ready to go in the case of an evacuation. The DMZ and JSA  can be a bit intimidating, scary but is absolutely unforgettable. I could (and maybe will) write a whole post on my experience here and how it changed my thinking. It is definitely worth seeing.
Be Kind. Explore. Wander.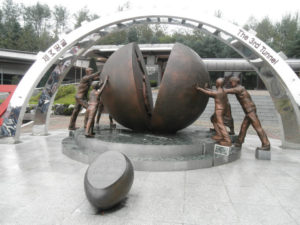 Notes: Directions are from Visit Korea. Photos are my own, please do not share without giving credit.