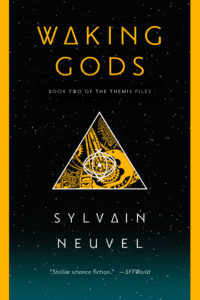 Waking Gods: Book Two of the Themis Files
by
Sylvain Neuvel
Published by
Del Rey Books
on March 13th 2018
Genres:
Fantasy
,
SciFi
Pages:
352
Format:
Audiobook
,
Hardcover
Source:
Purchased
Buy on Amazon
Also in this series:
Only Human (Themis Files, #3)
Goodreads

In the gripping sequel to Sleeping Giants, which was hailed by Pierce Brown as "a luminous conspiracy yarn . . . reminiscent of The Martian and World War Z," Sylvain Neuvel's innovative series about human-alien contact takes another giant step forward.

As a child, Rose Franklin made an astonishing discovery: a giant metallic hand, buried deep within the earth. As an adult, she's dedicated her brilliant scientific career to solving the mystery that began that fateful day: Why was a titanic robot of unknown origin buried in pieces around the world? Years of investigation have produced intriguing answers--and even more perplexing questions. But the truth is closer than ever before when a second robot, more massive than the first, materializes and lashes out with deadly force.

Now humankind faces a nightmare invasion scenario made real, as more colossal machines touch down across the globe. But Rose and her team at the Earth Defense Corps refuse to surrender. They can turn the tide if they can unlock the last secrets of an advanced alien technology. The greatest weapon humanity wields is knowledge in a do-or-die battle to inherit the Earth . . . and maybe even the stars.
My Thoughts
Wow. My mind is blown. Have you ever read or experienced anything that made you feel so incredibly small and insignificant in the grand scheme of things? That is Waking Gods and really the Themis Files in general. It has been over a year since I read Sleeping Giants so I had forgotten how out of this world this story is, quite literally.
I absolutely loved this book. Seriously. This might be one of my new favorite series. It starts with the arrival of a giant robot, much like Themis, that looms over London. Humans do what they tend to do – immediately view the robot that has done nothing but stand, as a threat. Things go to hell in a hand basket real fast.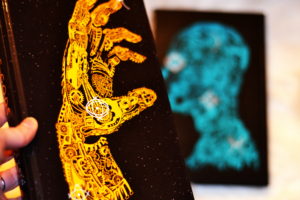 Challenge Your Thinking…
I enjoyed the uncovering of the mystery surrounding Themis and these new visitors. How did she get there? To what purpose? Why are they visiting now? It started to make me think, what would that mean for my own view of life and the world if we found something that predates human technology. Seriously think about it. What would that mean for your current belief system? The universe is so much bigger than we perceive.
You, my friend, are a very complex, awe-inspiring configuration of matter. What you're made of isn't really important.
I found the science intriguing and it had just enough realism to open your mind to new possibilities and questions. Just like Rose, the discovery makes you wonder about the intersection of science and religion. Does science fly in the face of religion? Can you be both a scientist and religious or does science fly in the face of God? I found myself  wondering along with Rose despite not being particularly religious myself.
Overall
Waking Gods was an exciting, fast-paced thrill ride that I absolutely could not put down. The style of narrative was an amazing tool to build the suspense and keep the story exciting. Each mission log, interview transcript, journal entry and media report gave a unique perspective and added a new element to the story. If you can, I absolutely recommend listening to this as an audio book. It is special and adds additional depth to the story. There is a full cast that brings each piece of the narrative to life.
Waking Gods ends in one hell of a cliff hanger so be prepared to pine for Only Human until it comes out May 1st.
Recommendation: If you enjoy giant alien robots, expanding your thinking, snarky heroines and a good SciFi adventures, this series is for you!
What books have you read that have challenged you to think differently about the world around you?