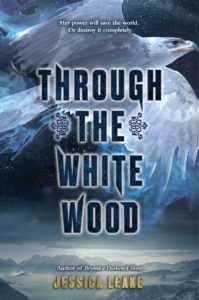 Through the White Wood
by
Jessica Leake
Published by
HarperCollins
on April 9, 2019
Genres:
Young Adult Fiction
,
Fantasy
,
Historical
,
Romance
,
Fairy Tales & Folklore
,
General
Pages:
416
Format:
ARC
Buy on Amazon
Goodreads

The Bear and the Nightingale meets Frostblood in this lushly romantic and intensely imaginative historical fantasy from the author of Beyond a Darkened Shore!

When Katya loses control of her power to freeze, her villagers banish her to the palace of the terrifying Prince Sasha in Kiev.

Expecting punishment, she is surprised to find instead that Sasha is just like her—with the ability to summon fire. Sasha offers Katya friendship and the chance to embrace her power rather than fear it.

But outside the walls of Kiev, Sasha's enemies are organizing an army of people bent on taking over the entire world.

Together, Katya's and Sasha's powers are a fearsome weapon. But as their enemies draw nearer, will fire and frost be enough to save the world? Or will Katya and Sasha lose everything they hold dear?

Inspired by Russian mythology, this lushly romantic, intensely imaginative, and fiercely dramatic story is about learning to fight for yourself, even when the world is falling down around you.
I received this book for free from the author and publisher in exchange for an honest review. This does not affect my opinion of the book or the content of my review.

On Tour with Prism Book Tours
My Thoughts
Jessica Leake first came on my radar last year when I received Beyond a Darkened Shore in my FairyLoot box (love their box BTW so check them out!). Regrettably, I did not read it right away and absolutely should have. I LOVED Beyond a Darkened Shore and found myself being unable to stop reading. Even when I did have to stop (cause adulting), I was still thinking about the characters and the story. Needless to say, I was beyond thrilled to receive an early copy of Through the White Wood, one of my most anticipated reads of 2019.

Wanderes, I was not disappointed. While I was not as immediately consumed by Through the White Wood like I was with Beyond (I blame my doctoral research and not the book), I was absolutely captivated. Jessica Leake is such a wonderful storyteller and once again, she brings to life a magical world inspired by Russian mythology. I really enjoyed that the cultural stories where not only woven throughout the story line but also brought to life by it. Literally. Sometimes in the bath. And never when you expected it.
Hello Elementals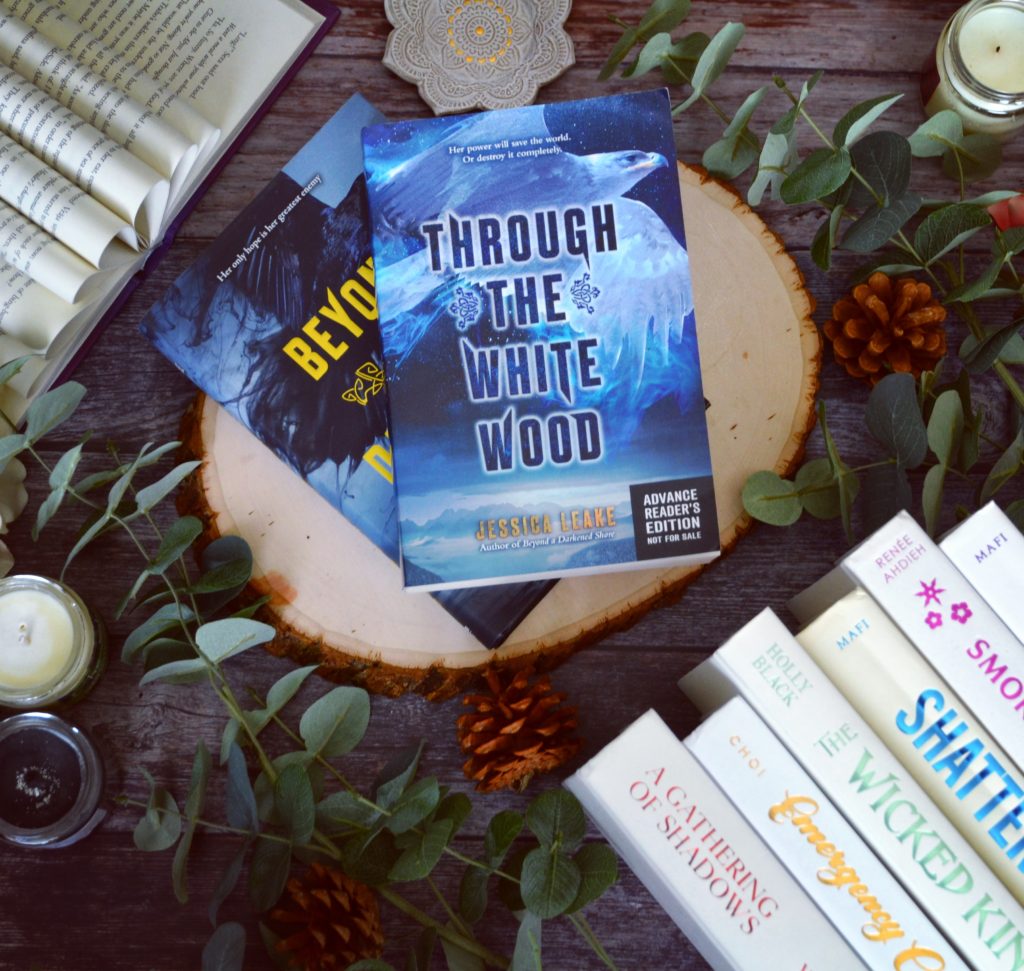 Hi my name is Nikki and I am obsessed with elemental magic. It is definitely my favorite form of magic and loved the unique presentation of elemental magic in Through the White Wood. From trees flying to growing vine cages and freezing people to pieces, the magic was so raw, powerful, a bit scary but also beautiful. I have rarely seen ice as the chosen form of elemental magic and now I need more. It was so captivating to see Katya grow into her power.
I was absolutely blown away by the story line, the characters and the slow burn romance. I felt so much for Katya, who never really felt like she belonged anywhere. She so desperately wanted to connect, to build friendships yet the world kept giving her reasons to fear and mistrust. I don't want to spoil but the friendships and animal sidekicks were also So GOOD.
Overall
Overall, Through the White Wood was a breathtaking, mesmerizing and sometimes gut wrenching adventure. There were so many great characters, some twists and we even got to see our favorites, Ciara and Leif, from Beyond a Darkened Shore. I really hope that we get more stories in this world. I definitely recommend reading anything Jessica Leake writes at this point.
Note: You do not need to read Beyond in order to enjoy this book. It is a companion novel with its own story.

Recommended for fans of: Beyond a Darkened Shore, Russian mythology, elemental magic, slow burn romance, animal sidekicks, and historical fiction with magical elements
Goodreads│Amazon│Barnes & Noble│Book Depository│Indiebound│Powell's│Target
---
Other Books in the Series
Beyond a Darkened Shore
By Jessica Leake
Young Adult Historical Fantasy
Hardcover & ebook, 384 Pages
April 10th 2018 by HarperTeen
The ancient land of Éirinn is mired in war. Ciara, princess of Mide, has never known a time when Éirinn's kingdoms were not battling for power, or Northmen were not plundering their shores.
The people of Mide have always been safe because of Ciara's unearthly ability to control her enemies' minds and actions. But lately a mysterious crow has been appearing to Ciara, whispering warnings of an even darker threat. Although her clansmen dismiss her visions as pagan nonsense, Ciara fears this coming evil will destroy not just Éirinn but the entire world.
Then the crow leads Ciara to Leif, a young Northman leader. Leif should be Ciara's enemy, but when Ciara discovers that he, too, shares her prophetic visions, she knows he's something more. Leif is mounting an impressive army, and with Ciara's strength in battle, the two might have a chance to save their world.
With evil rising around them, they'll do what it takes to defend the land they love…even if it means making the greatest sacrifice of all.
See my review of Beyond a Darkened Shore here.
Praise for the Book
"Beyond a Darkened Shore is thrilling and romantic. This is a must-read for lovers of fantasy, mythology, and folklore." – Kody Keplinger, New York Times bestselling author of The DUFF and Run
"With undead armies, flesh-eating spirit horses, and a powerful heroine, fantasy, romance, and historical-fiction readers will have a great time." – Booklist
"While Morrigan and Odin are terrifying, raven-haired Ciara is the star. Beautiful, strong, and independent, she is the perfect warrior princess. Epic historical fantasy filled with deadly creatures, simmering romance, and nonstop action." – Kirkus Reviews
Goodreads│Amazon│Barnes & Noble│Book Depository│Indiebound│Powell's│Target
---
About the Author
Jessica Leake is the author of Beyond a Darkened Shore as well as the adult novels Arcana and The Order of the Eternal Sun. She lives in South Carolina with her husband, four young children, lots of chickens, and two dogs who keep everyone in line. Visit her at www.jessicaleake.com.
Website│Goodreads│Facebook│Twitter│Instagram
Tour Schedule
Tour Giveaway
2 winners will receive a copy of Through the White Wood (US only) 1 winner will receive a $25 Amazon eGift Card (open internationally) Ends April 17th
---