Beyond a Darkened Shore
by
Jessica Leake
Published by
HarperTeen
on April 10th 2018
Genres:
Fairy Tales, Folk Tales, Legends & Mythology
,
Fantasy
,
Young Adult
Pages:
435
Format:
eBook
,
Hardcover
Source:
Purchased
Buy on Amazon
Goodreads

The ancient land of Éirinn is mired in war. Ciara, Princess of Mide, has never known a time when Éirinn's kingdoms were not battling for power, or Northmen were not plundering their shores.

The people of Mide have thankfully always been safe because of Ciara's unearthly ability to control her enemies' minds and actions. But lately, a mysterious crow has been appearing to Ciara, whispering warnings of an even darker threat. Although her clansmen dismiss her visions as pagan nonsense, Ciara fears this coming evil will destroy not just Éirinn, but the entire world.

Then the crow leads Ciara to Leif, a young Northman leader. Leif should be Ciara's enemy, but when Ciara discovers that he, too, shares her prophetic visions, she knows he's something more. Leif is mounting an impressive army, and with Ciara's strength in battle the two might have a chance to save their world.

With evil rising around them, they'll do what it takes to defend the land they love…even if it means making the greatest sacrifice of all.
My Thoughts
I absolutely loved Beyond a Darkened Shore and am kicking myself for not reading it sooner. Jessica Leake's writing is mesmerizing as she drops you into the beautifully brutal world of 11th century Ireland.
Perfect Blend of History, Mythology and Magic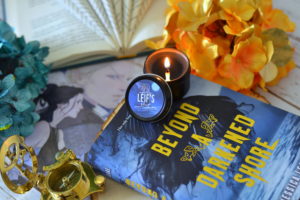 Jessica Leake wove an exquisite story that blended Norse and Celtic mythology with a touch of magic to create an incredible historical fantasy. I was familiar with most the mythical creatures and I loved seeing them brought to life in all their horrifying glory. These are not benevolent deities or creatures, but true to the fables with their agendas, brutality, and vendettas.
Mature YA Romance? Yes Please!
Ciara is a fantastic heroine. She is incredibly loyal, fierce, stubborn and beautifully flawed. Her clan does not deserve her. I enjoyed witnessing her growth as her judgements, assumptions and prejudices are challenged by the alliance with her enemy in order to save their land. Lief is a fantastic compliment to Ciara; he is a bit more open minded and has the strength to both partner and challenge her. I absolutely adored their relationship, and it was so refreshing to see authentic communication in a YA book. There was no 'trying to protect' or denial of feelings to the point of annoyance. Ciara was conflicted, confused and terrified but she was also honest about the complexity of her emotions. I need more of THIS in YA lit.
Overall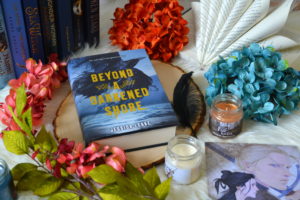 I loved everything about Beyond a Darkened Shore. The writing is incredible with memorable characters and a world that comes alive right before your eyes. The plot is well paced and kept me on the edge of my seat until the wee hours of the morning. The ending was beautiful and tied everything up nicely but left me needing more of this world. I did not want to say good-bye to Caira and Leif. Beyond a Darkened Shore is definitely one of my favorite books of 2018 and I will officially read anything Jessica Leake writes.
Have you read Beyond a Darkened Shore? What did you think?