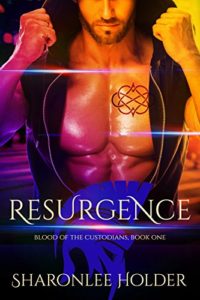 Resurgence
by
Sharonlee Holder
Published by
Changing Tides Publishing
on August 22nd 2017
Genres:
Romance
,
Paranormal
,
Fantasy
Pages:
401
Format:
eBook
Source:
Author
Buy on Amazon
Goodreads

It's been a thousand years since the Fates destroyed Olympus, forcing the gods into exile among the humans. Now, led by Eros, the sons and daughters of the Olympians are preparing for war. They are determined to win their freedom, but the Fates will do anything to keep the status quo. A prophesied weapon—said to be able to destroy the Fates—is sought by both sides. Eros and the resistance want to use it to win their freedom, while the Fates race to find the weapon first and destroy it.

Antara, a hybrid of human and Custodial descent, comes into her ancestral powers as the very Tracker Eros needs to find the weapon. Kidnapped, held hostage and forced to confront the hidden truth about her own heritage, Antara is drawn deeper and deeper into a world she never knew existed. Things would be a lot simpler if she could just hate Eros for bringing her here; if his fate weren't now bound to her own—and if, despite everything, she didn't already find herself falling in love with him…

Set in modern day urban South Africa, Resurgence is a fast-paced paranormal romance featuring rich, dynamic characters centered on a smoldering love story and timeless themes.
I received this book for free from the author in exchange for an honest review. This does not affect my opinion of the book or the content of my review.
My Thoughts
Wowza. I have been in YA land way too long. It has been a while since I have read an adult romance and Resurgence does not disappoint. Resurgence is a steamy paranormal debut with hot Greek Gods and a fierce, moody heroine you can't help but to love. I grew up fascinated with Greek mythology so I absolutely loved the juxtaposition of Greek Gods and Goddesses living in modern day society. On the other hand, there was something very human and real about our deities which kept me engaged.
At first I wasn't sure what to think of Antara and Ross. Antara's moods could give you whiplash at times and when we first met Ross, I wanted to threaten bodily harm… much like our heroine. The relationship starts a bit insta-love which might have put me off but Sharonlee Holder did a wonderful job developing their relationship throughout the book, in the mist of the chaos that surrounds them.
Young Nikki is That You?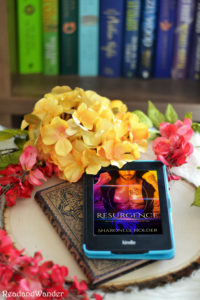 I also found myself a bit surprised by how much I related to some of Antara's struggles. You see, I am fiercely independent and was told from a really early age that I could do anything (Queue Wonder Woman theme song). And this is how I have always approached life. Enter my husband who crashed into my life much like Ross barreled into Antara's, but instead of wars between Gods, my husband brought the Army (close enough). For almost 10 years the Army has dictated my life which severely chafed my nature the first few years of marriage.
I found it interesting to witness some of my own internal struggles with falling so quickly into a relationship (yup – eloped just over six months after meeting and married in Vegas on a helicopter) with someone who's life consumed my own, reflected through Antara. In those early years, I wanted to rage, rebel and do anything but toe the line. There were days I was overwhelmed with trying to make a career and military life work. But more than anything, this life forced me to adapt and figure out who I was at my core. Without this I couldn't make the obstacles thrown at us work in our favor.
This is what Antara did. She stayed true to herself, stood tall, adapted and found opportunities in the calamities.
Overall
Resurgence was steamy and exciting paranormal debut. I found the story to be intriguing, well-paced and 'laugh out loud' funny at times. The characters are complex and multi-dementional leaving you wanting more. This is the first in the Blood of the Custodians series and I am absolutely hooked. What is the price Antara paid? Who else will we meet? I need to know! I also may or may not have a new 'flying naked through the sky' fantasy… Sharonlee Holder has a fan!
Recommended for fans of: Paranormal romance, Blackdagger Brotherhood (without the stupid names – disclaimer I could not finish the first book due to said stupid names), Greek Mythology, Steamy 'I need a cold shower' reads
And right now Resurgence is FREE on Amazon!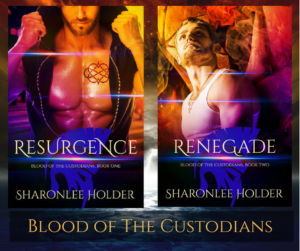 Renegade (Blood of the Custodians 2) will be out May 28th