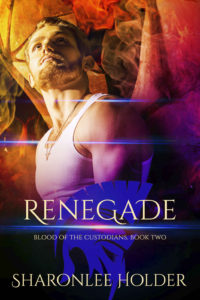 Renegade
by
Sharonlee Holder
Published by
Changing Tides Publishing
on May 28th 2018
Genres:
Fiction
,
Romance
,
Paranormal
,
Supernatural
Pages:
459
Format:
ARC
,
eBook
Source:
Author
Buy on Amazon
Goodreads

He'll risk his heart to save her soul.

As the war between the Fates and the resistance rages on, Colin Murphy—bastard son of Hades—finds himself caught between his loyalty to Eros and a past that threatens to destroy him.

Pursued by Persephone's bounty hunters, and with a pissed-off daemon to contend with, there is one thing that Murphy knows for sure – Hailey, the human he now shares his mind and body with, is innocent in all of it. She is a firefly flickering in the darkness of his black existence, and he will do anything and everything to protect her.
Hailey was groomed to be a socialite, with her entire future mapped out for her.

Nothing could have prepared her for the abrupt ending to that life—or the impact of living in such close, intimate confines with a forsaken son of Hell. He's powerful, he's dangerous…and he's her only hope of escaping the dark forces that pursue her.
Boundaries will be tested, loyalties questioned, and hearts pushed to the limits in this action-packed paranormal romance that continues the epic Blood of the Custodians saga by Sharonlee Holder.

This steamy, fast-paced paranormal romance series by Sharonlee Holder is perfect for fans of the Black Dagger Brotherhood series by J.R. Ward and Sacrificed to the Dragon by Jessie Donovan.
I received this book for free from the author in exchange for an honest review. This does not affect my opinion of the book or the content of my review.
My Thoughts
Hi friends! Before I dive in, I wanted to give you a heads up this is a review for the second book in the Blood of the Custodians series. Meaning there is lots of spoiler potential here, despite my best efforts. You are warned. If you haven't read the first book, Resurgence, you can check out my review here.
With out further ado…
Holy Complicated Plots Batman
The war between Gods and Fates continues to simmer in Renegade, but the focus shifts from Eros and Antara to Murphy, the bastard son of Hades. In Renegade, we don't only shift perspectives but the world grows exponentially into this intricate web Sharonlee weaves between the motives of the various Gods and the Fates. At first, there were so many new characters it was hard to keep track, but once I succumbed to the rhythm of the narrative, I could not put Renegade down. Every new character added depth and perspective to the story where I couldn't help but wonder… whats going to happen next? Why the hell is she doing that? WTF?

At times I found the narrative a bit repetitive.. which I am learning might be an, 'its not you but me' issue because I have been noticing this a lot lately (looking at you Legendary).
Save the Bad Boy
There is definitely a 'save the bad boy' trope at play, but I found that Sharonlee really made it work. First, Hailey is literally in Murphy's head… can you imagine? As much as I might think it sometimes, I REALLY don't want to be in my husband's head… not ever.
What I loved about Murphy and Hailey was slow burning passion and intimacy that was in stark contrast to the wildfire of Eros and Antara. I also really appreciated that Hailey saw the 'monster' in Murphy but instead of running in fear, offered it understanding, love and acceptance. We seriously could use more Hailey's in the world.
My only hang up with their story was that Hailey was taken so easily, despite all the effort put into the contrary. On the other hand, her return was epic and I am so excited to see how her story evolves.
Finally, it's not often that a story gets me choked up, but Murphy and Hailey had me immersed in all the feels. And I am so here for it.
Overall
Renegade was another intriguing addition to the Blood of the Custodians series. While complicated, all the additional characters and story lines added so much depth to the overall narrative that you cannot help but to root for even the side characters. I cannot wait to see where this story goes. I need book three NOW!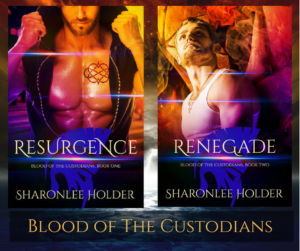 PS: Resurgence is free on Amazon RIGHT NOW! Pick it up!