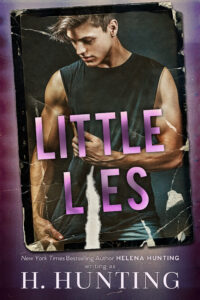 Little Lies
Series:
Lies
,
Hearts & Truths #1
Published by
Helena Hunting
on November 16, 2020
Genres:
Fiction
,
New Adult
,
Romance
,
Sports
Pages:
400
Format:
ARC
,
eBook
Source:
Author
Buy on Amazon
Also in this series:
Bitter Sweet Heart
Goodreads

I don't want you.
You mean nothing to me.
I never loved you.

I turned my words into swords. And I cut her down.
Shoved the blade in and watched her fall.

I said I'd never hurt her and I did.

Years later I'm faced with all the little lies, the untruths, the false realities, the damage I inflicted when all I wanted was to indulge in my obsession.

Lavender Waters is the princess in the tower. Even her name is the thing fairy tales are made of.

I used to be the one who saved her.
Over and over again.

But I don't want to save her anymore.
I just want to pretend the lies are still the truth.
I received this book for free from SBPR in exchange for an honest review. This does not affect my opinion of the book or the content of my review.
My Thoughts
Little Lies was the new adult romance I didn't know I needed. Thinking about it days later and I still feel this book. The angst, the pain, the hope and the heart… they all left their mark.
So first things first, while this absolutely can be read as a standalone it does feature the adult children of characters in the author's previous books. The main characters are Lavender Waters, daughter of Violet and Alex from 'Pucked,' and Kodiak Bowman, Rook and Lainey's son from 'A Lie for a Lie." Plus miscellaneous appearances from other characters and their children. While I am not completely caught up on the author's back catalogue, there is definitely added depth knowing the cast of characters a bit better from the past books. Side note: After having the pleasure of meeting Violet twice now and finding her to be absolutely hilarious… I am SO reading Pucked next. I kinda need her to be my best friend.
Truths and Lies
Little Lies had me hooked from the very first page with a traumatic event that changed the life of each character in a different way. It was such a raw and impactful depiction of how trauma doesn't just touch the person who directly experienced it, but all those who love them. From this moment on, Lavender is the princess everyone must protect, while Kodiak is both her hero and villain in so many ways. I don't want to give too much away but damn do these two go through a lot on their journey.
This story was SO much more than a romance. It was about the little lies we tell ourselves. The lies we think are protecting others. The omissions we make and our deepest truths.
It is about the help that hurts and healing oneself. It is about finding your voice, empowerment and strength. There were so many layers to these characters it was captivating to see them peel them back, burn them away then rise again as a stronger version of themselves.
There was also a great cast of supporting characters and relationships that were a lot of fun to read. Also… hot damn there were some steamy moments. *fans self* And Lav had a moment SO FRICKING EPIC I about died. And most definitely cheered… out loud… people starred. It was fine.
I also will never look at Aquaman the same again… lets just leave that there.
On a Personal Note
A moment of full-disclosure, when I am not binge reading books I am a licensed mental health therapist that specializes in the treatment of trauma. So I come to this story with that lens having worked with people who have experienced things very similar to these characters. Which means I kept getting hung up on a few things…
The first is Queenie. It is 100% unethical for Queenie to be the therapist for these kids. She is friends with their parents and basically conspires with them regarding some concerns they have about the kid's friendship. This is called a duel relationship. It is serious and can get someone's license suspended or revoked. We even see a hint of this reflected in Lavender's internal dialogue when she starts wondering if her relationship with Queenie is problematic (the answer is yes).
This leads to my second hang up: 15+ years of therapy. Friends, if you have been with your therapist this long it is most likely time to find a new one. We have evidence-based treatments for mental health challenges like trauma and anxiety… NONE of them require 15 years of treatment. NONE. Especially at the frequency these kids were attending. While I know this is fiction, this is also an assumption and stigma that is really common (sometimes even to the point it's a barrier to care). It is amazing how many people I work with who are surprised to learn they will not necessarily need lifelong therapy (nor is it appropriate in most cases) and that trauma CAN heal.
While I don't think it will be an issue for most readers, I did find it a bit distracting personally. Especially during the first half of the book.
Overall
Despite my therapist brain going down the rabbit hole, I REALLY loved Little Lies overall. It was heavy, heady and emotional to a point it was almost visceral at times. I felt this story. I STILL feel it when I think about these characters. It is one I will definitely reread in the future. Also did I mention I need Violet to be my best friend? If you loved the author's other books, you will both love and be surprised by this one. Definitely recommend NA romance fans to check out Little Lies!
Also, please tell me we are getting future books featuring all the rest of the characters, especially Maverick and River. And BJ. Okay all of them, pretty please?
Recommend for fans of: H. Hunting, angst, NA Romance, sexy tension, characters with lots of layers, snark, meddling parents, overcoming trauma, and intense love.
Order your copy today!
Amazon
Apple Books
Amazon Worldwide
Nook
Kobo
Google Play
Amazon Paperback