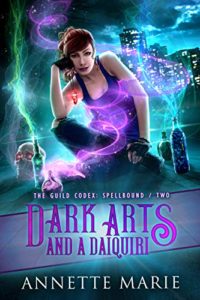 Dark Arts and a Daiquiri
by
Annette Marie
Published by
Dark Owl Fantasy Inc.
on November 16, 2018
Genres:
Paranormal
,
Urban Fantasy
Format:
ARC
,
eBook
Source:
Author
Buy on Amazon

When I found myself facing down the scariest black-magic felon in the city, practically daring him to abduct me, I had to wonder exactly how I ended up here.

It all started when I accidentally landed a job as a bartender - but not at a bar. At a guild, populated by mages, sorcerers, alchemists, witches, and psychics. Good thing this lame-o human is adaptable, right?

Then my favorite guild members - three sexy, powerful, and intermittently charming mages - asked for my help. Did they want access to my encyclopedic knowledge of cocktails? Oh no. They wanted to wrap me up in a pretty ribbon and plunk me in the crosshairs of a murderous rogue to lure him out of hiding.

So that's what we did. And that's why I'm here. About to be kidnapped. Oh, and our grand plan for safely capturing said murderous rogue? Yeah, that completely fell apart about two minutes ago. Why did I agree to this again?
I received this book for free from the author in exchange for an honest review. This does not affect my opinion of the book or the content of my review.
My Thoughts
Annette Marie does it again. I had so much fun reading Dark Arts and a Daiquiri, which is the second book in The Guild Codex: Spellbound series. If you are interested, you can check out my review of the first book here. I will admit, a chapter or two in I wasn't sure it could live up to the snarky glory of the first book… but I was so wrong. My favorte line might be from the end… View Spoiler »"P.S. The faery is your roommate? You're and idiot."  « Hide Spoiler Dead.
Okay, let's dive in.
Old Faces and New Shenanigans
In Dark Arts and a Daiquiri, Tori teams up with her trio of devilishly handsome mage friends for a new bounty: The Ghost. Tori's role? Helpless bate. What could go wrong? For Tori, usually everything. Which is exactly what happens when she comes face to face with the dangerous, dark arts wielding rouge whom no one has ever seen. Think Voldemort of the urban fantasy world. As you can imagine, things do not go as planned.
I am such a sucker for romance, so I enjoy the romance I see brewing; however, what I love more are the friendships in this series. The bond and camaraderie between our three mages in particular and their adoption of Tori is so much fun to read. And a touch heartwarming. They are snarky and a bit cocky (okay maybe more than a bit in some cases… Aaron), yet incredibly selfless and loyal. I am totally eating it up. What I enjoyed about Dark Arts and a Daiquiri in particular, is the new characters introduced and how the magic system was expanded. Without sharing too much… I really need a certain someone to make another appearance (or be a regular) in this series. I cannot get enough!
Overall
Dark Arts and a Daiquiri was a fast-paced and hilarious adventure. If you have not read it already, give yourself a treat and pick up Three Mages and a Margarita up before Dark Arts comes out this Friday, November 16th.
Perfect for: fans of Annette Marie's other series, magic, witty banter, feisty red heads and urban fantasy

About the Author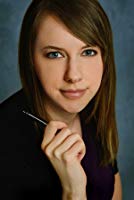 Annette Marie is the author of YA urban fantasy series Steel & Stone, its prequel trilogy Spell Weaver, romantic fantasy trilogy Red Winter, and sassy UF series The Guild Codex.
Her first love is fantasy, but fast-paced adventures and tantalizing forbidden romances are her guilty pleasures. She lives in the frozen winter wasteland of Alberta, Canada (okay, it's not quite that bad) with her husband and their furry minion of darkness—sorry, cat—Caesar. When not writing, she can be found elbow-deep in one art project or another while blissfully ignoring all adult responsibilities. To find out more about Annette and her books, here.