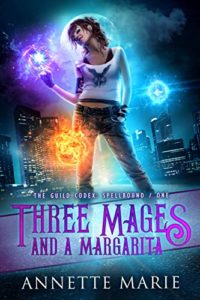 Three Mages and a Margarita
by
Annette Marie
Published by
Dark Owl Fantasy Inc.
Genres:
Fantasy
,
Urban Fantasy
Pages:
265
Format:
ARC
,
eBook
Source:
Author
Buy on Amazon

Broke, almost homeless, and recently fired. Those are my official reasons for answering a wanted ad for a skeevy-looking bartender gig.

It went downhill the moment they asked for a trial shift instead of an interview--to see if I'd mesh with their "special" clientele. I think that part went great. Their customers were complete dickheads, and I was an asshole right back. That's the definition of fitting in, right?

I expected to get thrown out on my ass. Instead, they ... offered me the job?

It turns out this place isn't a bar. It's a guild. And the three cocky guys I drenched with a margarita during my trial? Yeah, they were mages. Either I'm exactly the kind of takes-no-shit bartender this guild needs, or there's a good reason no one else wants to work here.

So what's a broke girl to do? Take the job, of course--with a pay raise.
I received this book for free from the author in exchange for an honest review. This does not affect my opinion of the book or the content of my review.
My Thoughts
First things first, this is NOT a reverse harem book. I repeat THIS IS NOT REVERSE HAREM. There has been some confusion so I wanted to clear that up first.
Second confession, I was a little… hesitant… going into this book. I absolutely love Annette's Steel and Stone world. So my inner little brat did not want a new series, she wanted the next Steel and Stone book. And I want it now, damn it. Good thing I didn't listen to said inner brat.
I LOVED Three Mages and a Margarita!
Three Mages and a Fiery Red Head
Tori, our fiery red head, had my attention from page one. She is absolutely hilarious and pretty much says what every one else is thinking. That first scene in the diner? I have pictured doing something like that SO.MANY.TIMES.  Tori is fierce and doesn't take anyone's bullshit which is something I admire in a heroine. Plus her witty come backs are sheer perfection. I cannot wait to witness her story unfold.
Now lets talk about our three (hot) mages. I adore these guys already. You can feel their bond and fierce love for one another pour off the page. Tori is already a fun addition to the trio full of strong and different personalities. I love their dynamic already. The magic system was fun, unique and left me wanting more. Annette Maire does urban fantasy so well.
Overall
Three Mages and a Margarita was a fast-paced and hilarious start to what is sure to be another epic urban fantasy series from Annette Marie. Don't hesitate, pick this one up! I cannot wait to have book two in my life come November.
Perfect for: fans of Annette Marie's other series, magic, witty banter, feisty red heads and urban fantasy

About the Author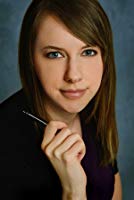 Annette Marie is the author of YA urban fantasy series Steel & Stone, its prequel trilogy Spell Weaver, romantic fantasy trilogy Red Winter, and sassy UF series The Guild Codex.
Her first love is fantasy, but fast-paced adventures and tantalizing forbidden romances are her guilty pleasures. She lives in the frozen winter wasteland of Alberta, Canada (okay, it's not quite that bad) with her husband and their furry minion of darkness—sorry, cat—Caesar. When not writing, she can be found elbow-deep in one art project or another while blissfully ignoring all adult responsibilities. To find out more about Annette and her books, here.