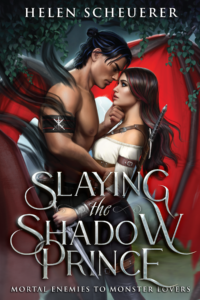 Slaying the Shadow Prince
Series:
Moral Enemies to Monster Lovers - A Collection of Standalone Fantasy Romances
Published by
ALCHEMY
on July 20, 2023
Genres:
Fantasy Romance
Pages:
550
Buy on Amazon
Goodreads
Perfect for fans of A Court of Silver Flames, The Bridge Kingdom, and King of Battle & Blood, Slaying the Shadow Prince is an epic fantasy romance with enemies to lovers, scorching spice, and a richly woven world of magic…

In a realm on the brink of destruction, evil forces snatch innocents to suffer fates worse than death. Only a monster hunter and her monstrous enemy can stop them.

Drue Emmerson, noblewoman-turned-ranger, wants one thing: vengeance. With her family slain by the vicious shadow wraiths, she's determined to defend her fallen kingdom. And that means carving out the hearts of every dark creature she can find.

Talemir Starling, celebrated warrior of the realms, has a dangerous secret: he's a half-wraith, kin to the creatures wreaking devastation on the world. He'll do anything to keep his true nature under control… especially around the woman who's vowed to destroy him.

When someone Drue cares about disappears, all signs point to Talemir's kind. But he's determined to prove he's no monster, and to seek answers of his own. Begrudgingly, the pair must join forces to uncover the deadly truth.

But in a world of chaos and carnage, where danger lurks at every turn, deadlier still is their attraction to one another – the one thing that might just spell the end of them both.

Will Talemir win Drue's heart? Or will she carve his out before the end?
When dark hearts collide… will they shatter, or unite to forge the world anew?
Why hello there beautiful! Let me introduce you to this gorgeous cover. Slaying the Shadow Prince is part of Moral Enemies to Monster Lovers – a collection of steamy standalone fantasy romances.
This baby can be read as a standalone OR as a prequel to Helen's Blood & Steel (The Legends of Thezmarr) which hit the selves in February is ALREADY one of my favorite reads of 2023. It was absolutely incredible. Intrigued? Check out my review here.
And follow Helen to learn more about her incredible worlds here.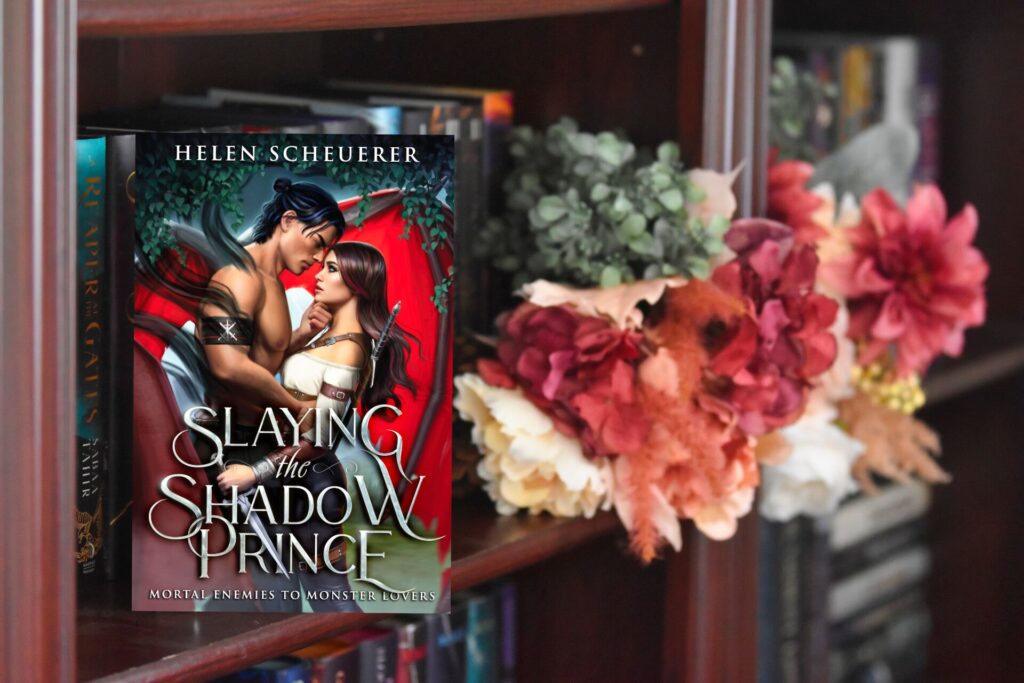 Here is a little more about about Slaying the Shadow Prince:
Cover designer – Natalie Bernard
This illustrated cover will be featured on the hardcover dust jacket and the paperback, with an additional gorgeous cover to grace the hardcover case.
Steam level: Scorching (based on the RFS Scale for "Romantic interactions, kissing, making out; detailed and/or longer on page sex scenes [includes four-letter anatomical terms])
Genre: fantasy romance
Tropes: enemies to lovers, forced proximity, found family, touch-her-and-you-die, woman in a man's world, found family, epic quest, good vs evil, battle to save the realm, tortured hero
Comparable titles: A Court of Silver Flames by Sarah J. Maas, The Bridge Kingdom by Danielle L. Jensen, King of Battle & Blood by Scarlett St Clair, From Blood & Ash by Jennifer L. Armentrout, The Shadows Between Us by Tricia Levenseller, Radiance by Grace Draven
Content Warnings: Violence and death, brief suicidal ideation, PTSD, implied thread of sexual violence
What are you waiting for? Go preoreder today and fall in love with Blood & Steel while you are waiting!