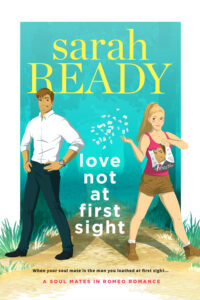 Love Not at First Sight
by
Sarah Ready
Published by
Swift & Lewis Publishing LLC
on July 20, 2021
Genres:
Fiction
,
Romance
,
Romantic Comedy
,
Contemporary
Pages:
172
Format:
ARC
Source:
Social Butterfly PR
Buy on Amazon
Goodreads

When your soul mate is the man you loathed at first sight...Book Two in Sarah Ready's Soul Mates in Romeo series sparkles with tension and a delicious helping of swoon-worthy romance.

Veronica Diaz loves her career, her friends and the great outdoors - she has no room in her life for men. In fact, she knows there are only two types of men in the world: players and wanna-be players and she wants nothing to do with any of them.

So when a psychic informs Veronica that her fated soul mate is Frederick Knight "The King of Players," Veronica does what any sensible woman would do - she runs.

A twist of fate lands Veronica in the depths of a pitch-black cave system with a man she's never met and can't see. As Veronica and Sam struggle to survive they open up, share their secrets, and risk their lives for each other. Soon Veronica starts to wonder if maybe not all men are players, and maybe she can trust Sam enough to fall in love.

The only problem: Sam is actually Frederick Knight. The man Veronica swore she'd never, ever, ever love.

In fact, she loathed him at first sight.

And if they make it out of the cave alive, and Veronica sees him for the first time, she'll loathe him again. Won't she?

But maybe, sometimes you can only see who someone really is when you can't see them at all? And maybe you can only fall in love when it's not at first sight?

"This will easily and unequivocally be one of your top reads this year." By Bookaddict (Chasing Romeo, Book 1 in the Soul Mates in Romeo Series)
I received this book for free from Social Butterfly PR in exchange for an honest review. This does not affect my opinion of the book or the content of my review.
My Thoughts
Sarah Ready does it again! The Soul Mates in Romeo series just gives me all the warm and fuzzy vibes while also supporting my bad adulting habits such as devouring her books until the wee hours of the morning… then having to work the next day. This is what caffeine is for right?
Loath at First Sight
Love Not at First Sight is book two in the Soul Mates in Romeo series and follows Chloe's jaded best friend, Veronica Diaz, after a local psychic (and Chloe's great aunt) informs her that her soul mate is a famously notorious player. What does Veronica do? She runs. And not just anywhere…
Into a pitch-black cave system where she gets stuck with a stranger. Who may or may not be said notorious player soul mate, a man she loathed at first sight.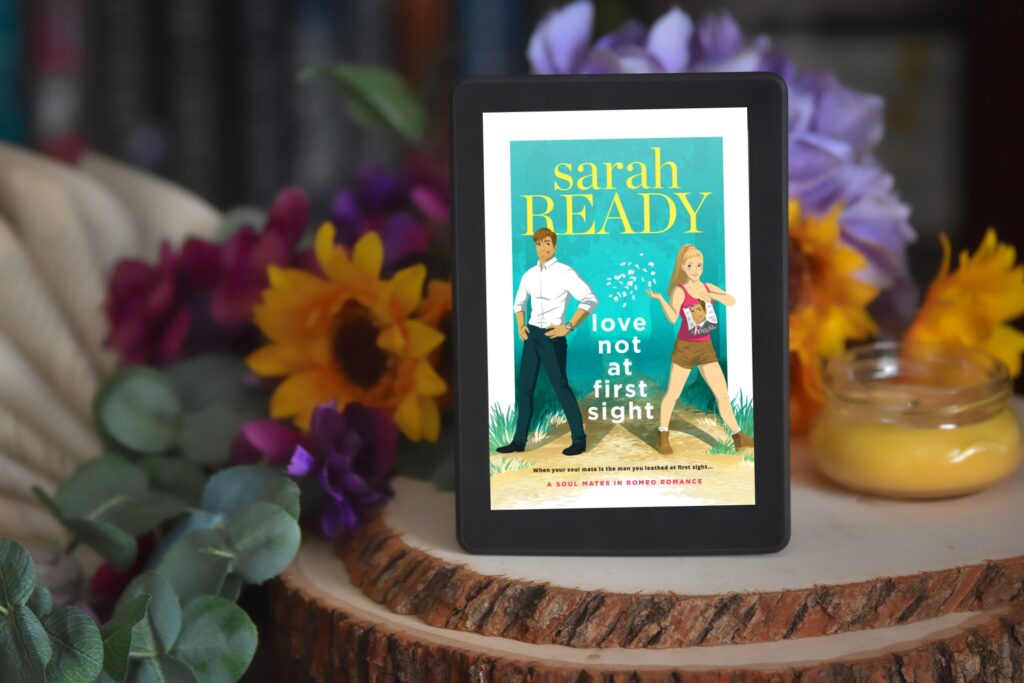 First, how great of a plot is this?! Like really think about it… having to escape a cave system in absolute darkness with a complete stranger. Personally, it is absolutely exhilarating and terrifying all at the same time. I haven't read anything like it. It is so intriguing to not only think about how a relationship may develop when you are reliant on each other for survival but also adding the inability to see one another. There was the underlying layer of intimacy that was so incredibly raw that I would find myself choked up unexpectedly. It was memorable to say the least.
Overall
Sarah completely raised the stakes in Love Not at First Sight, both physically and emotionally. Where Chasing Romeo was an over-the-top, laugh-out-loud adventure, Love Not at First Sight is a heart-pounding, raw, intimate and visceral journey that left me thinking about it for days. I am quickly becoming such a fan of Sarah's writing. If you love stories with fun characters, great chemistry, stay up way to late reading enjoyment, and plenty of steam, check out this series!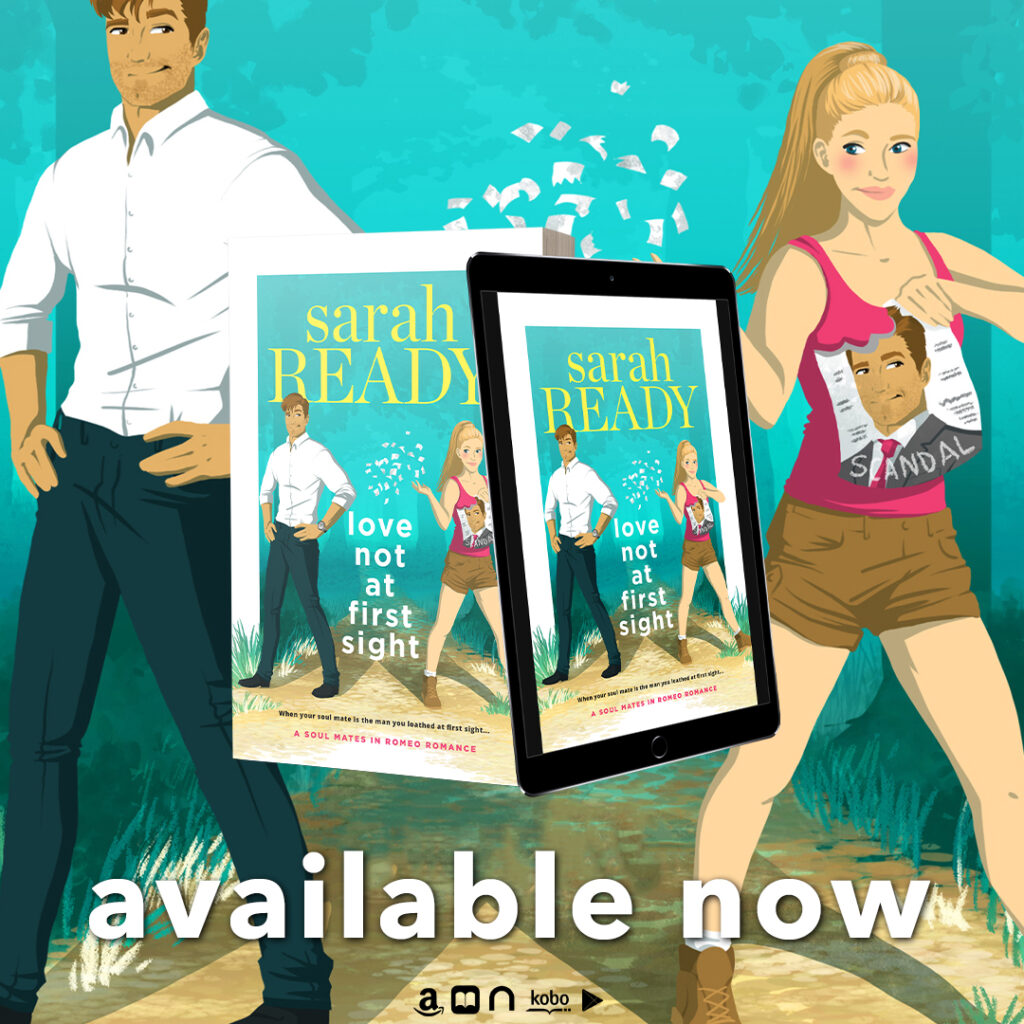 I wouldn't say you have to read the first book to enjoy this one, but I definitely recommended it! You can check out my review of Chasing Romeo here.
Recommended for fans of: enemies to lovers, dark cave systems, soulmates, HEA, character growth, and quick unputdownable reads.

About the Author
Author Sarah Ready writes contemporary romance and romantic comedy. Her books have been described as "euphoric", "heartwarming" and "laugh out loud". Her debut novel The Fall in Love Checklist was hailed as "the unicorn read of 2020". She loves to write fast-paced, emotionally compelling romances about quirky, smart women and the men who love them.
Before writing romance full-time Sarah had lots of fun teaching at an Ivy League. Then she realized she could have even more fun writing romance. Her favorite things after writing are adventuring and travel. You'll frequently find her using her degree at a dino dig site, crawling into a cave, snorkeling, or on horseback riding through the jungle – all fodder for her next book. She's lived in Scotland, Norway, Portugal, Switzerland and NYC. She currently lives in the Caribbean with her water-obsessed pup and her awesome family.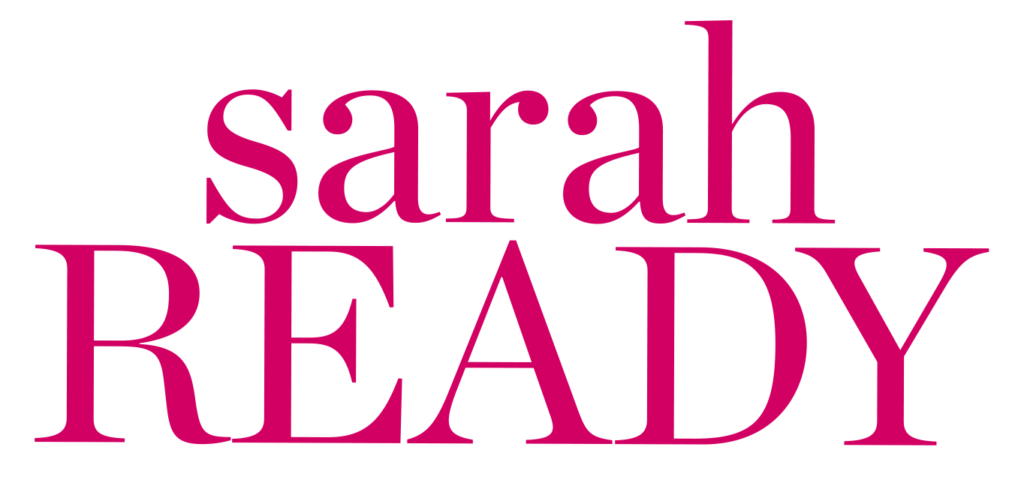 Connect with Sarah
Amazon
Goodreads
BookBub
Website
Stay up to date with all the things and subscribe to Sarah's mailing list