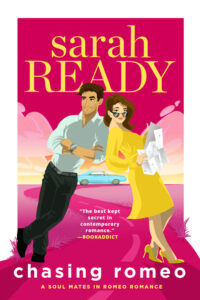 Chasing Romeo
by
Sarah Ready
Published by
Swift & Lewis Publishing LLC
on May 25, 2021
Genres:
Love & Romance
,
Romance
Pages:
328
Format:
ARC
Source:
Social Butterfly PR
Buy on Amazon
Goodreads

She finally found her soul mate. All 7 of them.

A laugh out loud, soul mate chasing rom-com romp, Sarah Ready's Chasing Romeo is a perfect feel-good novel about finding love where you least expect it.

Chloe Daniels is a starry-eyed romantic who believes in true love, soul mates and happily ever afters. So when a psychic predicts the identity of her soul mate Chloe will do anything to find him.

But there's a tiny problem.

Chloe's soul mate is 1 of 7 men, spread across the U.S. and she has only one week to reach him.

Out of desperation she hires Nick O'Shea, a cynical private investigator who thinks soul mates, love and happily ever afters are a load of crap.

Chloe and Nick have nothing in common. She wants her soul mate. He wants to get paid.

But on their crazy, true love chasing road trip across the U.S. Nick starts to wonder if maybe he was wrong about love, and Chloe starts to wonder if she was wrong about the identity of her Romeo.

Soon, Chloe will have to choose between her soul mate and the man she hired to find him.

Opposites attract in the first book of a heartwarming new series by romance author Sarah Ready.
I received this book for free from Social Butterfly PR in exchange for an honest review. This does not affect my opinion of the book or the content of my review. Gushing is all my own.
My Thoughts
*screams* THIS WAS SO MUCH FUN! Okay. Breathe. Time for a review…
In fair Romeo (New York), where we lay our scene, broody Nick O'Shea is tied to a chair at the birthday party of his high-school sweetheart. What a great start right? So our two main characters are from the 'Official Town of Love' where a local legend predicts soul mates with an 100% success rate. Enter our two households (alike in dignity is 100% questionable). House Hopeless Romantic: Chloe Daniels, who absolutely, unquestionably believes in soul mates. House Non-Believer: cynical private investigator Nick O'Shea. Enter Stage Left: forced proximity trope with Nick hired to take Chloe on a cross country road trip to find her soul mate, Matt Smith. The catch? It is one of seven men. And she only has seven days. Comedic chaos ensues.
From the very first chapter, Nick and Chloe had fantastic chemistry. I lived for their banter and each new stop on their trip brought forth another layer to the characters while upping the hilarity. There were more than a few times I wanted to shake Chloe for being so dense and stubbornly (and often illogically) ignoring what is right in front of her. If you want a story that is funny, heartwarming, and will put a smile on your face… look no further.
Overall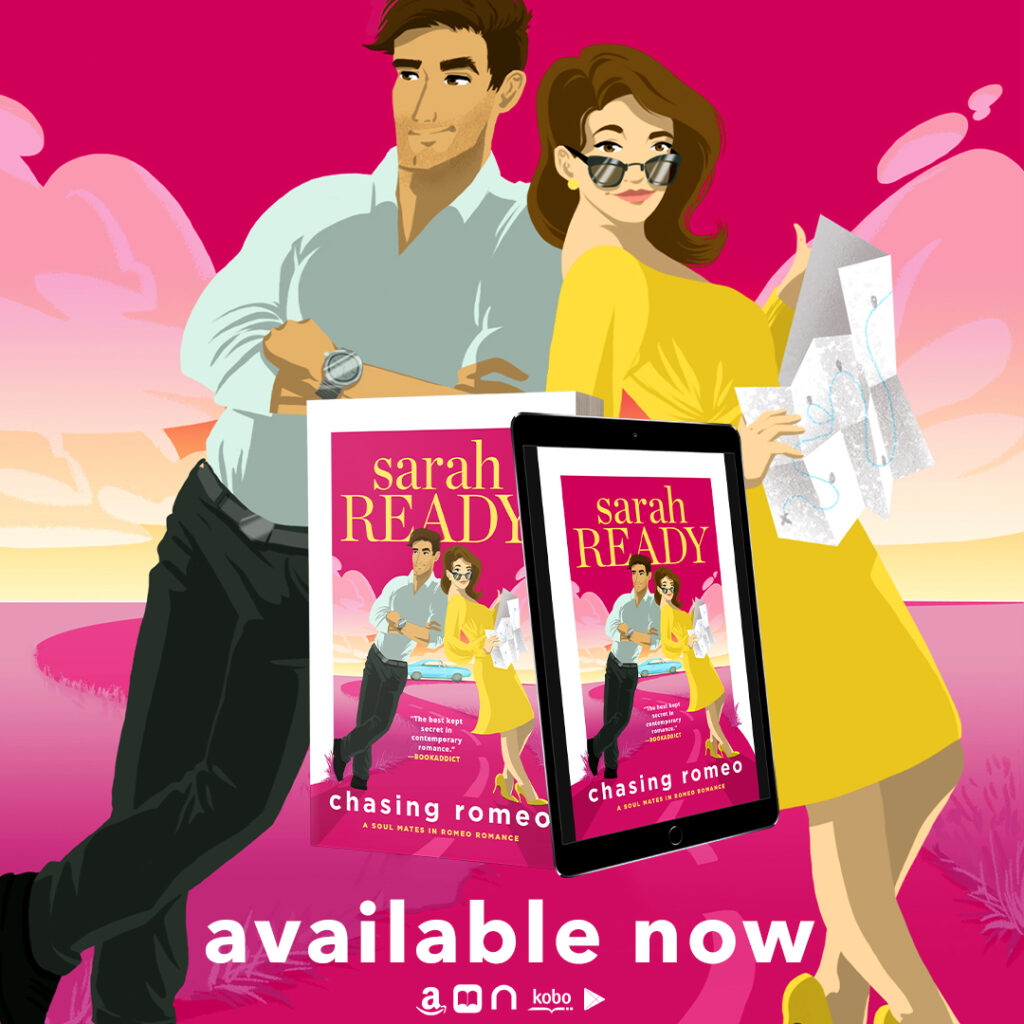 Chasing Romeo was a cheeky, over-the-top, laugh-out-loud rom-com and oh did I love every minute. It was one of those I read until bedtime… and in bed… while trying not to wake my husband with my failed attempt at silent, still laughter at 2am. This was absolutely pure entertainment and joy. If you are a fellow romance reader or a fan of witty rom-coms – CHECK THIS ONE OUT!
I am officially super excited to check out Sarah's other books. When you read Chasing Romeo, let me know what you think!
Recommended for fans of: slow burn romances, second chances, forced proximity, banter, shenanigans, one bed issues, road trips and opposites attracting.
About The Author

Author Sarah Ready writes contemporary romance and romantic comedy. Her books have been described as "euphoric", "heartwarming" and "laugh out loud". Her debut novel The Fall in Love Checklist was hailed as "the unicorn read of 2020". She loves to write fast-paced, emotionally compelling romances about quirky, smart women and the men who love them.
Before writing romance full-time Sarah had lots of fun teaching at an Ivy League. Then she realized she could have even more fun writing romance. Her favorite things after writing are adventuring and travel. You'll frequently find her using her degree at a dino dig site, crawling into a cave, snorkeling, or on horseback riding through the jungle – all fodder for her next book. She's lived in Scotland, Norway, Portugal, Switzerland and NYC. She currently lives in the Caribbean with her water-obsessed pup and her awesome family.

Connect with Sarah
Amazon
Goodreads
BookBub
Website
Stay up to date with all the things and subscribe to Sarah's mailing list