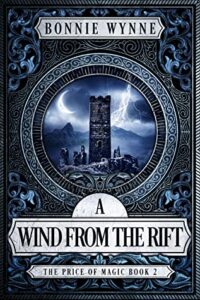 A Wind from the Rift
by
Bonnie Wynne
Published by
Talem Press
on November 19, 2020
Genres:
Action & Adventure
,
Dark Fantasy
,
Epic
,
Fantasy & Magic
Format:
ARC
,
eBook
Source:
Publisher
Buy on Amazon
Goodreads

The sorceress has broken free of her shackles.

Months of imprisonment have forged Gwyn into something new; something dangerous. Eight dead sorceresses whisper in her ear, hungry for blood and vengeance – and after unleashing the red magic to make her escape, she fears she won't be able to stop.

All Gwyn really wants is to go home. But as she soon discovers, escaping the Clockwork City may prove an impossible task. The wizards of the Syndicate wage a silent, bloody war over her fate, and to survive, she must play their deadly game.

As strange storms ravage the city and wizards start turning up dead, Gwyn finds herself in more danger than ever. With enemies on every side, the immortal Scions massing their armies, and the dark power inside her growing stronger, she must make a choice... To save everything she loves, is she willing to become the monster the Syndicate fears?
I received this book for free from the publisher in exchange for an honest review. This does not affect my opinion of the book or the content of my review.
My Thoughts
First, some background. I had the opportunity to read an early copy of the first book in the Price of Magic Series, The Ninth Sorceress, earlier this year. Unfortunately, my family got hit hard by the flu (yes, probably THAT flu) which obliterated my review deadline and reviewing from the haze of illness didn't seem fair. That is all a very long winded way to say, since I didn't publish a review of the first book I am going to make this review as spoiler-free as possible.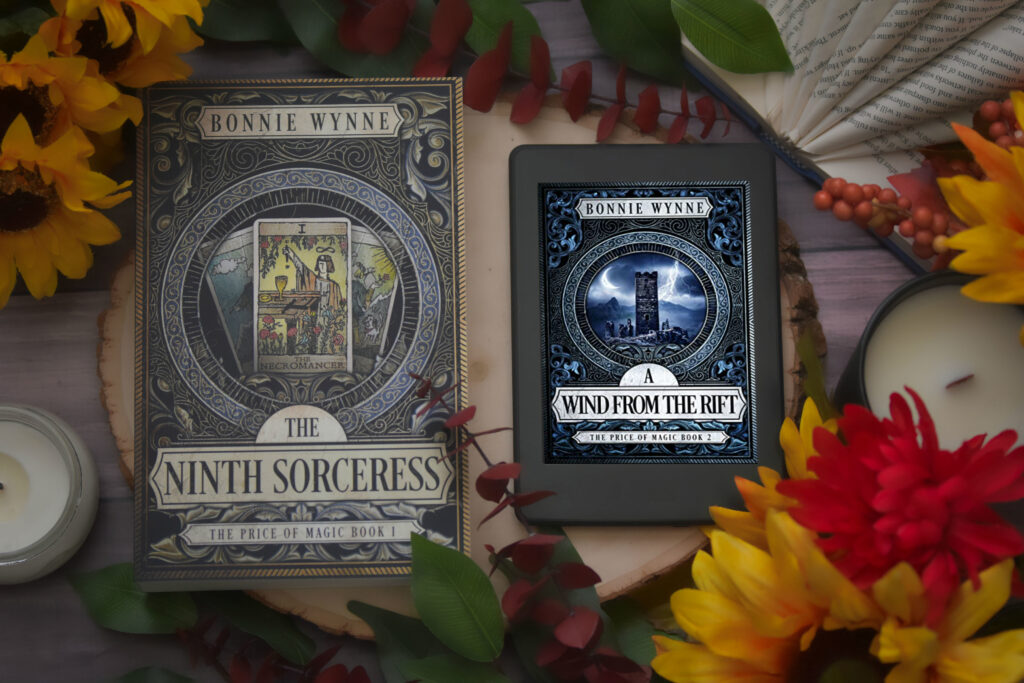 Hero or Villain?
A Wind from the Rift starts where The Ninth Sorceress left off, with our sorceress in chains. Yes, our main character Gwyn is 'special' but what I truly love about her, and this story, is that she is incredibly human. Gwyn truly comes alive in Rift. Despite all her power, you feel her terror, fear, mistrust and strength permeate each page. Gwyn's inner battle between, hope and revenge, rage and healing, being the hero or the villain – was captivating. Her character development is absolutely fantastic.
The world building is rich and expands to a new part of the world in Rift, including the inner sanctum of the Syndicate. The characters are three dimensional and Bonnie Wynne does a masterful job of weaving some solid banter to balance the dark, heavy moments. Wynne's writing is dynamic and held a few twists I had not seen coming. While I was hooked from the very first chapter, the last third of the book was the definition of 'unputdownable.' It was like being on a bullet train that hit stop speed… then the breaks go out. I could not stop reading until I reached the end… at 3am. THAT ENDING. THAT ENDING!!
Overall
The world needs to discover The Price of Magic. If you are looking for a spellbinding, well-written fantasy, rich with raw emotion, great characters and magic that doesn't come freely – look no further. In A Wind Beyond the Rift, Wynne steps up her game even further showing new depths to her world and characters while leaving the reader yearning for more. Friends, I needed book three YESTERDAY. What is going to happen next?!
Recommended for fans of: blood magic, sorceresses, found family, fantasy with a touch of darkness but all the emotion, and keep you up until 3am endings.