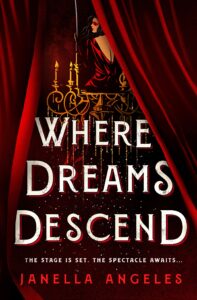 Where Dreams Descend
by
Janella Angeles
Series:
Kingdom of Cards #1
Published by
Wednesday Books
on August 25, 2020
Genres:
Fantasy
,
Fantasy & Magic
,
Young Adult
Pages:
447
Format:
eBook
,
Audiobook
,
Hardcover
Source:
Publisher
Goodreads

In a city covered in ice and ruin, a group of magicians face off in a daring game of magical feats to find the next headliner of the Conquering Circus, only to find themselves under the threat of an unseen danger striking behind the scenes.

As each act becomes more and more risky and the number of missing magicians piles up, three are forced to reckon with their secrets before the darkness comes for them next.

The Star: Kallia, a powerful showgirl out to prove she's the best no matter the cost

The Master: Jack, the enigmatic keeper of the club, and more than one lie told

The Magician: Demarco, the brooding judge with a dark past he can no longer hide

Where Dreams Descend is the startling and romantic first book in Janella Angeles' debut Kingdom of Cards fantasy duology where magic is both celebrated and feared, and no heart is left unscathed.
I received this book for free from the publisher in exchange for an honest review. This does not affect my opinion of the book or the content of my review
My Thoughts
For once the pitch is pretty spot on. You have the intense, moody foreboding of Phantom of the Opera coupled with the sexy whimsy of Moulin Rouge with a dash of The Prestige thrown in for good measure. It made for a fantastic premise and solid debut fantasy.
Magicians, Showgirls and Mysterious Towns, Oh My!
This book was a lot of fun. I loved the mystery and intrigue that was woven through the setting and relationships, though we do end up with more questions than answers. Total set up for book two anybody? The prose was beautiful and set the stage for each performance to leap off the page. I am all in for a magic competition my friends.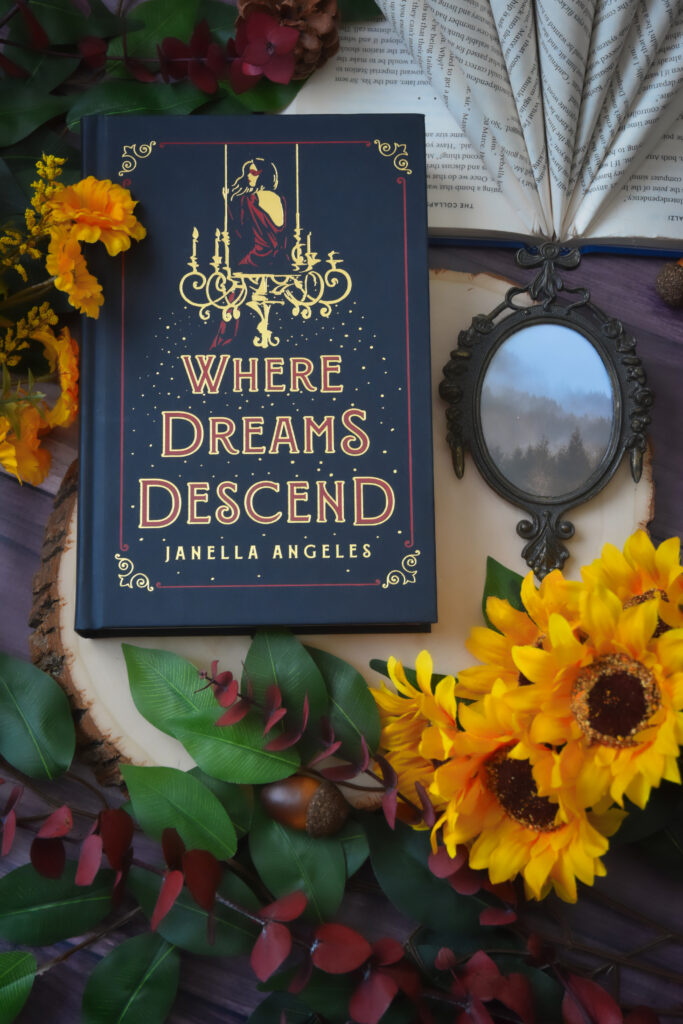 The entire cast of characters where entertaining and captured my attention but I want to focus just on our heroine, Kallia. Giving those potential spoilers a wide berth. I am so here for an unapologetically ambitious woman who knows her worth. She is the best and is not shy about it. Why should she be? You know the male magicians won't be. Women are also constantly sexualized, yet are look down upon when we take back ownership and make it a weapon or tool. I appreciated Kallia used that to her advantage here because why the hell shouldn't we embrace all aspects of ourselves?!
Romance-wise it was an absolute slow burn but also a bit of a love triangle. Typically that would lead to a DNF right there but oddly it worked in Where Dreams Descend. My spidey senses are tingling and am super curious to read where this is going.
Where I had the most challenge was a combination of the world building and the magic system. There were times the world was so vibrant and engaging while other times I wasn't real clear how things fit or why they where important. I am suspending my verdict on this aspect because it also could be part the very mysterious vibes happening. Did I mentioned we end with more questions than answers? However, the magic-system felt confusing and underdeveloped so I am hoping we get more clarity in book two.
Overall
Overall, Where Dreams Descend was a sparkling debut. It was fantastically theatrical and left me feeling like I was sitting right in the front row of the most incredible circus. I cannot wait to unearth all the secrets in the next addition to this tale. Can I time travel to the release date please?
Warning: Cliffhanger
Audiobook: I read Where Dreams Descend in a combination of ebook and audibook formats. The audiobook narrators were FANTASTIC and I highly recommend it. Only wish there was more Steve West because he is the best narrator on the planet.
Recommended for fans of: Caraval, The Night Circus, magicians, strong women, fantastic debuts, diverse representation, and slow-burn romance
About the Author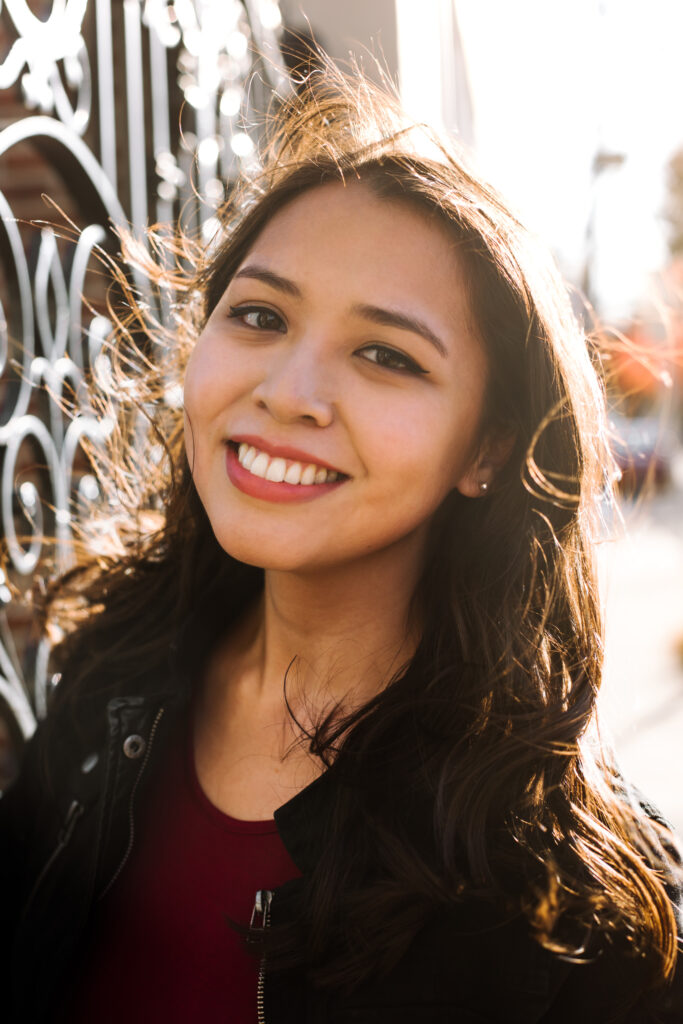 JANELLA ANGELES is a Filipino-American author who got her start in writing through consuming glorious amounts of fanfiction at a young age—which eventually led to penning a few of her own, and later on, creating original stories from her imagination. A lifelong lover of books, she's lucky enough to be working in the business of publishing them on top of writing them. She currently resides in Massachusetts, where she's most likely to be found listening to musicals on repeat and daydreaming too much for her own good. Where Dreams Descend is her first book.
Social Links: Twitter: @Janella_Angeles // Instagram: @Janella_Angeles