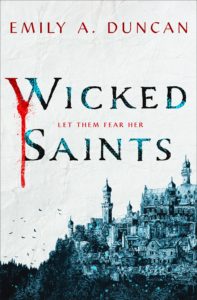 Wicked Saints
by
Emily A. Duncan
Published by
St. Martin's Press
on April 2, 2019
Genres:
Young Adult Fiction
,
Fantasy
,
Dark Fantasy
,
Epic
Pages:
400
Format:
ARC
,
eBook
,
Hardcover
Goodreads

"Prepare for a snow-frosted, blood-drenched fairy tale where the monsters steal your heart and love ends up being the nightmare." - Roshani Chokshi, New York Times bestselling author of The Gilded Wolves and The Star-Touched Queen

A girl who can speak to gods must save her people without destroying herself.
A prince in danger must decide who to trust.
A boy with a monstrous secret waits in the wings.
Together, they must assassinate the king and stop the war.

In a centuries-long war where beauty and brutality meet, their three paths entwine in a shadowy world of spilled blood and mysterious saints, where a forbidden romance threatens to tip the scales between dark and light. Wicked Saints is the thrilling start to Emily A. Duncan's devastatingly Gothic Something Dark and Holy trilogy.

"This book destroyed me and I adored it."- Stephanie Garber, New York Times bestselling author of CaravalThis edition uses deckle edges; the uneven paper edge is intentional.
I received this book for free from the publisher in exchange for an honest review. This does not affect my opinion of the book or the content of my review.
My Thoughts
Okay lets get this part out of the way first… the first half of The Wicked Saints left me wanting to rage, scream and throw it across the room every time Nadya said the word heretic. Yes. I read an ARC so maybe this is better in the final copy [fingers crossed]. Besides the sheer annoyance of repetition, I found that it really drilled home how big of a HYPOCRITE Nadya was for most the story. She was a walking contradiction… one minute she is wanting to escape all the violence and the next she's all MUST.KILL.THEM.ALL. She calls her enemies brutal, evil monsters but her people did some pretty effed up stuff that I wont spoil. It was maddening.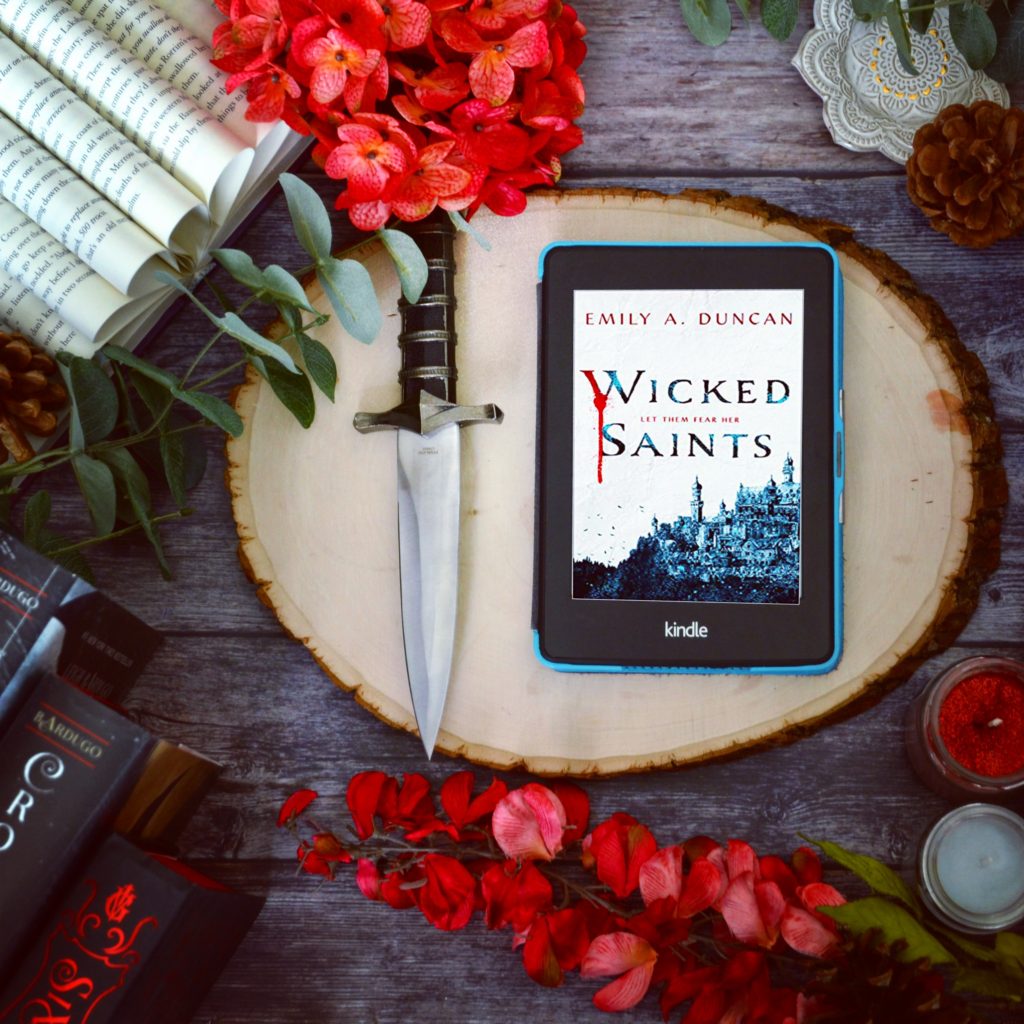 Then in Chapter 21 I started really getting into the story [I know this for sure because there is a note that says "WTF. LOVE.IT."] Personally, it was a bit of a relief to move a little way from the religious aspects of the story and into the court politics. It is funny how opinions can shift when you start seeing people instead of bloody heretics, right Nadya?!? She did eventually grow on me which lead to becoming very suspicious of these capricious gods of hers. Serefin and Malachiasz were definitely the best part of the story for me. The world of The Wicked Saints was dark, gritty and absolutely brutal. One of my favorite parts was the magic which I am curious to learn more about as the story progresses.
Overall
All in all, I ended up really enjoying The Wicked Saints. Emily Duncan is not afraid to torture her characters (something I both love and fear about some of my favorite authors… looking at you Sabaa). There will be lots of comparisons to the Grishaverse but I found The Wicked Saints to have a bit more of the grit I wanted but never really found in the Grisha Trilogy. Once the story got it's beautiful monstrous claws into me, I stayed entrenched in all my feels. I never could never really put my finger on some of the characters intentions which kept me intrigued. Overall I was captivated by this deliciously dark world and cannot wait to see what happens next.
Recommended for fans of: The Grishaverse, falling for the villain, Kylo Ren vibes, blood magic, religious themes and court politics
---
Help! What is that name?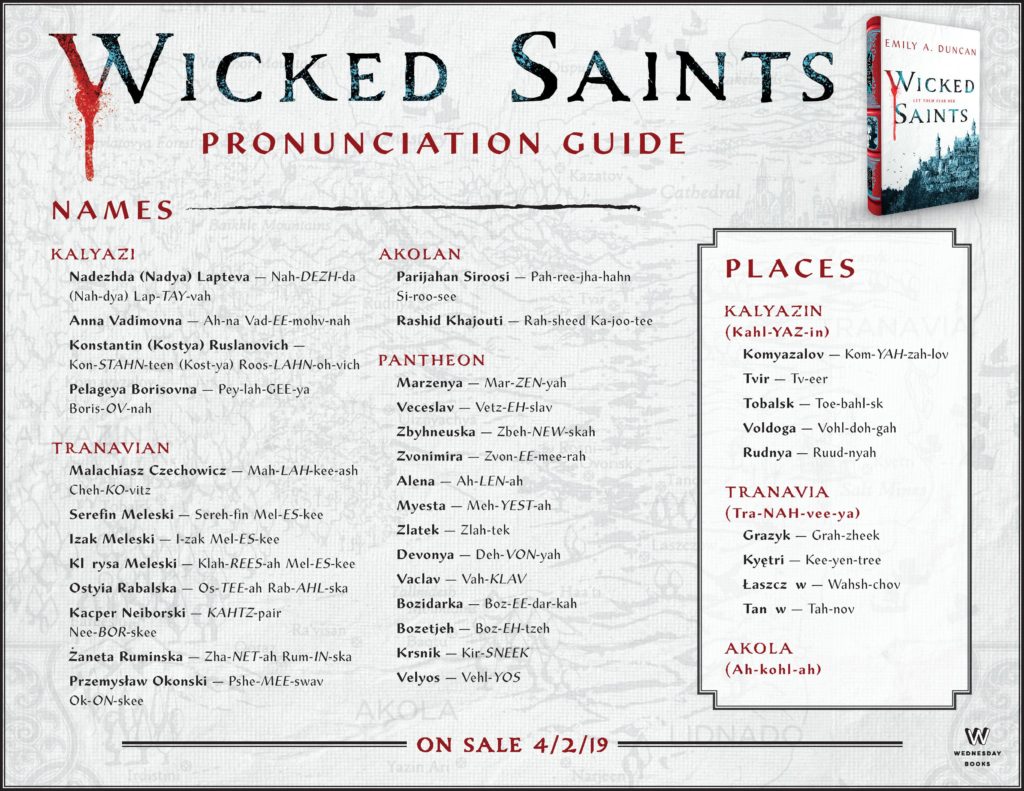 ---
About the Author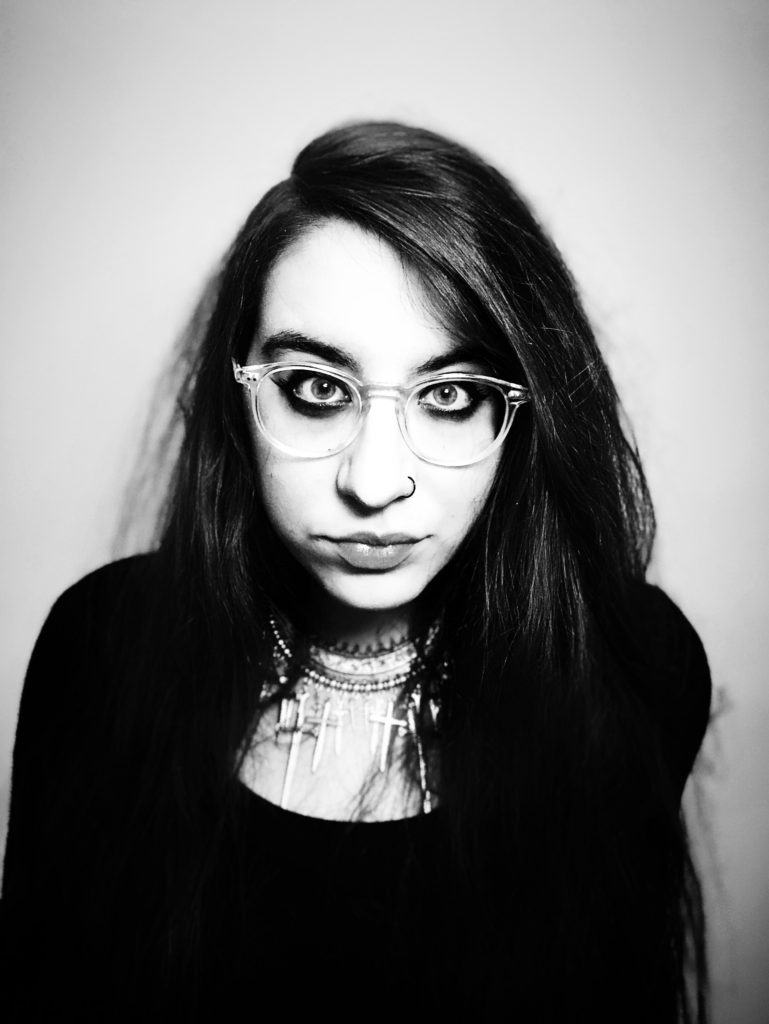 EMILY A. DUNCAN works as a youth services librarian. She received a Master's degree in library science from Kent State University, which mostly taught her how to find obscure Slavic folklore texts through interlibrary loan systems. When not reading or writing, she enjoys playing copious amounts of video games and dungeons and dragons. Wicked Saints is her first book. She lives in Ohio.
Socials
Website: https://eaduncan.com/
Twitter: @glitzandshadows
Instagram: @glitzandshadows
Tumblr: http://glitzandshadows.tumblr.com/