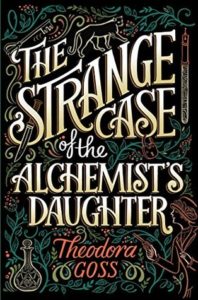 The Strange Case of the Alchemist's Daughter
by
Theodora Goss
Published by
Saga Press
on June 20th 2017
Pages:
402
Format:
Audiobook
,
eBook
,
Hardcover
Source:
Purchased
Buy on Amazon
Goodreads

Based on some of literature's horror and science fiction classics, this is the story of a remarkable group of women who come together to solve the mystery of a series of gruesome murders—and the bigger mystery of their own origins.

Mary Jekyll, alone and penniless following her parents' death, is curious about the secrets of her father's mysterious past. One clue in particular hints that Edward Hyde, her father's former friend and a murderer, may be nearby, and there is a reward for information leading to his capture…a reward that would solve all of her immediate financial woes.

But her hunt leads her to Hyde's daughter, Diana, a feral child left to be raised by nuns. With the assistance of Sherlock Holmes and Dr. Watson, Mary continues her search for the elusive Hyde, and soon befriends more women, all of whom have been created through terrifying experimentation: Beatrice Rappaccini, Catherin Moreau, and Justine Frankenstein.

When their investigations lead them to the discovery of a secret society of immoral and power-crazed scientists, the horrors of their past return. Now it is up to the monsters to finally triumph over the monstrous.
My Thoughts
I tried. I really, really tried to get into The Strange Case of the Alchemist's Daughter. I absolutely love classic literature, especially all the Victorian horror and monster stories. The first time I came across this book was while I was traveling in March, and I almost picked it up then. So when it came up as the May book for The Cheerful Wednesdays I figured it was fated. But by the cauldron it wasn't. Sigh.
Instead, I managed my slowest reading pace since my undergrad philosophy class…233 pages… IN A MONTH. At my busiest, that might take me a week, so I knew something was missing. When it came down to it, I just could not find it in my cold, black heart to care about the characters or the story. At. All.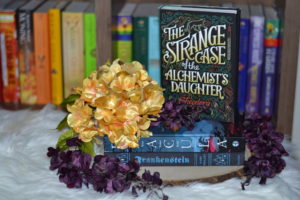 Don't me wrong, there were absolutely fun, witty moments that kept me hoping that something, anything would hook me. It never did.
The idea of The Strange Case of the Alchemist's Daughter is fantastic, but I found it quickly was overwhelmed by the classic character references and the use of the literary device in which the characters interrupting the telling of their own story. Together, this made it really hard for me to become immersed in the story.
And I am the person who HAS to know the end of the mystery. I NEED the whole story and I rarely do not finish books (to date, this is only the third). I even read the last two chapters of The Alchemist's Daughter to see if there would be some twist worth finishing the entire book… and nope. I could tell you from the first chapter how the story would end.
Overall
There is obviously an audience for The Strange Case of the Alchemist's Daughter as it has plenty of positive reviews. It was just not for me and honestly, I have no interest in even trying the next book at this point. Maybe one day I will give this one another shot, but these monsters will not be following me into my June reads.
Can't really recommend this one but I would definitely say read a couple other reviews if the concept sounds intriguing. Who knows it could be for you.
Giving it one star for the idea of a club of monstrous gentlewomen and one for the gorgeous cover.
Note: Did not finish (stopped at 58% + read the last two chapters)
At what point do you give up on a book?