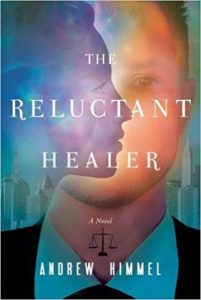 The Reluctant Healer
by
Andrew Himmel
Published by
Greenleaf Book Group Press
on October 8, 2018
Genres:
Fiction
Pages:
312
Format:
ARC
,
Paperback
Buy on Amazon
Goodreads

Between Doubt and BeliefThe Reluctant Healer tells the story of a young attorney who is torn between mounting evidence that he has the spiritual ability to heal others and his life-long skepticism of alternative views. Will Alexander is cautious and conventional. But when he meets Erica, a beautiful, intense energy healer, he becomes troubled not only by her unorthodox endeavors but also by the limitations of his own existence. Amidst this turmoil, Will is startled to discover that he may possess metaphysical gifts of healing that confront the narrow doctrines of his regulated life.

​The Reluctant Healer paints a portrait of a reasonable man who traces a path between skepticism and belief. Flawed, funny, and agnostic, Will distrusts much of the alternative world, even as he struggles internally with phenomena that challenge both his sense of self and his orderly perspective. Will's love for Erica, the exposure to her world, and his newfound powers place his life in a state of uncertainty, teetering between disruption and liberation.
I received this book for free from Smith Publicity in exchange for an honest review. This does not affect my opinion of the book or the content of my review.
My Thoughts
Meet Will Alexander: a young attorney living in New York coasting through life. Will is also an asshole. Seriously. You have been warned.
Will meets Erica, an intense social worker who is also a healer, in a bar. He is inexplicably drawn to Erica, yet doesn't buy into her practice at all. I'll admit, I spent a large part of this book feeling confused as to why Will was attracted to her beyond being beautiful and exotic (she is not an effing bird).
With that said…
Despite not loving Will as a character, I found myself slowly drawn into his journey. Himmel presents a challenge to readers by asking them to rethink what they know about Eastern and Western medicine as well as the meaning of 'healing.' The Reluctant Healer had me considering – what is healing and what is the placebo effect? And does that really even matter?
I really enjoyed the pacing and how the different events were woven into the larger story of Will's self discovery and finding himself. I did find that there were some awkward transitions from storytelling to narrative of a testimony which is likely a debut author finding their voice. Both would have fit with this story but I think choosing one style would have made it a little smoother.
Overall 
Honestly, I read for pure enjoyment and escape so I am really not difficult to please… just entertain me and we are good. And I definitely found The Reluctant Healer entertaining but also though provoking. There were moments that made me laugh and moments that lead to thoughts of throwing the book across the room in annoyance with certain situations. I figure if you make me feel something, and keep me engaged in the story – you have already won. I also found the parallels between the author and his wife to the story fascinating. I will definitely keep an eye out on what Himmel writes in the future.
Thank you Smith Publicity for providing me an advance copy in exchange for an honest review.
Recommended for: fans of adult contemporary with a touch of romance, bit of assholeness, self discovery, and some alternative healing.

About the Author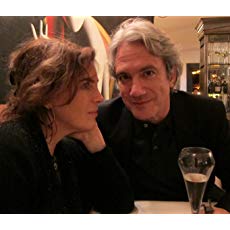 Andrew Himmel practices law in New York City and is a founding partner of Himmel & Bernstein, LLP, located in the Flatiron District. Prior to his legal career, Mr. Himmel worked in book publishing for The Dial Press, Harper & Row and William Morrow. While at William Morrow, Mr. Himmel worked for the veteran editor Harvey Ginsberg, whose writers included Saul Bellow and John Irving. Mr. Himmel lives in Manhattan with his wife, the universal energy healer Michele LaGamba-Himmel. Their daughter, Nicole, is a writer, who also lives in Manhattan.