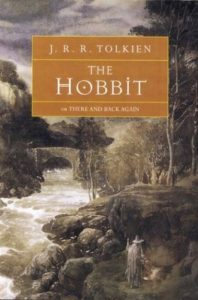 The Hobbit (Middle-Earth Universe)
by
J.R.R. Tolkien
Published by
Houghton Mifflin Harcourt
on September 18th 2012
Genres:
Fantasy
Pages:
300
Format:
Audiobook
,
Paperback
Source:
Purchased
Buy on Amazon
Goodreads

Bilbo Baggins is a hobbit who enjoys a comfortable, unambitious life, rarely traveling further than the pantry of his hobbit-hole in Bag End. But his contentment is disturbed when the wizard, Gandalf, and a company of thirteen dwarves arrive on his doorstep one day to whisk him away on an unexpected journey 'there and back again'. They have a plot to raid the treasure hoard of Smaug the Magnificent, a large and very dangerous dragon.

The prelude to The Lord of the Rings, The Hobbit has sold many millions of copies since its publication in 1937, establishing itself as one of the most beloved and influential books of the twentieth century.
My Thoughts
Why haven't I read this sooner?
Wow, I remember that from the movie.
Gandolf you slay me, oh master of snark!
Seriously, was I living in a cave?
Hey this guy's singing voice isn't half bad…
PRECIOUS….
HOW HAVE I SURVIVED THESE PAST 32 YEARS WITHOUT READING THIS?!?
Seriously though…
I am truly excited but not at all surprised that The Hobbit lived up to my expectations. I loved everything about this book from the cast of characters and the world, to Bilbo's growth yet being able to stay true to himself. But of course it is a classic for a reason, right?
I am not sure what went so wrong in my life that it took me this long to start these books (better late than never I suppose) but hey, call me a budding Tolkienite. I am hooked.
Can't Wait to start LOTR next month.
If you are a fantasy lover and haven't read The Hobbit, I highly recommend you bump it to the top of your TBR.