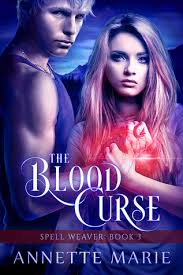 The Blood Curse
by
Annette Marie
Published by
Dark Owl Fantasy Inc.
on March 30th 2018
Genres:
Urban Fantasy
,
Young Adult
Pages:
344
Format:
ARC
Source:
Author
Buy on Amazon
Goodreads

When Clio conned her way into the Underworld to steal magic from the notorious spell weavers of Chrysalis, she thought she was helping protect her homeland.

Instead, she exposed Lyre's most calamitous spell, and now her half-brother Bastian plans to wield it against the powerful Ra family. Clio and Lyre have to stop him before he can unleash it, but Bastian isn't their only adversary.

Chrysalis wants the shadow weave—and they want Lyre dead. And this time, they aren't trusting mercenaries to get the job done. Lyre's father is coming for him, and no magic can defeat the most lethal weaver in the three realms.

From the scorching deserts of Ra to the darkest corner of the Underworld, Clio and Lyre must chase the shadow weave as both the hunters and the hunted. To make it out alive, they'll need magic more devious and dangerous than either of them alone possesses, and if they fail, the realms will pay the price.
I received this book for free from the author in exchange for an honest review. This does not affect my opinion of the book or the content of my review.
Notes About the Series
A couple things to know before we dive into the review. The Blood Curse is book three of The Spell Weaver Trilogy which is a prequel series to the Steel and Stone Series. Wow what a mouth full. I actually discovered and read The Night Realm (Spell Weaver #1) without realizing the trilogy wasn't complete nor that it was a prequel to a complete series. I absolutely fell in love with The Night Realm and dove straight into Chase the Dark (Steel and Stone # 1). Steel and Stone consumed my life for a bit before I went back and completed the Spell Weaver Trilogy. All of that was necessary to discuss reading order
Reading Order
If you what to read chronologically, you would start with The Spell Weaver Trilogy then read Steel and Stone which is set five years after the events of the prequels. Personally, when I went from The Night Realm to Chase the Dark, I felt a little confused and frustrated because I didn't have a full picture. Now that I have a read the trilogy, everything makes sense and I want to reread Steel and Stone to pick up on things I likely missed; however, at the time it was a barrier to getting into the series initially.
With all that said, later in Steel and Stone you learn that there is more than meets the eye with some of the characters. If you want to experience this twist in the storyline, then I recommend the following reading order:
Complete Steel and Stone Series
Spell Weaver Trilogy (prequels)
If you read the prequels first, you will already have the characters backstory so it will be less of a 'ah-ha' when information is revealed in Steel and Stone.
The decision is all yours. I absolutely love this world and highly recommend you read the complete series in any order that appeals to you!
My Thoughts
First, lets just take a moment to admire the cover. I love that we have both Lyre and Clio on it! Lyre is seriously right up there with Rhysand in the book boyfriend department.
The Blood Curse completely exceeded all my expectations for the conclusion on the trilogy. I loved that even after eight books in this world, there are still new daemon castes and places to discover. If you are new to the series, the world includes: Earth as well as the Underworld and the Overworld which have their own unique caste of daemons.
As with the previous books in the series, I love that Annette Marie takes a unique approach on various daemon castes you may have come across in other fantasy books. They are both recognizable and excitingly new. The magic is also really interesting and unique (in my experience) which made for some pretty epic fights in this book and over the course of the series.
Relationships and Growth
I also really appreciated that through out the prequels, and The Blood Curse in particular, you see the origins of a lot of the relationships that are already established in Steel and Stone. It was interesting to see how those friendships/relationships developed but also added an additional layer to what you thought you kew about them. One of my favorite moments was when Lyre helped Ash sleep. It reminded me of just how young Ash was in comparison. The dynamic between Lyre and Ash in Steel and Stone is so much fun that I really loved getting a glimpse of how it all began.
Another aspect of The Blood Curse that I really enjoyed was seeing the growth of the characters. From learning to trust others and themselves to finding their own inner strength and realizing they are more than just their daemon nature. Clio in particular really comes into her own and finds balance between being a kick ass heroine and the naive nymph.
Overall
The Blood Curse was fast paced and non-stop action, creating one hell of a ride. Our beloved characters never seem to catch a break and overcome challenge after challenge. Yet they always seem to keep fighting. In the midst of all the chaos, there were also some beautiful and heart-felt as well as heart-wrenching moments that gave me all the feels. And the ending! It ripped my heart out and yet somehow left me with a smile and some hope. Definitely read the bonus epilogue for even more feels.
Then this news… there will be an upcoming Steel and Stone sequel series!!! I am so excited to see what Annette Marie has planned for this new adventure in BlackFire. Fingers crossed it's out soon!
Recommended for: Fans of the previous Spell Weaver books, Steel and Stone Series, New Adult Urban Fantasy, Magic, Daemons