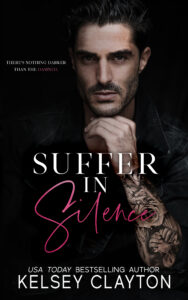 Suffer in Silence
Series:
Malvagio Mafia #1
on January 7, 2022
Genres:
Adult Romance
,
Dark Romance
,
Mafia Romance
Pages:
288
Format:
ARC
,
eBook
Source:
Social Butterfly PR
Buy on Amazon
Goodreads

Monsters don't hide in dark alleys.
They lurk in plain sight, clawing into your soul with cordial smiles.
They wear Armani, they drive Cadillacs, they attend fundraising balls...
And they rule the city with a merciless fist.

The Familia is a mystery to most,
and sitting on its throne is Kage Malvagio.

Vile.
Sadistic.
Painstakingly beautiful.

Some say: Ask for forgiveness, never permission.
Kage asks for neither.
Especially when he gets his hands on me.

I should hate him.
I should run at the first chance I get.
But how could the devil be so bad when he looks at me like that?
I received this book for free from Social Butterfly PR in exchange for an honest review. This does not affect my opinion of the book or the content of my review.
My Thoughts
Let me start by staying… this book is DARK. Darker than anything I have read from this author and this is only book one. With how it ended?!? There is carnage ahead my friends.
If I am being honest, I am also a bit of a newbie to mafia romances and am still trying to figure out if they are my jam. Some stories I am utterly consumed by while others… well I want to drench them in gas and allow them to be consumed by flames. #sorrynotsorry
So where does that leave Suffer in Silence? Right now we are very much in the UTTERLY CONSUMED camp. I devoured this book in almost one sitting.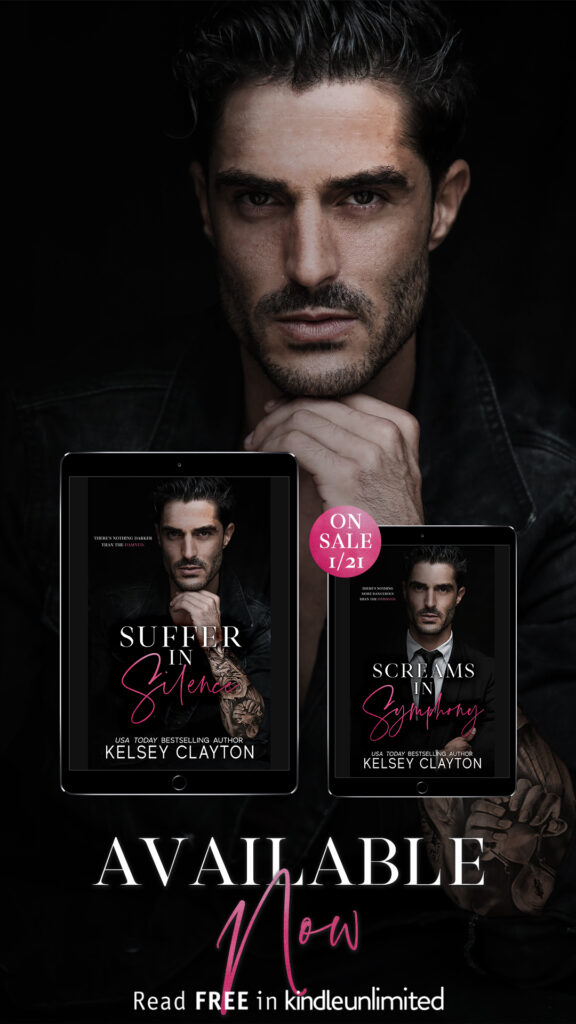 Having read a few mafia romances at this point, there is a common theme I have noticed: sweet but ultimately badass chick meets alpha mafia boss who has a life of crime due to trauma and/or obligation. The whole doing bad things for good reasons logic. Kinda like mafia Batman. What stood out for me in Suffer in Silence, is that Kelsey didn't make Kage the mafia boss who is ruthless only when when he has to be. Oh no. Our boy is out for revenge. He baths in the blood of his enemies and gets off on it. Kage doesn't just embrace his darkness, he relishes it. For me, this aspect of his character made his entire presence, the subtle shifts, and story so much more intriguing.
Saxon, on the other hand, is a bit more of a conundrum for me. Early on it felt almost like she had a personability transplant. We meet her as the privileged pre-med "old soul" who would rather stay home than party. Quickly she turns into a ruthless, 'you will never take me alive', 'I'm an innocent virgin but also give me all the darkness' badass. While I can totally understand how her situation would lead to out of character behavior purely based on the survival response, the shift still gave me whiplash. I think part of the issue was we did not have a lot of her backstory other than she was close to her grandfather and "innocent" while we did have detail about the events that lead up to Kage being who he is today. None the less, I am a DEFINITLY looking forward to seeing where her story takes us in Screams in Symphony.
Random side note: Is it just me or is being called a girl (especially "a good girl") by a lover next level creepy? Like talking to me like you would a child or an animal would be a turn on? Bleh. But I digress…
Overall
Overall, if you are a fan of Kelsey Clayton + dark romance / mafia romance definitely check this one out. It has everything you would want from a mafia read: enigmatic, ruthless boss, a feisty heroine, side characters you want to learn more about + action, blood, angst and plenty of steam. I also really enjoyed the friendships that started developing. Oh and I cannot forget the ending. THAT ENDING. I knew something was going to happen but THAT?! That was one hell of a WTF moment. I needed Screams in Symphony yesterday.
Content Warning: kidnapping, murder, torture, violent kink, questionable consent in some sexual activities, attempted rape.
Please don't hesitate to reach out if you would like more detail on the content warnings.
PS: I am terrible with ratings so I'm saying 3.5 to 4ish? Totally enjoyed myself.