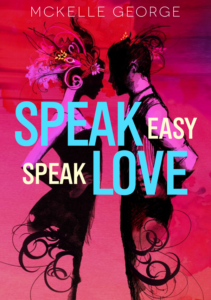 Speak Easy, Speak Love
by
McKelle George
Published by
Greenwillow Books
on September 19th 2017
Genres:
Historical Fiction
,
Retelling
,
Romance
,
Young Adult
Pages:
432
Format:
eBook
,
Hardcover
Source:
Purchased
Buy on Amazon
Goodreads

Six teenagers' lives intertwine during one thrilling summer full of romantic misunderstandings and dangerous deals in this sparkling retelling of Shakespeare's Much Ado About Nothing.

After she gets kicked out of boarding school, seventeen-year-old Beatrice goes to her uncle's estate on Long Island. But Hey Nonny Nonny is more than just a rundown old mansion. Beatrice's cousin, Hero, runs a struggling speakeasy out of the basement—one that might not survive the summer.

Along with Prince, a poor young man determined to prove his worth; his brother, John, a dark and dangerous agent of the local mob; Benedick, a handsome trust-fund kid trying to become a writer; and Maggie, a beautiful and talented singer; Beatrice and Hero throw all their efforts into planning a massive party to save the speakeasy. Despite all their worries, the summer is beautiful, love is in the air, and Beatrice and Benedick are caught up in a romantic battle of wits that their friends might be quietly orchestrating in the background.

Hilariously clever and utterly charming, McKelle George's debut novel is full of intrigue and 1920s charm. For fans of Jenny Han, Stephanie Perkins, and Anna Godbersen.
My Thoughts
So I have a confession… I am a bit of a Shakespeare snob. There, I admitted it.
I know the difference between a monologue, soliloquy, and apostrophe (and had a few memorized once upon a time). 'Thou' and 'you' are NOT the same. Yes, I have read the sonnets. And I become incredibly annoyed when people talk about Romeo and Juliet like it is a love story… it could lead to thumb biting. Seriously.
I also absolutely love a good Shakespeare retelling. Some of my favorite movies are adaptions (eh hum… 1o Things I Hate About You) but I realized I have not read any memorable retellings.
Enter SPEAK EASY, SPEAK LOVE
I can't think of a single thing that I didn't love about Speak Easy, Speak Love. Not one. It was a smart, witty, and endearing adaptation of one of my favorite comedies, Much Ado About Nothing. Bonus, it was set in an era I find fascinating: The Roaring 20's. I really enjoyed that McKelle Gregory stayed true to the original while exploring some relationships further and fixing one particular pairing I never really understood.
The banter between the characters, particularly Beatrice and Benedict, was perfect and so much fun. And the romance… it grabs you by the heart and makes you feel it.
Beatrice has always been one of my favorite characters and I love that in Speak Easy the soul of the original  is there, while pushing her further with the exploration of 1920's feminism.
However, I was a little surprised that there was not more slang from the period, particularly among the working class characters who would have been more likely to use it. It was there, but I found it came in waves and was a bit more subtle in nature. But that is honestly so minor and secondary to the artistry of the story.
Overall
Speak Easy, Speak Love deserves a lot more visibility and all the love. Read this book! This is exactly what a retelling should be – the soul of the original given context, magic and mirth in a new world.
I highly recommend this book for fans of: Young adult lit, retellings, Much Ado About Nothing, Enemies to lovers plots, and Shakespearean mischief.
Shout out to the amazing human who recommended this book to me: Avery at http://bforbookslut.tumblr.com/
What is your favorite retelling? 10 points for your house if its Shakespearean.