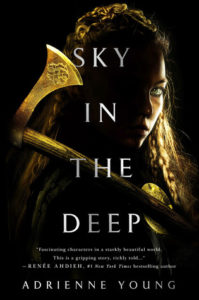 Sky in the Deep
by
Adrienne Young
Published by
Wednesday Books
on April 24th 2018
Genres:
Historical Fiction
,
Romance
,
Young Adult
Pages:
352
Format:
ARC
Source:
Netgalley and Publisher
Buy on Amazon
Goodreads

OND ELDR. BREATHE FIRE.
Raised to be a warrior, seventeen-year-old Eelyn fights alongside her Aska clansmen in an ancient rivalry against the Riki clan. Her life is brutal but simple: fight and survive. Until the day she sees the impossible on the battlefield—her brother, fighting with the enemy—the brother she watched die five years ago.

Faced with her brother's betrayal, she must survive the winter in the mountains with the Riki, in a village where every neighbor is an enemy, every battle scar possibly one she delivered. But when the Riki village is raided by a ruthless clan thought to be a legend, Eelyn is even more desperate to get back to her beloved family.

She is given no choice but to trust Fiske, her brother's friend, who sees her as a threat. They must do the impossible: unite the clans to fight together, or risk being slaughtered one by one. Driven by a love for her clan and her growing love for Fiske, Eelyn must confront her own definition of loyalty and family while daring to put her faith in the people she's spent her life hating.
I received this book for free from Netgalley and the publisher in exchange for an honest review. This does not affect my opinion of the book or the content of my review.
My Thoughts
Sky in the Deep was stunning.
My useless music knowledge is vast but my Viking knowledge is zilch. So it took a few chapters to get into Sky in the Deep since it made zero sense that people would hate each other just because the Gods said. But then something reached out of the book and latched onto my heart. Books can absolutely grip me emotionally (more so now that I'm a mom cause – hormones) but it is a rare story that creates such an emotional connection that it embeds itself physically as well. There were times when reading Sky in the Deep that I felt that ache in my chest and the acidic nervousness in my stomach. That same ache I get when I think about having to say another good-bye 'see you later' to my husband for another deployment or the loss of someone close to me.
We are not so different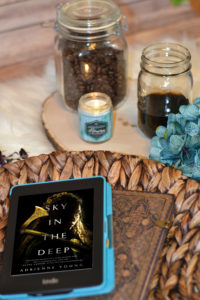 At its heart, Sky in the Deep is a story about love and humanity. While there is a touch of romance, I feel that the bigger message was the love of family in its many beautiful forms. When Eelyn learns her brother is alive, she struggles with dissonance between the hate she has known her whole life for the Riki Tribe and the fierce love she has for her brother. Her growth over the course of the story is as beautiful as she is brutally fierce. And man is she a fierce warrior. Seriously. Bad.ass.
Another message I loved about Sky in the Deep is the challenge to lean into your discomfort and face the the possibility that the 'truths' we have been taught may not be as accurate as we believe. That maybe, we really are not so different from one another. That maybe, at the end of the day we all just want our communities and loved ones to be safe.
Overall
Sky in the Deep was full of action and even more surprisingly, full of emotion. My heart ached, melted and pulsed with anger at times. I also cried, laughed and sat back in shock. It was an amazing ride. However, the more I type the more likely I am to spoil something so I just want to say – PICK SKY IN THE DEEP UP ON APRIL 24th!  If I tell you to read it 901 times (the same number of times I have read Llama Llama Red Pajama) it's because I care. If you do dive in…
Come back and let me know what you think!
Until them I am going to find some more Viking lit with badass women wielding axes. Cheers!
Thank you Netgalley and Wednesday Books for the privilege of reading an ARC of Sky in the Deep.