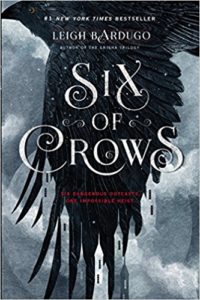 Six of Crows (Six of Crows, #1)
by
Leigh Bardugo
Published by
Henry Holt and Company
on September 29th 2015
Genres:
Urban Fantasy
Pages:
465
Format:
eBook
,
Hardcover
Source:
Purchased
Goodreads

Ketterdam: a bustling hub of international trade where anything can be had for the right price–and no one knows that better than criminal prodigy Kaz Brekker. Kaz is offered a chance at a deadly heist that could make him rich beyond his wildest dreams. But he can't pull it off alone…
A convict with a thirst for revenge.
A sharpshooter who can't walk away from a wager.
A runaway with a privileged past.
A spy known as the Wraith.
A Heartrender using her magic to survive the slums.
A thief with a gift for unlikely escapes.
Six dangerous outcasts. One impossible heist. Kaz's crew is the only thing that might stand between the world and destruction—if they don't kill each other first.
My Thoughts
I devoured the Grisha Trilogy while on a cruise last year. The world building was amazing but the main characters fell flat for me which is why I put off reading Six of Crows. That was absolutely a mistake.
Six of Crows was everything I didn't know I needed to start 2018. You have a leader who might as well be a magician. A band of wayward kids that are hard not to love. A heist with impossible odds and an even bigger pay out.
No mourners. No funerals. 
Six of Crows was like Ocean's 11 with a cup of darkness and a tiny pinch of romance. I would completely forget the ages of our main six characters until some small behavior or event reminded you these are young adults. Then the horrific nature of their lives set back in. In reality these are traumatized teens who found a way to survive, and in some ways thrive, in a brutal environment full of monsters. The development of these characters is so well done that you love every single one and they all add a unique component to the story. Though the dichotomy between Kaz and Inej is my favorite. The darkness and light. The ruthless and the merciful. Amazing.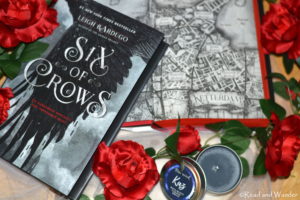 The third person narrative with multiple points of view was very well done. I have found that sometimes multiple points of view can be distracting but that was absolutely not an issue here. Seamless sharing both the past and present allowed a unique insight into the characters that shed a light on how they ended up there and allowed you feel with them. I particularly enjoyed the chapters from Kaz's point of view because it felt like looking behind the scenes of a magic trick. A proper thief indeed.
I found myself hooked from the beginning and could not put this book down. Six of Crows is a fast paced, dark, sometimes shocking, funny and heart wrenching adventure. This is definitely one to add to my favorites and that I will read over and over again.
Note: Personally, if you plan to read the Shadow and Bone/Grisha Trilogy, I would read them first. Six of Crows has some spoilers for that series. You will also pick up on some of the references in Six of Crows after reading them.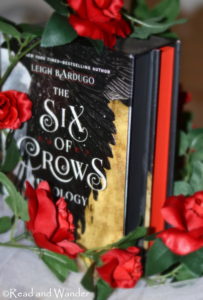 Recommended for fans of: The Grishaverse, fantasy, YA fantasy, action and adventure, heists
You might also like:
Shadow and Bone by Leigh Bardugo
An Ember on the Ashes by Sabaa Tahir
Throne of Glass by Sarah J. Maas
Daughter of Smoke and Bone by Laini Taylor