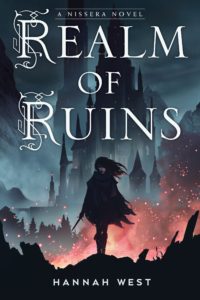 Realm of Ruins
by
Hannah West
Published by
Holiday House
on 2018
Genres:
JUVENILE FICTION
,
Young Adult
,
Fantasy & Magic
Pages:
464
Format:
Hardcover
Source:
Author
Buy on Amazon
Goodreads

Valory's power is different . . . it's dangerous, unruly, and destructive. Can she channel it to crush a cunning enemy and save the realm from chaos?

"A brilliantly paced adventure full of betrayals and romance and magic. I could have stayed and played in this treacherous world for a long time." - Stephanie Garber, #1 New York Times best-selling author of Legendary

Welcome to Nissera, land of three kingdoms and home to spectacular magic.
A century after her legendary ancestors overcame a bloodthirsty tyrant, seventeen-year-old Valory Braiosa attends a training academy for elicromancers, immortal beings with magical gifts. Yet Valory's immense power seems impossible to tame, and she faces imprisonment by the Nisseran authorities. Then a forbidden resurrection spell awakens a long-dormant evil, and Valory may be the only one who can vanquish this terrifying villain. Together with a band of allies--including an old friend; a haughty princess; and a mysterious, handsome stranger--Valory must learn to harness her power and fight back.

Weaving together her imaginative world of magic with snippets from Beauty and the Beast and other classic stories, Hannah West's gritty adventure is a thrilling, immersive companion to her acclaimed debut. Read this first and then discover the rest of Nissera or start with Kingdom of Ash and Briars--either way, you'll love the journey.

Richly packaged hardcover edition includes an illustrated family tree, detailed map of Nissera, and embossed jacket with shimmering metallic effects.
I received this book for free from the author in exchange for an honest review. This does not affect my opinion of the book or the content of my review.
My Thoughts
First things first. Realm of Ruins is a companion novel to Kingdom of Ash and Briars; however, I do not feel that not reading it first took any enjoyment away from Realm of Ruins. I would note that if you don't like spoilers, read Kingdom of Ash and Briars first since there are references to events in the past that I believe are from that story.
Valory is an elicromancer who unintentionally comes into great and destructive power which leads to death, mayhem and fleeing her kingdom. Basically she is a HOTMESS. Valory can be a bit 'bahumbug I 'effed up again' and takes blame she shouldn't, but man her development from beginning to end was exciting. The last line of the book is EPIC. I about died.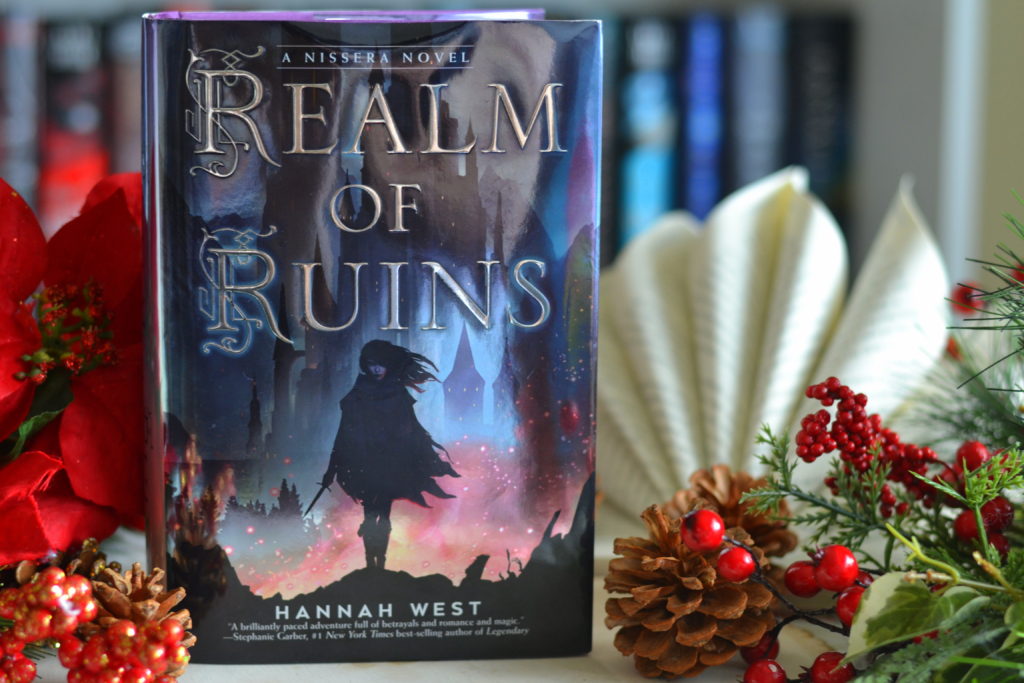 You can't study a month's intricate pattern unless you pin down it's wings.

Hannah West, Realm of Ruins
Realm of Ruins was a fast paced adventure that wove fantasy elements we all love such as magic schools and heroines coming into their power, with fairy tales. But these are no Disney fairy tales. They are the dark lessons with cunningly brutal creatures of old. The Little Mermaid elements were probably my favorite.
I also really enjoyed the magic system and the test needed to come into your powers; however, I did find myself wanting to see a bit more of the magic. Especially from Valory.
Overall
Overall the world was fascinating, the writing was strong and while I felt things dragged a little bit in the middle… the last chapter made up for everything. It was SOO GOOD.
Recommended for fans of: Fantasy adventures, fairy tales, fairy tale retellings, magic
Rating: 3.75-4