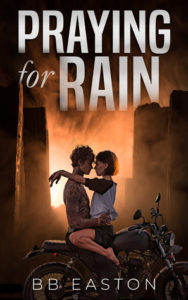 Praying for Rain
by
Bb Easton
Published by
Art by Easton
on April 8, 2019
Genres:
Fiction
,
Romance
,
New Adult
Pages:
224
Buy on Amazon
Goodreads

Now an Amazon Top 100 Bestseller

"The best book I've read this year " - T.M. Frazier, USA Today Bestselling Author

"None of this matters, and we're all going to die."

With only three days left until the predicted apocalypse, the small town of Franklin Springs, Georgia, has become a wasteland of abandoned cars, abandoned homes, abandoned businesses, and abandoned people. People like Rainbow Williams.

Rain isn't afraid of dying. In fact, she's looking forward to it. If she can just outrun her pain until April 23, she'll never have to feel it at all.

"Supplies. Shelter. Self-defense."

Wes Parker has survived every horrible thing this life has thrown at him with nothing more than his resourcefulness and disarming good looks. Why should the end of the world be any different? All he needs are some basic supplies, shelter, and a sucker willing to help him out, which is exactly what he finds when he returns to his hometown of Franklin Springs.

As society crumbles, dangers mount, and secrets refuse to stay buried, two lost souls are thrust together in a twist of fate-one who will do anything to survive and one who can't wait to die.
Perhaps, together, they can learn how to live.

Before their time runs out.
My Thoughts
Have you ever had the experience of a book bulldozing into your life at EXACTLY the right moment? Like the stars aligned, angles sung from the heavens kind of perfect?
Well that was my experience with Praying for Rain by B.B. Easton. I cannot even remember how I found this book but I read it… waiiiit for it… during the exact timeline of the book: April 20th thru April 23rd. And if you are thinking 'why the hell does this matter Nikki?' You haven't read the synopsis… THE WORLD ENDS ON APRIL 23RD! Fate? I think so…
Okay back to the book. So we meet Rainbow Williams in a world where everyone knows the Four Horsemen of the Apocalypse are coming on April 23rd. Humans being utterly human dive head first into chaos. Rain was one of those character who I simultaneously wanted to shake and hug. She is so tortured, fragile, and dying for anyone to care. Yet somehow manages to hang on to her heart of gold while resigning herself to the fact she will not see April 24th…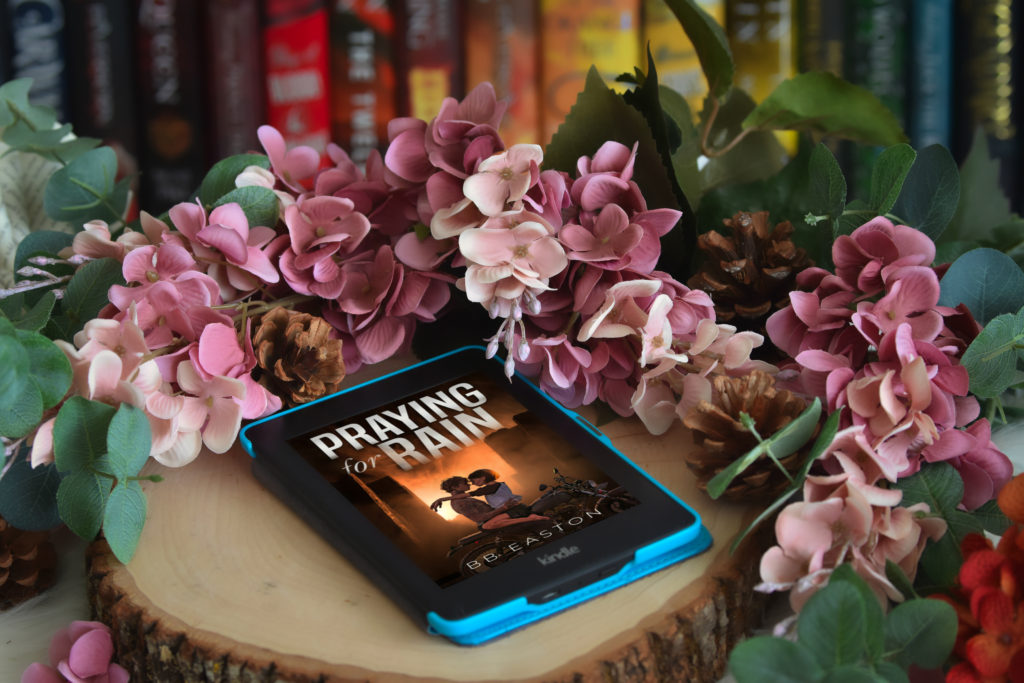 "Supplies. Shelter. Self-defense."
Enter Wes, *picture 1990's Leo DiCaprio in Romeo + Juliet. Yes, that flower shirt* a tough, tattooed, gun-totting anti-hero with a wounded soul determined to survive April 23rd. Hello my man. When these two came together, I could not look away nor could I put the book down. Didn't hurt they also activated by therapist spidey senses allowing them to dig even deeper into my heart. Damn trauma therapist brain…
Overall
Praying for Rain was absolutely unputdownable. The entire premise of the book and how the apocalypse was introduced (sorry don't want to give more away and spoil it for you) was really unique and kept me on my toes. The story and relationship between Rain and Wes was gritty and sexy while still capturing you heart and sucker punching you in the gut. I couldn't help but to root for these two to get some form joy in their lives. This review comes almost a year after I read it the first time and it was one of those stories that I could not get out of my head. I absolutely LOVED it!
Recommend for fans of: Sexy tattooed men, wounded people coming together, dystopian worlds, sexy romance, gritty stories, dark humor
Note: This is an adult/new adult book with content that includes: violence, profanity, brutal deaths and sex. Cause you know… the world is ending.