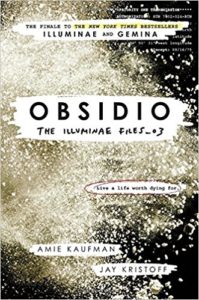 Obsidio (The Illuminae Files, #3)
by
Amie Kaufman
,
Jay Kristoff
Published by
Knopf Books for Young Readers
on March 13th 2018
Genres:
Fantasy
,
SciFi
,
Young Adult
Pages:
618
Format:
Audiobook
,
Hardcover
Source:
Purchased
Buy on Amazon
Goodreads

Kady, Ezra, Hanna, and Nik narrowly escaped with their lives from the attacks on Heimdall station and now find themselves crammed with 2,000 refugees on the container ship, Mao. With the jump station destroyed and their resources scarce, the only option is to return to Kerenza—but who knows what they'll find seven months after the invasion?

Meanwhile, Kady's cousin, Asha, survived the initial BeiTech assault and has joined Kerenza's ragtag underground resistance. When Rhys—an old flame from Asha's past—reappears on Kerenza, the two find themselves on opposite sides of the conflict.

With time running out, a final battle will be waged on land and in space, heroes will fall, and hearts will be broken.
My Thoughts
Why hello again chums! Once again Amie and Jay stole me away from all adult responsibilities, annihilated my heart and tossed me out the airlock.
Obsidio has All.The.Feels.
Like the previous books, I could not escape Obsidio despite great effort to slow down so I could savor the story. I did not want this series to end.
Welcome Back to Kerenza IV
Once again, we are add two new characters into the mix: Kady's cousin, Asha and Rhys. Yup, Asha is alive. Nope, Kady doesn't know. BeiTech continues to slaughter occupy Kerenza IV. Resistance against BeiTech is building and of course Asha is in the middle of it (Help me Obi Wan Kenobi, you're my only hope). I found the story on Kerenza in Obsidio, to be much darker and heavier than the previous books. Here we see the brutality war but also the humans behind these atrocities. The "good" and "bad" guys become a little less clear when war is given a face.
If I Had One Wish…
It would be that the Illuminae Files were a quartet. I absolutely loved Asha and Rhys' more mature story and wished we could have had an entire book to explore it. I found their history as to how they ended up on different sides of a war fascinating.
Overall
Everything I loved about the previous books continued in Obisidio. From the banter between our heroes to the non stop action. There are a few twists, turns and surprises in story including the identity of Analyst ID 7213-0089! Yes chums, there is a character behind our colorful, snarky and a tad romantic video analyst and I did not see it coming.
For me, the ending was satisfying and expected (very YA) but I didn't mind that at all. View Spoiler »In my heart of hearts I'm a total sucker for a happy ending. However, if you need a side tragedy and death with your conclusions, you might be a tad disappointed. « Hide Spoiler
Well there we have it fems and chums. If you have read the previous two books, there is no way  you are passing this one up so just buckle up and enjoy the ride.