Legendary (Caraval, #2)
by
Stephanie Garber
Published by
Flatiron Books
on May 29th 2018
Genres:
Fantasy
,
Young Adult
Pages:
416
Format:
ARC
Source:
Netgalley and Publisher
Goodreads

Stephanie Garber's limitless imagination takes flight once more in the colorful, mesmerizing, and immersive sequel to the bestselling breakout debut Caraval

A heart to protect. A debt to repay. A game to win.

After being swept up in the magical world of Caraval, Donatella Dragna has finally escaped her father and saved her sister Scarlett from a disastrous arranged marriage. The girls should be celebrating, but Tella isn't yet free. She made a desperate bargain with a mysterious criminal, and what Tella owes him no one has ever been able to deliver: Caraval Master Legend's true name.

The only chance of uncovering Legend's identity is to win Caraval, so Tella throws herself into the legendary competition once more—and into the path of the murderous heir to the throne, a doomed love story, and a web of secrets…including her sister's. Caraval has always demanded bravery, cunning, and sacrifice. But now the game is asking for more. If Tella can't fulfill her bargain and deliver Legend's name, she'll lose everything she cares about—maybe even her life. But if she wins, Legend and Caraval will be destroyed forever.

Welcome, welcome to Caraval...the games have only just begun.
I received this book for free from Netgalley and the publisher in exchange for an honest review. This does not affect my opinion of the book or the content of my review.
My Thoughts
If you have read my review of Caraval, you remember that my experience was… interesting. I couldn't stand Scarlett for half the book then unexpectedly was swept away by the magic of Caraval.
This was definitely not a problem with Legendary. I found myself enthralled from the very beginning.
Must.Know.What.Happens – itis hit full force with this one.
Welcome to Tella's Story
From the glimpses I saw of her in Caraval, I knew I would like Tella. She was feisty and unapologetic, so I was happy she was the focus on Legendary. For Tella, the stakes are even higher… She either wins the game or dies. End of story.
What I really enjoyed was that you can never really trust what is unfolding in front of you… is it real? A game? In Legendary, we learn Legend's identity… but do we really? Is this another trick? Stephanie what are you doing to my head?
Stephan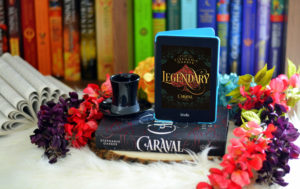 ie Garber also expanded the world of Caraval beyond the game its self to create an intricate web that weaves together the past, present and future of our characters.
Despite the wonder and mystery, I found that Legendary lacked a sense of urgency. The game was life or death, yet I didn't feel the same danger I did in Caraval. There is quite a bit of repetition and rehashing of the same information (why Tella won't trust Dante, why she is playing the game and so on) which I feel was the undoing of the tension.

However, there was a bit less periwinkle this time?!?! So there is that. Progress right?
Overall
Legendary was another fun and wild experience from Stephanie Garber. I really enjoyed the opportunity to get cozy with Tella and am absolutely interested in what happens next, especially with the ship in Legendary. It has the potential to be one of my favorites… if it doesn't sink (don't.do.it.Stephanie). If you liked Caraval, you will also enjoy Legendary. But you already knew that.
Recommended for: Caraval Lovers, fans of purple prose, periwinkle, deception and magic
Are you planning on reading Legendary?