Hi Wanderers!
When it comes to fashion and literature, I have always marched to the beat of my own drum. I have loved books everyone else seemed to hate and hated some the everyone seemed to love. No shame. As a teen, I was the poster child for punk rock raver chic (picture: blue camouflage, sheer black tops, studded belts, crazy hair, black lipstick, wide legged pants and rainbow pony bead bracelets). As an adult, I may or may not have sported both flapper dresses and 50's pinup clothing for no reason other than I love the look.
So, when JORD Wood Watches approached me about checking out their brand, my funky inner teenager's heart may have skipped a beat while my 30 year old brain said, 'wait, wood?' Sustainability and originality? Naturally I said yes, and my JORD watch has only left my wrist to shower and sleep since it arrived.
Here is why YOU should treat yourself to one:
1. Classic like Your Literature
I have the Cassia series in Ebony and Sable which is as black as my heart. Okay not really, but it is a stunning timepiece that in an instant classic. Why? The concave dial with Roman numerals is timeless and the dark sable wood ensures my watch matches anything I wear. This was important for me as I have a jewelry box of watches I never wear because they don't fit my daily attire. Anybody else have this problem? Okay just me then.
2. Give a Tree New Life
Being native to the Pacific Northwest, I have always felt at home among the trees. I also wholeheartedly believe I should leave this world better than how I found it; therefore living a little bit greener is part of how I bring that belief to life. Which sometimes means my husbands comes home from deployments and hears things like 'sustainability' and 'carbon footprint' which translates to no more disposable paper products in the house. Did he realize who he was marrying?
What does this have to do with my watch? JORD has dedicated themselves to using wood that would have otherwise been thrown away or lost (such as furniture scraps and trees damaged by nature) or completely sustainable sources! You can learn more about the source of each wood they use for their watches on the website.
It is amazing to see trees being given new life as watches, just as books give them new life.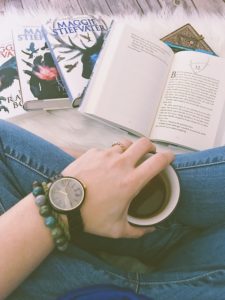 3. As Unique as Your Fandoms
Did I mention JORD watches are unique? Right. I personally find the watch design is not only unique, but also innovative. From the band of the Cassia series fitting seamlessly into the wood casing to the really awesome clasp that I can do one handed. My watch is also so light on my wrist yet feels durable enough to survive all my adventures. I have had such a hard time in the past with watches not being able to stand up to my life or feeling like I have a lead weight on my wrist. Not.any.more.
But Wait… There is a GIVEAWAY!
Does this sound like the watch for you? Then follow this link to my giveaway where you can enter to win $100 to shop the entire JORD collection. All you need is your name and email! That easy.
Also love books? Check out my bookstagram to see how you can also enter to win $25 worth of books!
Open internationally and ends 7 October 2018!
I was provided my JORD Wood Watch for free in exchange for an honest review. This does not effect my opinion of the product or the content of my review.