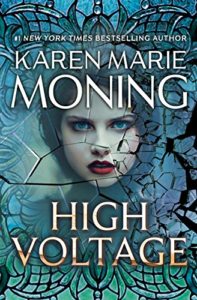 High Voltage
by
Karen Marie Moning
Published by
Random House Publishing Group
on March 6th 2018
Genres:
Urban Fantasy
Pages:
496
Format:
Audiobook
,
eBook
,
Hardcover
Buy on Amazon
Goodreads

NEW YORK TIMES BESTSELLER • Immortal Faerie and ancient feuds, secrets and sacrifices—a thrilling new chapter in the bestselling Fever series begins, featuring Dani, Ryodan, and other beloved characters, as they battle to save Dublin from the rising of a terrifying evil determined to enslave the human race. There is no action without consequence. Dani O'Malley was nine years old when the delusional, sadistic Rowena transformed her into a ruthless killer. Years later, Dani is tough and hardened, yet achingly vulnerable and fiercely compassionate, living alone by her own exacting code. Despite the scars on her body, and driven by deeper ones carved into her soul, no one is more committed to protecting Dublin. By day she ensures the safety of those she rescues, by night she hunts evil, dispensing justice swiftly and without mercy, determined to give to those she cares for the peace she has never known. There is no power without price. When the Faerie Queen used the dangerously powerful Song of Making to heal the world from the damage done by the Hoar Frost King, catastrophic magic seeped deep into the earth, giving rise to horrifying, unforeseen consequences—and now deadly enemies plot in the darkness, preparing to enslave the human race and unleash an ancient reign of Hell on Earth. There is no future without sacrifice. With the lethal, immortal Ryodan at her side, armed with the epic Sword of Light, Dani once again battles to save the world, but her past comes back to haunt her with a vengeance, demanding an unspeakable price for the power she needs to save the human race. And no one—not even Ryodan, who would move the very stars for her—can save her this time.
This book may be unsuitable for people under 17 years of age due to its use of sexual content, drug and alcohol use, and/or violence.
My Thoughts
This review is going to be interesting to write. I am a huge fan of Karen Marie Moning and the Fever Series. There are very few series I will reread and even fewer authors on my autobuy list – KMM and the Fever World fall into these categories.
I am also well aware of how unpopular my thoughts on High Voltage will be. It has been hard to miss the pettiness toward people who were not in love with this book on social sites. But hey, that's life. We don't all have to agree.
So here we go…
My initial thought when I finished High Voltage was 'What the feck did I just read?'
I am still not sure…

I loved Mac's development, her relationship with Barrons and the mystery of The Nine; however, I was never a huge fan of Dani. She finally started to grow on me in Feversong but what really had me intrigued was KMM revealing how Mac's story was about finding strength, while Dani's is about finding love.
I am a sucker for love. So I was really anticipating this book and seeing how Dani's story unfolded. Sadly I was a bit disappointed.
What I Enjoyed
One of the things I loved most about High Voltage was finally having a full picture of Dani became her mega self. Her backstory is horrifically tragic and heartbreaking yet she always finds a way to survive, while holding on to her fierce love of life and her world. I also appreciated that Dani's 'happy ending' was not completely what you would expect but absolutely perfect for her. View Spoiler »Allowing Dani to become a hunter was an interesting but fitting choice for someone who was always larger than life. « Hide Spoiler In the end, Dani became the superhero she always felt she had to be, but learned that it was never necessary to be loved by those she cherished.
I also enjoyed Dani's humor with the Batman quips and her relationship with the moody Shazam. Does anybody else picture Shazam as the Cheshire cat or is that just me?
And Christian. Why couldn't we have had more Christian? I wanted so much more about how he mastered his darkness to still hold on to that ember of the highlander we love.
"I'm not afraid of Hell. I lived there once. And if I have to go back again, I'll swagger through those gates with fire in my blood and war in my heart. And I'll. Take. No. Prisoners."

– Dani O'Malley
Where it Fell Short
I really wanted to love this book. Maybe I should have reread the series before hand. Maybe I will fall in love on a second read. But overall, High Voltage felt a bit disjointed and was missing the magic of the previous books.
We start with the mystery of the missing adults which quickly became background noise until the 'big bad' pops up and lasts all of 5 seconds in the 'epic battle.' Seriously, it was a couple lines and BOOM, over. Nighty night big bad old world God.
I also found that there was a lot of telling instead of showing us what was happening. There were entirely too many monologues for something that wasn't Shakespeare. And I could not shake this pervasive sense of wrongness throughout the story. Something just felt off to me. I understand character growth, but there were times I asked myself 'who are these people?' Particularly with Ryodan. Will the real Ryodan please stand up... I went into High Voltage expecting an epic love story for our Dani but it just fell short. I didn't feel the magic, I just felt rushed.
There also appeared to be a lot of pointless side stories. Outside the little information he provided, you could have taken Christian out of the story and not miss anything. Same with Kat and Sean. I hope in the future we see more from all their story lines because they were actually more interesting to me.
Finally, I found the handling of rape and attempted rape problematic. View Spoiler »I wanted to scream and throw the book when I read that Lor just watched and DID NOTHING while Dani was being assaulted. « Hide SpoilerI don't care that Dani is superhuman. Being a bystander to atrocities is a serious problem and shouldn't just be glossed over. Period. This really struck a nerve since the majority of my work has been with trauma survivors, many whose cries for help fell on deaf ears, and this just perpetuates the problem.
"If I were a character in a novel, I'd snipe the bitch who wrote my life this way."

– Dani O'Malley
Overall 
Overall, I was entertained but left with so many mixed feelings. As a standalone book, High Voltage might have been great; however, within the context of the series, something was missing. Maybe I would have felt differently if I had done a reread. Maybe not. I think most fans of the Fever Series will enjoy this book since it does add to Dani's story, but it just wasn't my favorite. All in all, KMM did the one thing with this book I wasn't sure would ever happen –  she made me a Dani fan. 
Recommend for: fans of the Fever Series, urban fantasy, epic heroines