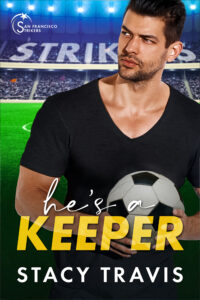 He's a Keeper
by
Stacy Travis
Published by
Stacy Kravetz
on May 24, 2022
Genres:
Fiction / Romance / Contemporary
,
Fiction / Romance / Sports
Pages:
320
Buy on Amazon
Goodreads
Drunk-texting a grumpy soccer star?
Best worst decision of my life.

Especially when the player is the sinfully handsome, foul-mouthed Holden Sanders… my new library assistant.

The benched bad boy needed an image makeover, I needed to save my job, and his star status was just what the library ordered to raise awareness for our fundraising campaign. The press can't get enough of Mr. Growly reading to kids.

It's win-win and completely platonic.

Until I need a shoulder to cry on after drowning my heartbreak in too many margaritas. I only typed that invitation to his brawny biceps and perfect pectorals for fun–I never meant to hit send. Holden isn't the kind of guy to care about tears and feelings, least of all mine. He's made it clear good girls aren't his type.

But he shows up–with his strapping shoulder, a box of tissues, and a supersized bag of Doritos.

That's when I realize there's more to him than meets the eye.

One soulful, smoldering mistake of a kiss has me craving more, and the heat between us quickly builds to a blaze neither of us can control.

But I'm not the only one guarding secrets, and Holden's might push us to the breaking point.

Even if I'm surrounded by books, I know better than to believe in storybook endings.

And yet, I want to believe... Because I know he's a keeper.

He's a Keeper is a standalone sports romance in the San Francisco Strikers series with a HEA.
I received this book for free from Social Butterfly PR in exchange for an honest review. This does not affect my opinion of the book or the content of my review.
My Thoughts
First, I am a totally 'team sports'. I love playing them. Watching them. I am a 'die hard' fan of the sports and teams I love. Which means that pretty much all sports romances are my jam. That said… I never really watched or played soccer, some how (even though we have the Sounds here… WTF Nikki). *gasp* So this is both my first soccer romance AND first book by Stacy Travis… but it absolutely will not be my last of either.
Holden and his grumpy self is everything. I am a total sucker for the crunchy outside with a soft center character. He was also so incredibly supportive and patient, despite his own past heartbreak. I also really related to his extreme drive in life then finding that person that put things in a whole new perspective. Holden and Molly had such fun banter and great tension between them that it was really engaging. Molly on her own was a little frustrating for me but that truly is a me thing. The extreme self-blame for things that are out of your control or scope really dig at me… for many reasons. But I loved how she would hold her own with Holden and give it right back to him.
Despite Holden being benched, we will get a bit of soccer + plenty of swoon worthy moments. I appreciated how their relationship developed and how they both challenges each others 'rules.'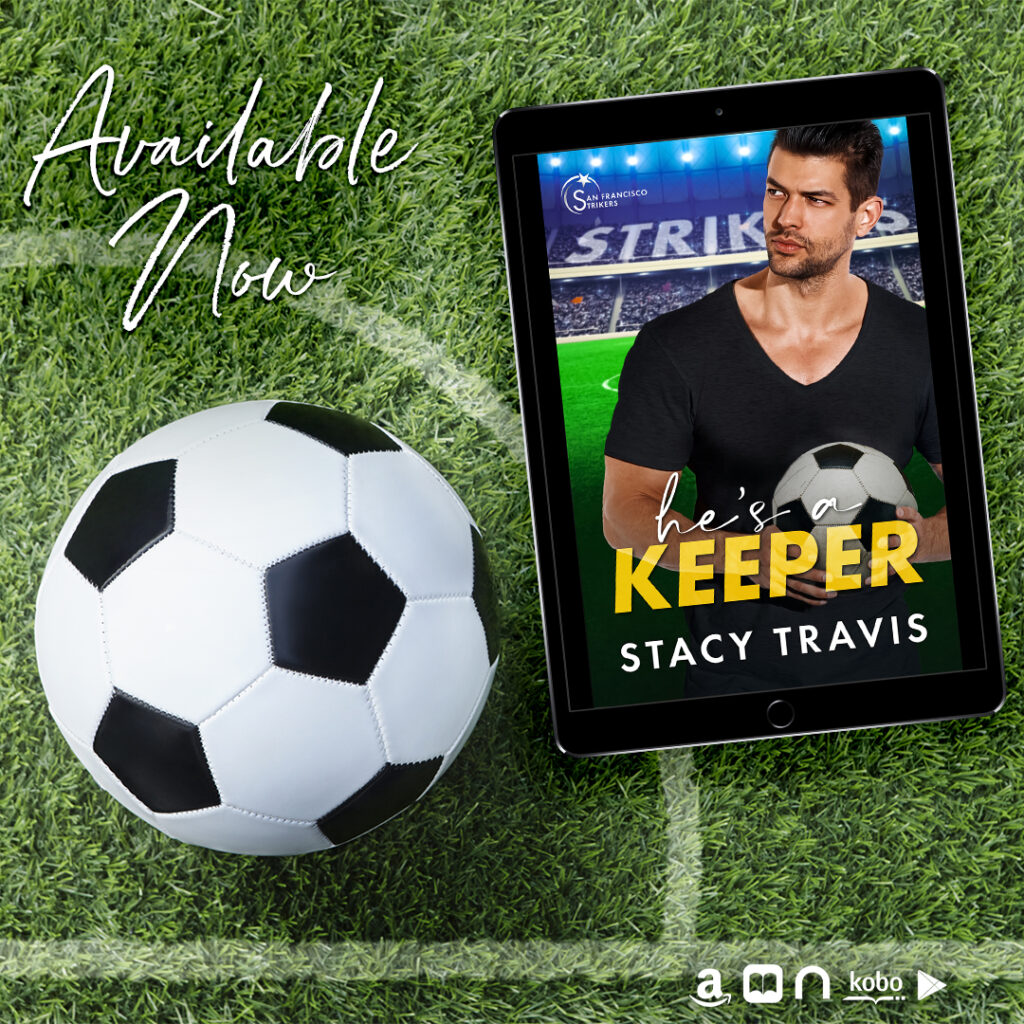 Overall
Overall He's A Keeper was such a fun, sexy and swoon worthy read. I am also really intrigued with what is in store for the Strikers as a whole with the new data-driven owner and the brief glimpses we got of other players. Bring on more soccer romances!
If you are a fan of grumpy + sunshine, sports romance, and opposites attract this is definitely worth checking out.
About Stacy Travis
It's a rough world out there, and we all sometimes need a good, romantic beach read, even if we can't make it to the beach. I've spent many lazy days walking the streets of Paris and other gorgeous European cities, and if I'm doing it right, I'm bringing you a dash of romance and a vacay fantasy.
I can't sit still, so when I'm not hiking, biking or running, I'm playing a very average game of tennis. Background music for writing undoubtedly features some U2, Lizzo, Billy Joel, Pink, Taylor Swift, and Led Zeppelin. Not necessarily in that order. And if I could only eat one food group, it would be cheese. Or wine. Or bread. Are those food groups? Whatever.
Connect with Stacy
Facebook
Instagram
Amazon
Goodreads
Stay up to date with Stacy by joining her mailing list
Website