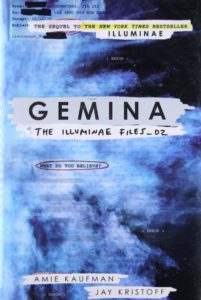 Gemina (The Illuminae Files, #2)
by
Amie Kaufman
,
Jay Kristoff
,
Marie Lu
Published by
Knopf Books for Young Readers
on October 18th 2016
Genres:
SciFi
,
Young Adult
Pages:
663
Format:
Audiobook
,
eBook
,
Hardcover
Source:
Purchased
Buy on Amazon
Goodreads

Moving to a space station at the edge of the galaxy was always going to be the death of Hanna's social life. Nobody said it might actually get her killed.

The sci-fi saga that began with the breakout bestseller Illuminae continues on board the Jump Station Heimdall, where two new characters will confront the next wave of the BeiTech assault.

Hanna is the station captain's pampered daughter; Nik the reluctant member of a notorious crime family. But while the pair are struggling with the realities of life aboard the galaxy's most boring space station, little do they know that Kady Grant and the Hypatia are headed right toward Heimdall, carrying news of the Kerenza invasion.

When an elite BeiTech strike team invades the station, Hanna and Nik are thrown together to defend their home. But alien predators are picking off the station residents one by one, and a malfunction in the station's wormhole means the space-time continuum might be ripped in two before dinner. Soon Hanna and Nik aren't just fighting for their own survival; the fate of everyone on the Hypatia—and possibly the known universe—is in their hands.

But relax. They've totally got this. They hope.
My Thoughts
Well fems and chums, just when you think it can't get any better… you get Gemina. I wasn't sure what to think when I learned that Kady and Ezra were not the focus of this addition of the Illuminae Files but that uncertainty was completely unnecessary.
I loved Gemina. I loved Hanna and Nik. You can officially call me a fangirl. Sign me up for anything and everything Amie Kaufman & Jay Kristoff write until the end of days. Or I get spaced… which ever comes first.
Meanwhile at Jump Station Heimdall
Our story in Gemina is purely additive to the world and story line of Illuminae. Similar to Illuminae, the story unfolds through a series if hacked documents, journal entries and surveillance footage summaries from my favorite character – Analyst ID 7213-0089. We also have the addition of some amazing illustrations from Marie Lu. This time around, we are witnessing BeiTech's latest atrocities on Heimdall while Hypatia is en route to the jump station. In true Illuminae Files fashion, shit hits the fan, people die, and chaos ensues.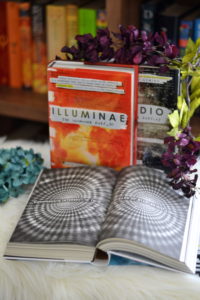 We are initially lead to believe Hanna is just another vapid, selfish, spoiled girl who also happens to be the station commander's daughter. In reality, Hanna is a witty, clever and an all around badass who has been trained in war games since she was a child. I honestly may like her even more than Kady, and Kady is an amazing heroine. Then we have Nik. Nik captured my attention and heart from the very beginning. I'm also a total sucker for the bad boy who isn't what he seems.
AIDAN is… well, AIDAN. Our disturbingly poetic AI that makes the cold, calculated decisions that no human would ever want to make. AIDAN is such an interesting character and I am very curious to see where the story takes it.
Am I not merciful?
Like Illuminae, I could not put this book down. The audio book retained the epicness of it's predecessor which is definitely my recommended method of reading… along with the physical book which is stunning. Skip the ebook.
Overall
If you liked Illuminae, you will like Gemina. I might actually love Hanna/Nik more than Kady/Ezra. Crazy huh? I found Gemina to be a well paced, witty and brilliantly written addition to the Illuminae Files. While I didn't necessary feel the same danger I did in Illuminae, the electricity, intrigue and magic I have come to love in this series permeated Gemina. I cannot wait to see how this story ends. But then again, do I really want it to end? Not really chums.
What sequels have you found to be equal to or surpass the original?