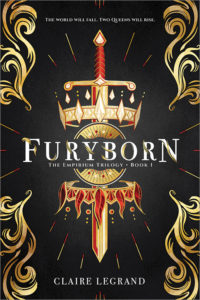 Furyborn (Empirium, #1)
by
Claire Legrand
Published by
Sourcebooks Fire
on May 22nd 2018
Genres:
Fantasy
,
Young Adult
Pages:
512
Format:
ARC
Source:
Netgalley and Publisher
Buy on Amazon
Goodreads

Follows two fiercely independent young women, centuries apart, who hold the power to save their world...or doom it.

When assassins ambush her best friend, the crown prince, Rielle Dardenne risks everything to save him, exposing her ability to perform all seven kinds of elemental magic. The only people who should possess this extraordinary power are a pair of prophesied queens: a queen of light and salvation and a queen of blood and destruction. To prove she is the Sun Queen, Rielle must endure seven trials to test her magic. If she fails, she will be executed...unless the trials kill her first.

A thousand years later, the legend of Queen Rielle is a mere fairy tale to bounty hunter Eliana Ferracora. When the Undying Empire conquered her kingdom, she embraced violence to keep her family alive. Now, she believes herself untouchable--until her mother vanishes without a trace, along with countless other women in their city. To find her, Eliana joins a rebel captain on a dangerous mission and discovers that the evil at the heart of the empire is more terrible than she ever imagined.

As Rielle and Eliana fight in a cosmic war that spans millennia, their stories intersect, and the shocking connections between them ultimately determine the fate of their world--and of each other.
I received this book for free from Netgalley and the publisher in exchange for an honest review. This does not affect my opinion of the book or the content of my review.
My Thoughts
Wow. Furyborn grabs you from the prologue and sets you up to be both in awe and have your heart ripped into pieces the entire ride. It was like seeing a train derailing and being completely unable to stop it. The story starts in one of the worst moments in the characters lives, then are transported back in time so you can grow love them being fully aware tragedy is going to strike. However, this first installment only provides one piece on the timeline that leads to the events of the prologue. I can only imagine how many more twists and turns we are in for before knowing the full story.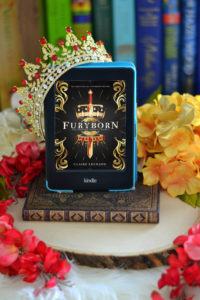 Her chest tightened at the raw longing on his face, and wondered when it last was that someone had touched him with any sort of kindness.
The first few chapters after the prologue did take some time to completely hook me. Part of that is my life with a toddler not allowing for extended time immersed in fantasy lands and part was the alternating narrative. On occasion
I would have to flip back to Rielle or Eliana's last chapter to remind myself of what was going on and who someone was, but eventually my experience shifted to every chapter feeling like a cliffhanger, begging you to read on. The pace is heart-stopping and the last half of the book left me breathless.
A World as Massive as The Adventure is Epic
The world of Furyborn is epic and massive. You have ancient elemental magic, religion, court politics, war, prophecy and cruel trials. The story is intricate, especially with the connections between the two timelines, but it works really well here. It was interesting to see the ways Rielle and Eliana stories parallel and diverge from one another. I truly felt for Rielle who really, at the end of the day, just wanted to feel loved. Eliana took a little longer to grow on me. She reminded me a bit of Celaena (Throne of Glass) but more frustrating since she seemed to make every poor or selfish decision she could in the name of protecting her family and avoiding her inner daemons. Both women are absolute forces to be reckoned with and I enjoyed their development.
Overall
Furyborn was an intriguing, breathtaking, heart wrenching, brutal, and a touch comical start to a trilogy. I could not put it down, especially the last half. Days later, I am still mesmerized and not ready to leave that world yet (when is the next one out!?).  Furyborn is absolutely worth pre-ordering now if you are a fan of YA fantasy.
Recommended for: Fans of epic YA fantasy, magic, dual story lines, angels
NOTE: Quotes are from an ARC and subject to change.