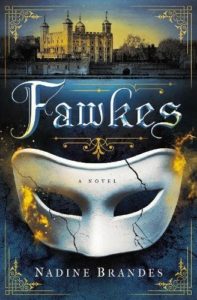 Fawkes
by
Nadine Brandes
Published by
Thomas Nelson
on July 10th 2018
Genres:
Fantasy
,
Historical Fiction
,
Young Adult
Pages:
448
Format:
ARC
,
Hardcover
Source:
Netgalley and Publisher
Buy on Amazon
Goodreads
Thomas Fawkes is turning to stone, and the only cure to the Stone Plague is to join his father's plot to assassinate the king of England.

Silent wars leave the most carnage. The wars that are never declared, but are carried out in dark alleys with masks and hidden knives. Wars where color power alters the natural rhythm of 17th century London. And when the king calls for peace, no one listens until he finally calls for death.

But what if death finds him first?

Keepers think the Igniters caused the plague. Igniters think the Keepers did it. But all Thomas knows is that the Stone Plague infecting his eye is spreading. And if he doesn't do something soon, he'll be a lifeless statue. So when his Keeper father, Guy Fawkes, invites him to join the Gunpowder Plot—claiming it will put an end to the plague—Thomas is in.

The plan: use 36 barrels of gunpowder to blow up the Igniter King.

The problem: Doing so will destroy the family of the girl Thomas loves. But backing out of the plot will send his father and the other plotters to the gallows. To save one, Thomas will lose the other.

No matter Thomas's choice, one thing is clear: once the decision is made and the color masks have been put on, there's no turning back.
I received this book for free from Netgalley and the publisher in exchange for an honest review. This does not affect my opinion of the book or the content of my review.
My Thoughts
First, I have a confession. When I read the description, Fawkes just sounded like a fun historical fantasy about plagues, magic and assassination plots. I must have missed the day in history class that we discussed the infamous Gunpowder Plot of 1605 because I had NO CLUE this was a retelling of that disastrous event. Hangs head in shame… At least now you know.

Plague, Magic and Assassination Plots, Oh My!
Fawkes took me a little bit to get into which I think it was part divided attention on my end and part being dropped into a magic system with little explanation. In this world, when people come of age they are presented a mask which allows them to control a particular color (blue can control water, grey things like metal and concrete and so on). We also have two groups… (eh hum Catholics and Protestants) the Keepers believe people should only be allowed to control one color, while the Igniters believe they should control them all. Queue prejudice, discrimination and plenty of hangings…
But we never know WHY the mask is important…. WHY is it necessary to control the color magic… Is the magic and plague only in England? If so, WHY? WHY, WHY, WHY, Nadine?
Okay moving on…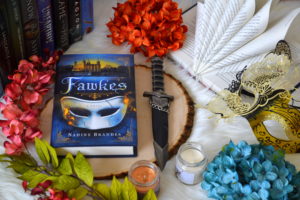 Our main character is Thomas, a maskless who wants nothing more than to receive his mask and fight the plague threatening to take his life. I enjoyed Thomas and his development from selfish teenager to a young man whose whole belief system is challenged by Emma. It felt pretty authentic and genuine for a teen to be confused in his circumstance, though he was a bit whiny at times. Emma was absolutely my favorite – she is a force to be reckoned with yet still compassionate and kind. There is also a certain sassy color that made me laugh despite the dialogue being out of context with the time the story was to take place.
Through our main characters, Nadine challenges readers to seek truth, face the fear of things we don't understand, be true to ourselves as well as highlights the danger of belief being leveraged to ignore truth. There is a larger, obvious, religious theme throughout the book and some might view View Spoiler »Thomas' conversion essentially leading him to be a better person, as problematic « Hide Spoiler.  It wasn't an issue for me since I focused less on the religious theme (not my cup of tea) and more on the overall story.
Overall
If the first half of Fawkes was a bit slow, the last half was exciting. I could not wait to see what happened next. I truly enjoyed the blending of magic with history as well as Nadine's beautiful writing. At the end, I felt myself wanting more about Guy Fawkes and was really intrigued by Nadine's discussion of the actual history of The Gunpowder Plot. Overall Fawkes was an enjoyable read with a few surprises and one amazing heroine in Emma. I am interested in seeing what Nadine does next!
Do you read historical fantasy?